The Best State Park in Every State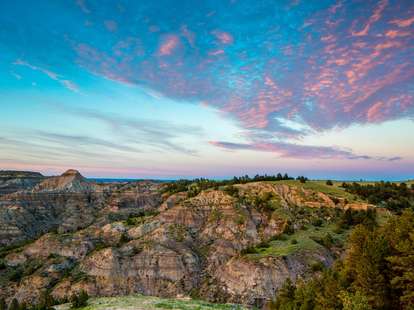 Here at Thrillist, we write a lot about our national parks. Which ones are underrated. Which ones are the most beautiful in the fall. Which ones should be ranked, because they're just that cool. And why not -- our national park system is one of this country's most spectacular treasures.
But often lost in our focus on those 59 nationally protected areas is the extensive system of smaller, but equally mesmerizing, state parks -- many of which can stand their legally protected ground with the likes of any Yellowstone, Acadia, and Big Bend. Heck, some of them even share that SAME ground.
So, in an attempt to give them their proper due, we asked locals from across the country to name the grandest of all their state's parks. These are the 50 they picked.
Alabama
Gulf State Park
Gulf Shores
Between Alabama's two big beach towns -- and more importantly, between the Hangout Music Festival and Flora-Bama bar -- sits a little section of undeveloped coastline set aside for the outdoor enthusiast. Not only does it boast a two-mile stretch of white sand beach that somehow hasn't been overtaken by tourists or weekend partiers, but there's also an 18-hole golf course, zip line, and a 500-yard pier where you can spend the day fishing.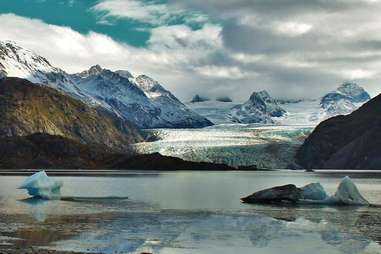 Alaska
Kachemak State Park
Homer
Like a lot of places in Alaska, it takes a short bush-plane ride to reach this park, but the flight is definitely worth it. Kachemak rocks miles of coastline frequented by whales, dolphins, and sea otters, as well as 400,000 acres of mountain and glacial wilderness through which to hike. And, so things don't go south like in that Krakauer book, the park also has plenty of cabins and yurts where you can spend the night.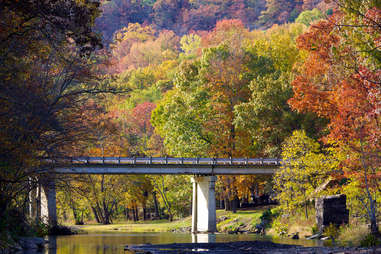 Arkansas
Devil's Den State Park
West Fork
One of the more forgotten parts of FDR's famous New Deal was the Civilian Conservation Corps, an organization charged with creating green space throughout the country. Part of that effort was the establishment of state parks like this one nestled in the Ozark Valley. Here, you can sit on tranquil Lake Devil (created when they dammed Lee Creek), explore some of the country's coolest caves, or hike on 20 miles of horse trails.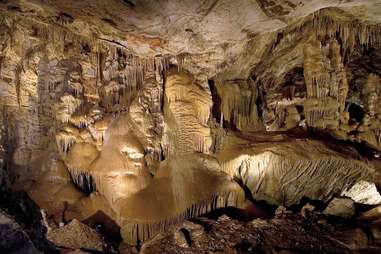 Arizona
Kartchner Caverns State Park
Benson
While nobody would ever accuse Arizona of lacking in gorgeous places to appreciate nature, there's a problem with most of them: they're outside! And dry heat be damned, outside is the LAST place you wanna be in Arizona for much of the year. So thank Gary Tenen and Randy Tufts, who in 1974 found this undiscovered cave where today you can enjoy calcite formations and other-worldly rocks without experiencing any of the state's aforementioned "dry heat."
California
Julia Pfeiffer Burns State Park
Big Sur
The biggest problem with Big Sur -- the most beautiful place in California -- is that in order to enjoy it for more than, like, four minutes, you've either gotta shell out a month's rent for a hotel room or back up traffic on Highway 1. Which is why you're gonna want to hit this gem instead. Here, if you're not hiking up 3,000ft ridges, admiring the redwoods, or gazing into an 80ft granite-cliff waterfall, you can scuba dive in one of the best dive spots on the West Coast. Just make sure to bring that dry suit.
Colorado
State Forest State Park
Walden
You'd think in a state with legal marijuana that they could come up with a more creative name than State Forest State Park, but hey, maybe they were too busy marveling at all that year-round beauty. Who knows. Here you can enjoy classic Colorado -- hiking, mountain biking, snowmobiling -- while hanging out with about 600 moose. If you want to relax, rent a cabin on the Michigan Reservoir or do a little world-class fishing on the Canadian River.
Connecticut
Dinosaur State Park
Rocky Hill
If you've ever strolled through the Jurassic Park visitor center at Universal Studios and thought: "Roller coasters be damned, this place would be a lot cooler if I could walk outside and see some deciduous fall foliage," then boy have we got your dream spot! At this park in the Nutmeg State, you can peep the best views of the changing autumn leaves while walking through fossilized dinosaur tracks.
Delaware
Cape Henlopen State Park
Lewes
If you live in Delaware, going to the beach isn't really a year-round activity, right? Wrong. Not only can you spend the summer avoiding tourists -- while fishing, camping, and playing 18 holes of disc golf (DISC GOLF!) -- in this scenic park between Lewes and Rehoboth Beach, but a winter stroll on the famous cape into Delaware Bay offers a picturesque view of the ocean and lighthouses.
Florida
Fort De Soto Park
St. Petersburg
Florida has probably the greatest collection of beaches in the country. The big problem with those beaches? You generally have to share them with spring breakers/screaming children/people you'd rather not see in swimsuits. The exceptions, however, are the award-winning state parks -- where in-the-know locals go. And the best of the lot is Fort De Soto, with its powdery sand, calm turquoise waters, and some of the best, flattest biking roads in the state.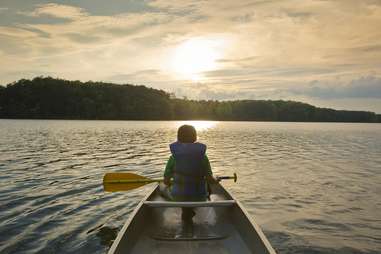 Georgia
Fort Yargo State Park
Winder
Even if you saw Deliverance one too many times and swore you'd never make a trip through the southern wilderness, there's no need to fear Fort Yargo: even though it feels like you're somewhere completely remote, it's smack between Atlanta and Athens (aka, civilization). Named after a log fort built in 1792, the park sits on a 260-acre lake and offers a ton of recreational opportunities, including twilight paddling, bike races, and even hayrides.
Hawaii
Akaka Falls State Park
Honomu
Hiking through a tropical rainforest of ferns, orchids, and bamboo groves seems pretty par for the course in Hawaii, right? But then you hear a rumbling in the distance. And it gets louder and louder and louder until... BAM, you're face to face with a 442ft waterfall pouring over a rocky gorge. That's what you can expect in Hawaii's coolest state park, which is situated on the northeastern coast of the Big Island. And after you've finished appreciating it from the ground, you can take a zip line across the park and catch it one more time from the air.
Idaho
Priest Lake State Park
Coolin
If you're from a big city, Priest Lake is the kinda place you go on a weekend, see a smattering of families there, and say, "You know how awful this place would be if it was back home?" Because it'd be frickin' PACKED, of course. It's got all the West Coast mountain-lake beauty of spots like Arrowhead and Tahoe with a fraction of the people. Although for an even more remote experience, hike the two-mile path to Upper Priest Lake -- you'll be glad you did.
Illinois
Starved Rock State Park
Oglesby
"Scenic" is not a word anyone would use to describe the flatlands of Illinois, but Starved Rock State Park is a BIG exception -- 2 million people flocked to this spot a hundred miles outside of Chicago last year alone. Here, you can hike through hills, forests, and bluffs on 18 miles of trails, take a riverboat cruise up the Illinois River, and/or spend the night in one of the park's historic cabins (all of which are on the National Register of Historic Places).
Indiana
Turkey Run State Park
Marshall
Another Midwestern state not known for its epic topography? Indiana. Which is why, even though many tip their hats to the Indiana Dunes, the coolest park in the state is Turkey Run. Hike through sandstone ravines, thick forests, and rare geologic formations, as well as learn about the "father of Indiana's state parks" at the historic Colonel Richard Lieber Cabin.
Iowa
Backbone State Park
Dundee
Sometimes, just because you're the first doesn't mean you're the best. Unless, of course, you're a 12-year-old YouTube commenter. Or a state park in Iowa. This gem was founded in 1920 and is the oldest AND best state park in the Hawkeye State. While Backbone boasts geologic formations, dense forest, and a calm recreational lake, perhaps the biggest attraction is the trout fishing; with several natural trout streams, the park is a statewide destination for the sport.
Kansas
Wilson State Park
Sylvan Grove
Though "water recreation" is up there with "winning college football" when you think of Kansas, Wilson State Park succeeds where Bill Snyder does not. This park in the Smoky Hills includes the Wilson Reservoir, which is idyllically set against scenic cliffs and rocky outcrops. And even after you've swam, boated, and waterskied your face off, you can still head up the 24-mile Switchgrass bike trail, a course so challenging it's received the vaunted "Epic" rating from the International Mountain Bicycling Association.
Kentucky
Natural Bridge State Resort Park
Slade
The hills of Kentucky are pretty spectacular no matter where you're standing. But the best view is hands down from the top of this behemoth sandstone arch that towers over the Daniel Boone National Forest. At 78ft long and 65ft high, it's a prime destination for rock climbers from around the world.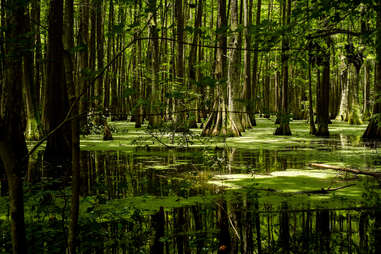 Louisiana
Chicot State Park
Ville Platte
For the perfect afternoon of exercise and education, there is nowhere in Louisiana like Chicot State Park. Yes, we just used "exercise," "education," and "Louisiana" in the same sentence, but don't be alarmed -- there's simply no other way to describe this spectacular 6,400-acre park built around a tree-filled lake.
Maine
Reid State Park
Georgetown
If you wanna talk about the most underrated beach state in the country, it might well be Maine. Not only do you have all the beaches south of Portland (OOB in the house!), you've also got this favorite summertime getaway for locals who don't much care for tourists (also known as "everyone in Maine"). It boasts dramatic rock formations, tidal pools, hiking trails, and not one but TWO snack bars. That is all.
Maryland
Point Lookout State Park
Scotland
Not only does this park -- which sits between the Chesapeake Bay and the Potomac River -- boast a 185-year-old lighthouse, but it's also home to a former Civil War hospital and POW camp. Plus, a "haunted" campground where multiple visitors claim to have felt something pulling at their toes -- allegedly the ghost of a toe-tagger still trying to report for work. The park is also a popular stargazing destination for many in the area.
Massachusetts
Boston Harbor Islands State Park
Boston
Don't jump down our throats like we just called the Patriots a bunch of dirty cheaters, Massachusetts! Yes, the islands are a National Recreation Area, but 17 of the 34 are also part of a state park. And now that we've dispensed with the semantics, we can tell you about the America's coolest state park near a major city. It's got the oldest lighthouse in the country on Little Brewster Island, beaches, campgrounds, and Fort Warren! And to get to it, you'll enjoy a scenic ferry ride through Boston Harbor.
Michigan
Laughing Whitefish Falls State Park
Sundell
The hike to the falls and limestone bluff in Laughing Whitefish is only about a mile long, but well worth it. The falls aren't the powerful, light-a-whole-city variety you find elsewhere, but rather more of the pleasant cascading kind that let you relax and enjoy nature. Plus, the water atop the falls is a popular fishing spot, and the surrounding forest makes for some fantastic hiking/snowshoeing.
Minnesota
Itasca State Park
Park Rapids
The Mighty Mississippi: America's most famous river, the dividing line between east and west, and the source of industry for an entire region. Or, a little rock stream. At least it is at its source here in Northern Minnesota, where Lake Itasca empties itself into the river for the long ride to the Gulf of Mexico. Just a few very hoppable rocks separate east from west here, and even after you've gotten your selfie in front of the famous sign, there are still 100 other lakes and 32,000 acres of wilderness to check out.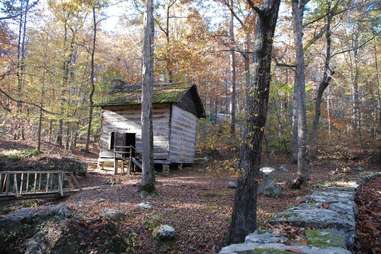 Mississippi
Tishomingo State Park
Tishomingo County
In the 1800s, the Natchez Trace Parkway was the premier highway in America. And while that might be the last time Mississippi had the premier anything in America, the road -- a historic drive that winds through the park -- is still one of the most scenic in the nation. In addition to the pretty drive, you can hike 13 miles of trails past rock formations, moss-covered boulders, and creeks lined with wildflowers.
Missouri
Johnson's Shut-Ins State Park
Middle Brook
No, this is not a park full of guys named Johnson who don't like people. Nor is it a euphemism for a bunch of dudes who don't get much action. "Shut-in" actually refers to a section of river -- in this case the East Fork of the Black River -- where the water flow is limited by non-eroding rock. What it's created is a park full of natural Jacuzzis and rapids that, while decimated by a flood in 2005, has since been rebuilt (at least the facilities) and is now one of the most modern state parks in America.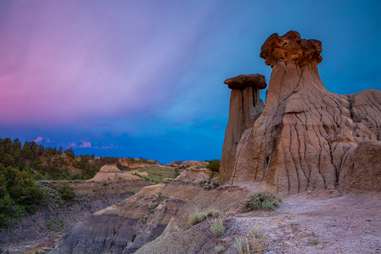 Montana
Makoshika State Park
Glendive
If you're gonna do one of those desert rock-formation vision quest things -- and do whatever it is one does to supplement said vision quest -- go to the Badlands or Utah. Do NOT go to Makoshika, where you'll be wandering around the breathtaking moonscape and find yourself smack in front of a Tyrannosaurus rex. Or a Triceratops. Or at least the fossils of them.
Nebraska
Fort Robinson State Park
Crawford
The place where Chief Crazy Horse surrendered (and later died) during the Sioux Wars of the late 1870s, this historic park also once served as a WWII German prisoner-of-war camp. Today, visitors can enjoy stagecoach rides, Jeep tours, and daily chuckwagon cookouts.
Nevada
Lake Tahoe State Park
Incline Village
Yep, everybody seems to forget that Lake Tahoe is in Nevada -- next to one of the wealthiest lake towns in the world. And though the state park doesn't have any of the nearby casinos, golf courses, or other attractions that make Tahoe a top bachelor party destination, you don't go to a state park for those things anyway. No, this spot's got the lake's best beaches at Sand Harbor, plus the wilderness oasis of Spooner Backcountry: 13,000 acres, 50 miles of trails, and the even-more-remote Spooner Lake.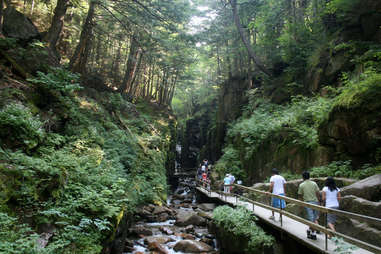 New Hampshire
Franconia Notch State Park
Lincoln
From Flume Gorge to Echo Lake, this mountain pass is easily the best place to catch the varied scenery of New Hampshire. Begin at the south end and walk the wooden bridge through Flume Gorge, before taking the aerial tram through New England's most impressive peaks to Cannon Mountain and the New England Ski Museum. And then once you're back down, hop on the parkway and head to Echo Lake for a swim. Just so you know, though: if you came to see the famous "Old Man on the Mountain" you'll be disappointed -- the old rock formation that many say looked like the face of an old man collapsed in 2003.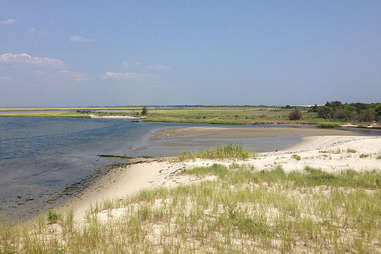 New Jersey
Island Beach State Park
Seaside Park
The Jersey Shore really has gotten a bad rap. Like, instead of fist-pumping meatheads, why couldn't a show have focused on one of the largest stretches of undeveloped, pristine barrier islands in the United States? Oh, right, because nobody would have watched it. But what MTV gave us in ugliness, this park gives us in beauty. As in, 10 miles of unfettered beaches, dunes, and trees where you can spend the day hiking, kayaking, or just strolling the Snooki-free boardwalk. And for boaters, nearby Tices Shoal is a popular tie-up spot.
New Mexico
Elephant Butte Lake State Park
Sierra County
If you can stop giggling for a second (yes, elephant butt, that's funny), we'd like to tell you about some of the nicest beaches in New Mexico. WE SAID STOP GIGGLING! Seriously, the largest lake in New Mexico is not unlike its raging spring-break cousin Havasu in Arizona, minus the raging spring breakers. Instead, it's a desert oasis lined with soft beaches where boaters flock year-round. And where even those without boats go to fish, kayak, and hunt southwestern waterfowl.
New York
Niagara Falls State Park
Niagara Falls
Yes, it's an obvious choice, but YOU name a park cooler than the most famous waterfall in the world. It also happens to be America's OLDEST state park. And produces 4 million kilowatts of electricity, flows 3,160 tons of water per second, contains water from four of the five Great Lakes, and was designed by the same guy who did Central Park. We think we've made our point and saved you the cost of the audio tour. You're welcome.
North Carolina
Chimney Rock State Park
Asheville
Though the 315ft granite monolith is the namesake of this spot outside Asheville, it might not even be the most famous thing IN the park. No, we're not talking about the gift shop. Or the other boulders like Rumbling Bald Mountain that have become destinations for climbers from all over the region. We're talking about the 404ft waterfall, which you might recognize from The Last of the Mohicans.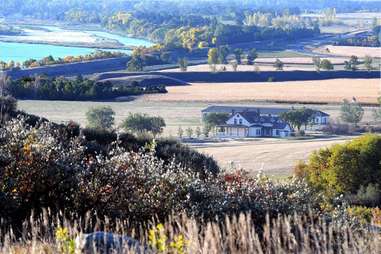 North Dakota
Fort Abraham Lincoln State Park
Mandan
This 19th-century fort is probably best known as the spot where George Custer and his men were based before their ill-fated afternoon fighting the Sioux. Which might also explain why, after the Custer House was reconstructed in 1989, many visitors reported all sorts of paranormal activity -- from strange white orbs appearing in photos to mysterious noises heard on tours. The park's embracing its haunted reputation and every Halloween makes the Custer House a haunted fort, which you gotta admit is one of the more interesting concepts for a haunted house. If you don't like getting scared, the On-A-Slant Indian Village (yeah, apparently it's okay to still call it that) is just down the hill and reconstructed lodges on the Heart and Missouri Rivers offer a feel for what Native American life was like 500 years ago.
Ohio
Punderson State Park and Lodge
Newbury
When it comes to haunted state parks, North Dakota's got nothing on Ohio. This park located half an hour from Cleveland sits on the site of a mansion that began being built in the 1920s by Detroit industrialist Karl Long, but was left unfinished when he lost everything during the Great Depression. It was eventually completed by the State of Ohio, which today operates it as a lodge. Over the years, countless guests have reported everything from noises in unoccupied rooms, to pencils flying through the air, to furniture moving itself. Although perhaps the strangest report came in 1979, when a group of employees found an apparition dressed like a lumberjack hanged by the neck in the employee kitchen. No word as to whether he was wearing a Browns jersey.
Oklahoma
Lake Thunderbird State Park
Norman
You wouldn't think of Oklahoma as being a great spot for boaters. Then again, you wouldn't think of it as being a great spot for pro basketball either, and see how well that worked out. If you own a boat in Sooner country, there's no better place to take it than Lake Thunderbird. The park is also a huge camping destination and is popular among nearby OU students for fun off-campus weekend trips.
Oregon
Ecola State Park
Cannon Beach
This was where they shot Point Break AND Goonies. We could pretty much just drop the mic right there and you'd understand, but in case you'd like to learn something: The park offers probably the best views of Haystack Rock (aka America's Gibraltar) and spans nine miles along the coast around the Tillamook Head between Seaside and Cannon Beach. It also boasts an eight-mile stretch of the Oregon Coast trail, bikeways, whale watching, and plenty of beach for you to practice the Truffle Shuffle.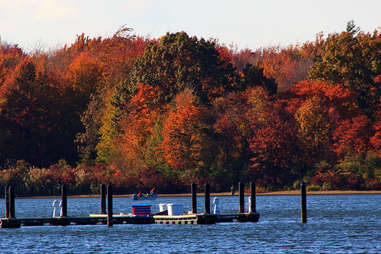 Pennsylvania
Presque Isle State Park
Erie
About as close to a real beach as you're getting in Pennsylvania, this little peninsula that juts out into Lake Erie offers a lot more than just a day on the sand. A crucial point for shipping through the Great Lakes, the park -- which is dotted with lighthouses -- was once home to British and French military forts before coming under American control after the Revolutionary War. Today, Presque Isle's popular not only for its beach, but also its flat biking/running paths.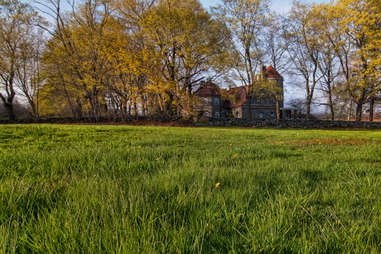 Rhode Island
Colt State Park
Bristol
It might confuse you to drive into a park called "Colt" and see two giant bull statues at the front gate. But those are a tribute to the Jersey cattle that used to roam this park, and the name "Colt" refers to the cattle ranch's one-time owner Samuel P. Colt, who -- as the plaque will tell you -- kept the property open to the public. Today, what was once America's nicest seaside cattle ranch is Rhode Island's best state park, with an open-air chapel by the sea and four miles of bike trails along Narragansett Bay.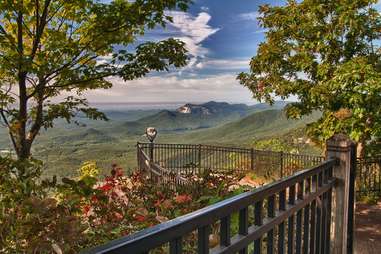 South Carolina
Mountain Bridge Wilderness Area
Cleveland
Kinda like how some people lump North and South Carolina into one state (KIDDING!), people tend to lump Jones Gap and Caesars Head State Parks into one big, beautiful wilderness area. The hike between the parks is only 5.5 miles, but between the two there are 35 miles of trails, multiple waterfalls, and plenty of spots for backcountry camping. The best hike by far is up to the 420ft Raven Cliff Falls in Caesars Head, where you can cross a suspension bridge and snap some envy-inducing Instagram shots. You can also take a walk by the Middle Saluda River, the state's first designated Scenic River.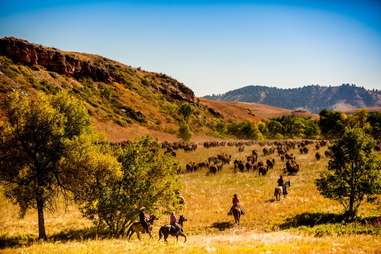 South Dakota
Custer State Park
Custer
The name might confuse you a little, since General George met his match in Montana. But the park that bears his name -- where the Black Hills roll through towering rock formations and brightly colored prairies -- is still one of the most scenic state parks in the nation. Drive through tunnels cut from rock (including the famous Needle's Eye) on Needles Highway, just don't go too fast -- buffalo often block the roads. And if you'd like to see thousands of them herded at once, don't miss the annual Governor's Buffalo Roundup in September.
Tennessee
Fall Creek Falls State Park
Spencer
This 26,000-acre spread atop the Eastern Cumberland Plateau gives the Smoky Mountains a run for their money when it comes to best vistas in Tennessee. The gorges and cascades offer perfect views of both the mountains and the park's SIX waterfalls, including the namesake 256ft Falls Creek Falls.
Texas
Big Bend Ranch State Park
Presidio
Not to be confused with Big Bend National Park, this state park -- which sits in the high Chihuahuan Desert along the Rio Grande -- is the largest in Texas at 311,000 acres. And it's as Texas as they come, with wide-open spaces for you to ATV, hike, horseback ride, or even fly -- yep, there's a 5,500ft airstrip to go alongside 238 miles of trails and 70 miles of unmaintained dirt roads. The utter desolation of the place makes it one of the West's best parks for stargazing, and the desert sunrises and sunsets will show off colors you've never seen.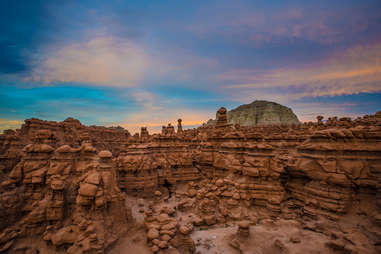 Utah
Goblin Valley State Park
Green River
If we said you were going to a park full of goblins, nooks, gnomes, hoodoos, and mushrooms, you'd probably think we were trying to sell you some sort of YA novel. Nope, just trying to sell you on Utah, where the fields of sandstone formations in this remote valley look like, well, all those things! And the park just opened a bunch of new mountain-biking trails, so visitors can weave their way through Neverland a little bit faster.
Vermont
Ricker Pond State Park
Groton
Like those all-park passes you get at Disney World that let you drink around the world at Epcot then take a ride on Space Mountain, entry into Ricker Pond also scores you access to five other Groton-area parks! No, you won't learn how to order shots in Japanese, but you will get to enjoy time in a waterside cabin in the 26,000-acre Groton State Forest -- because what Vermont lacks in strip clubs, it more than makes up for in natural beauty.
Virginia
Grayson Highlands State Park
Mouth of Wilson
And speaking of strip clubs, when you heard there was something called "wild ponies" in Virginia, you probably thought it was a new late-night hangout for pro athletes. Then you remembered this is Virginia. So, no, there are no strippers in this beautiful state park, just an ACTUAL herd of wild horses. Untamed equines aside, the park's got some of the best views of Mount Rogers and Whitetop Mountain -- the two highest peaks in the state.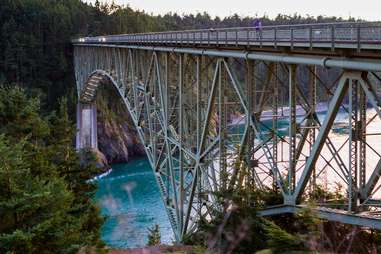 Washington
Deception Pass State Park
Anacortes
Don't let the name fool you (or do, you know, since it's called "deception") but this park isn't named after the bridge that looks like it's not even there in the fog. It actually refers to the fact that George Vancouver thought Whidbey Island was a peninsula. But let's dispense with the history lesson and just talk about about how this park had more than 2 million visitors last year, mostly attracted by the island beaches, hiking, tide pools, and the few miles of the Pacific Northwest Trail that cross that bridge.
West Virginia
Blackwater Falls State Park
Davis
One of the most photographed places in the state, this park is named after the 60ft waterfall where the Blackwater River tumbles into Blackwater Canyon. Although it's also got several other waterfalls and the Lindy Point Overlook, just so you know. Blackwater is also the odd state park in a colder environment that remains a top destination year-round, offering sled runs, toboggan rentals, and an extensive network of snowshoeing trails.
Wisconsin
Devil's Lake State Park
Baraboo
Sometime during the last ice age, a Wisconsin-sized glacier blocked the Wisconsin River and the ensuing backup created a 360-acre clear glacial lake and some magnificent quartzite bluffs. Here in the state's largest park, you can hike through said cliffs and rock formations, or ride mountain bikes up to the scenic overlooks.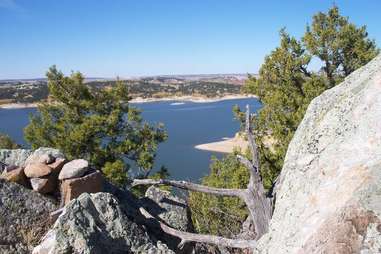 Wyoming
Glendo/Guernsey State Parks
Platte County
Wyoming, though not terribly well visited, has a painful abundance of great scenery. The coolest way to see it? Float down the Platte River between these two state parks. Start at Glendo, one of Wyoming's top boating destinations, and slowly make your way through the Rocky Mountain terrain to Guernsey. There, you can enjoy perfect views at the cliff-topping Guernsey Museum or stay overnight in one of the state's few parks that rents yurts.
Sign up here for our daily Thrillist email, and get your fix of the best in food/drink/fun.
Matt Meltzer is a staff writer for Thrillist. Follow him: @mmeltrez.