With all 401 of the country's national parks and monuments now temporarily closed, your long-planned camping trip to Zion is officially in limbo. But before you hurl your sleeping pad at the wall in a fit of rage, know that there are a slew of equally impressive state parks and outdoor attractions near almost every one of our national treasures. Here are six of the top alternatives to salvage your Fall outdoor adventure.
Recommended Video
Spoil Your Pup at The Dodo's Best Dog Day Ever Event
National Park: Yellowstone
Alternative: Buffalo Bill State Park
Just 40mi east of the Yellowstone entrance outside of Cody, Wyoming, this state park boasts spectacular views of the Absaroka Mountains, trout fishing, and over 90 campsites. Don't feel like camping? Then stay the night in Buffalo Bill's original 1904 hunting lodge, just down the road at Pahaska Tepee in the Shoshone National Forest.
In the neighborhood: Head over to Cody to hit one of the town's two breweries: Geyser Brewing Co. and Pat O'Hara Brewing Company.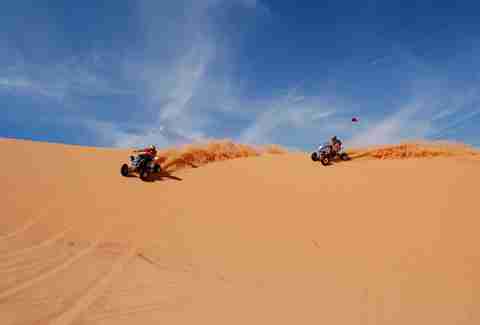 National Park: Zion
Alternative: Coral Pink Sand Dunes State Park
Southeast of Zion National Park, on the border between Utah and Arizona, lies a 265-acre "shifting sea of red sand" flanked by Navajo sandstone cliffs. You can camp, you can ride dune buggies, and you can probably do that sand snowboarding thing you sometimes see in commercials, all for six bucks.
In the neighborhood: You're only an hour-and-a-half drive away from Lake Powell, the "second-largest manmade reservoir" in America (on the Colorado River), and first-largest one named after a one-armed Civil War vet.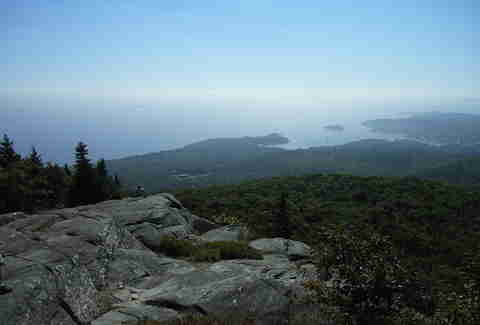 National Park: Acadia
Alternative: Camden Hills State Park
Cut your drive up the coast of Maine short and set up camp at this park outside of Camden instead, where if you climb to the top of Mt. Battie on a clear day you can actually see, in addition to beautiful Penobscot Bay, Mt. Cadillac -- which is on Mt. Desert Island at Acadia. See, it's almost like you were there.
In the neighborhood: Uhh, LL Bean's Flagship store… hello? It's only 75mi back down the coast in Freeport. Feel free to return those Docksiders you've been wearing for last two years -- they take back everything.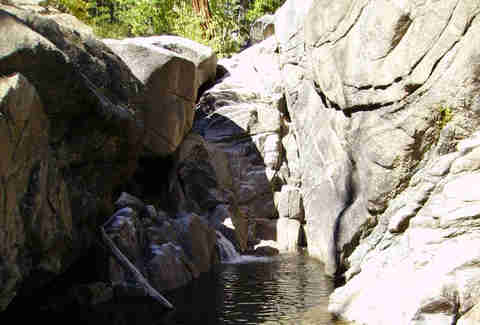 National Park: Yosemite
Alternative: Grover Hot Springs State Park
Who doesn't love a good soak in 105° natural spring water? Forget you ever even wanted to visit Yosemite, as you sit under the stars and rest your weary legs after a day of hiking in this northern Sierra Nevada park's hot spring pools. Campsites are also available, so plan on settling in for the evening.
In the neighborhood: Lake Tahoe. Carson City. Sure, they're not far -- but drive the few extra miles up to Reno, and you'll be rewarded by a visit to the totally random National Bowling Stadium, a massive 78-lane "Taj Mahal to ten-pin" topped by a giant aluminum bowling ball-shaped dome.
National Park: Glacier
Alternative: Flathead Lake and Whitefish, Montana
While you can soak up the views of the park aboard Amtrak's Empire Builder, two nearby options worth a detour are Flathead Lake (Big Arm State Park), and Whitefish. The first is considered the "largest natural freshwater lake west of the Mississippi River", while the second's a cool ski town boasting the Great Northern Brewing Company, Buffalo Cafe, and a Starbucks -- the kind that's inside a Safeway grocery store -- that rocks the fastest wireless internet connection in the entire country.
In the neighborhood: Speaking of trains, the historic Izaak Walton Inn in Essex, (originally built to house workers from the Great Northern Railway) along Glacier's southern border, is a rail enthusiast's dream, offering luxury rooms built inside old train cars and cabooses. There's also a tepee.
National Park: Grand Canyon
Alternative: Slide Rock State Park
Put away your crystals and pocket guide to the Age of Aquarius, head north out of new age-y Sedona, and prepare to slip down the country's longest natural water slide. Or, if you're afraid of water and prefer to hike through a red sandstone canyon, head to nearby Red Rock State Park.
In the neighborhood: Let's be honest, what does everyone do before or after a visit to the Grand Canyon? They go to Vegas, of course. Bellagio not your scene? Fair enough. Nevada's Valley of Fire is another state park with awe-inspiring 3000 year-old Indian petroglyphs and petrified wood (insert your own Viagra joke here).