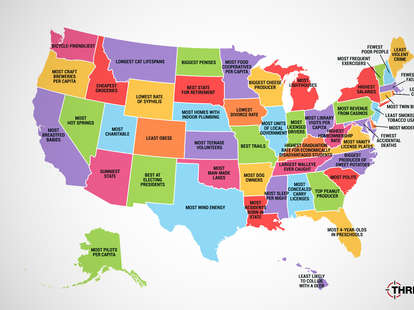 Jennifer Bui/Thrillist
Jennifer Bui/Thrillist
Each of the 50 states is special in its own way. You've already read about what they're worst at. But much like a class of pampered elementary school students, everyone gets an award for something. Here's what's written on the certificate sure to be hanging from each state's fridge.
If everyone in Alabama lived by the motto, "Sun's out, guns out," you'd be led to believe the sun practically never shines in the Heart of Dixie.

You know how little kids dream of running off to some faraway land to escape Mom and Dad taking away Nintendo? Well, for Alaskans, warm weather is their Nintendo, and that faraway land is anywhere you can reach by plane.

Arizona, as a state, doesn't observe Daylight Savings. But with enough sunlight to turn any seatbelt buckle into a weapon of mass conduction, can you really blame them?

According to the American Veterinary Medical Association, 47.9% of households in Arkansas owned a dog in 2011. That's right, Bill Clinton is not the only dog from Arkansas.

More babies are breastfed in California than any other state, at rates that would make your grandmother from the Old Country proud.

With all that amazing hiking, skiing, and just general outdoor goodness, Coloradans have plenty of reasons to get out there and do stuff. But just give it a few more years of having legalized pot, and the 2018 version of this list will be "Greatest Funyans consumption."

Nearly 5% of births in Connecticut are twins, which almost explains how the Winklevoss twins were involved in the creation of Facebook. But not quite.

Remember that scene in Wayne's World when Wayne and Garth seem pretty indifferent about being whisked away to Delaware by the magic of chroma key? Well, that's how most people who live there feel, every day.

A state famous for its old people, Florida still makes early childhood education a priority, with 78.5% of the state's 4-year-olds enrolled in preschool.

Georgia is the biggest producer of peanuts in the country. Just ask the sole president who hails from Georgia, Jimmy Carter, a peanut farmer himself.

Hawaii actually has two species of deer, but the odds of running into any are relatively low. The odds of running into a fire juggler? Significantly higher.

Idahoans pay nearly half the price for their groceries as bordering states Montana and Washington. And you thought all anybody ate there was potatoes.

Somehow, the Land of Lincoln has more recently been Bad as Blagojevich, at one point seeing four of its previous seven governors land in jail. But that may be explained by its having so many units of local government, since nobody can remember who does what anymore.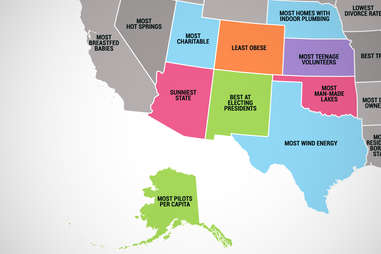 If you're gonna be stuck on the side of the road hitchhiking, well, Indiana's a pretty good spot for you to end up.

Iowa is like the Ireland of the United States: Iowans are most likely to stay married, for better or worse. Not surprisingly, the state with the highest divorce rate (and marriage rate) was Nevada, due in no small part to the number of Elvis-officiated nuptials.

Maybe the youth of Kansas truly want to change the world. Or maybe court orders say they have to pick up litter on the side of the freeway. Only Kansas' teenagers know for sure.

Impoverished youth have the greatest chance of success in Kentucky. Granted, Kentucky does have the second-highest percentage of people living below the poverty level in the nation. But they're making the most of it.

In 2012, 79% of Louisiana residents were born in the state. Compare that to Nevada, where only 25% of the residents were born in state. The lesson: nobody ever walks away from crawdads, gumbo, or beignets, if they know what's good for them.

Forget the plot of every Stephen King novel you've ever read. Maine is actually just full of upstanding citizens -- not killer clowns, zombie pets, or entire towns turning into vampires.

Safety goggles and hardhats might as well be on the state flag.

That lore of the Masshole driver? Well, it's overstated -- at least in terms of statistics that actually matter. But official stats don't track middle fingers extended or number of guys screaming, "UP YAWZ!"

Conversely, Michigan ranks highest in number of lonely lighthouse keepers. Watch someone invent the most niche dating app ever -- Lighthouse Keepers Only.

Midwesterners have a reputation for being friendly. Synonym for friendly? Cooperative. Coincidence? Not in the least.

Southerners have a reputation for talking slow. But, well, maybe everybody from Mississippi is just still groggy -- on average, they get 40 more minutes of sleep per day than the state that gets the least sleep, Wisconsin.

Although Missouri's been recognized of late **SPOILER ALERT** for the trail Amy Dunne intentionally left in Gone Girl, it's the state's nonfiction trails meant for biking, hiking, and even boating that make Missouri no. 1 in the nation for trails.

You know that saying about cats having nine lives? Yeah, well, in Montana, they've got a baker's dozen.

Only 0.36% of homes in Nebraska are without indoor plumbing. Consequently, Nebraska has the cleanest dishes and most-showered residents, but the lowest opportunity for hillbilly slapstick based on using an outhouse.

Most people associate Nevada with Las Vegas and its man-made wonders. But its hot springs are the perfect way to relax after you've spent an hour at the Spearmint Rhino or watching the Thunder from Down Under.
Only 7.8% of people in New Hampshire lived below the poverty level in 2008. That doesn't mean you should move there if you're trying to strike it rich -- but if you're trying to not be poor, well, then this is your place.

If there's one thing to be certain of in New Jersey, it's that you won't find many people dipping along the boardwalks. That doesn't speak to cigarette butts, vaping, or any number of other things that aren't healthy. But smokeless tobacco? Fuhgeddaboudit.

New Mexico has fallen on the right side of the electoral college more than any other state, having voted for the winning presidential candidate 92.3% of the time. Are you writing this down, Nate Silver?

People in New York will tell you: living in New York is expensive. You basically leave your apartment and you've already spent $20. Thankfully, though, salaries reflect the fact you pay $1,300 per month to live in a 10'x12' studio in an "up-and-coming" neighborhood.

North Carolina's biggest exports are sweet potatoes, hogs, and college basketball teams that make people want to punch them in the face.

Not a lot of exposition required here.

Residents in Ohio go to the library more often than any other state. Presumably to figure out what the hell a buckeye is.

Oklahoma is as land-locked as a state can get. But when life hands you a dust bowl… make a fake lake?

Oregon is basically the equivalent of beer nirvana, with 221 breweries in 71 different cities. All that business accounts for $2.83 billion, or 235,833,333 nice six-packs of brew. Keep doing God's work, Oregon.

Talk about a dark horse. You'd assume Nevada would lead in this category, far and away. But Pennsylvania's picked up a ton of steam in the last decade since it legalized gambling. Plus, nearly 10 million more people live in Pennsylvania than in Nevada.

The average person in Arizona uses more than five times the amount of energy a person in Rhode Island uses. Mostly because the average temperature in Arizona is 3,213,983 degrees Fahrenheit, and air conditioning requires electricity.

It comes as no surprise that a southern state ranks as the most polite, given the stereotype. But that's one stereotype you'd love to be on the business end of.
South Dakota is both beautiful and affordable. No, it doesn't have the warm weather you find in Florida -- but if it's good enough for George Washington, Thomas Jefferson, Abraham Lincoln, and Theodore Roosevelt, then it's good enough for you.

Famous for it's country music, Tennessee holds plenty of records. But, like, the vinyl kind. Jokes aside, a Tennessee man caught a walleye that weighed 25 pounds back in 1960. And that's like the Joe DiMaggio hitting streak of walleye catches -- nobody's come close ever since.

Everything is bigger in Texas, including the hot air blowing through the state.

Utah also has the highest volunteerism rate in the country. It's the most underrated state in the Union, in terms of good people.

In spite of the cold weather, people in Vermont manage to exercise more often than anyone else. Because after all, snow shoveling totally counts as exercise.

Since this article is "What every US state is the best at," and not "What every US state is the worst at," let's just say Virginians excel at letting everyone stuck behind them in traffic know exactly how cool they think they are.

In Washington state you can ride your bicycle just about anywhere -- to the grocery store, to Taco Bell, or to your medical dispensary. Just not necessarily in that order.

When John Denver sings, "Take me home, country roads," the funny thing is that pretty much everyone in West Virginia owns a home where the country roads will actually take them.

Imagine a world of poutine without cheese curds, burgers without sharp cheddar, and grilled cheese that's really just two slices of toast. That's not a world anyone wants to live in. Thank you for your service, Wisconsin.

Wyoming has the lowest rate of syphilis in the nation. But seeing how the state has the second-lowest population density, it's probably due in large part to not being able to find anybody to hook up with.

Kate Peregrina is a writer and English teacher living in Spain. Follow her on twitter @kateperegrina.