Pittsburgh Is America's Best City for Partying on St. Patrick's Day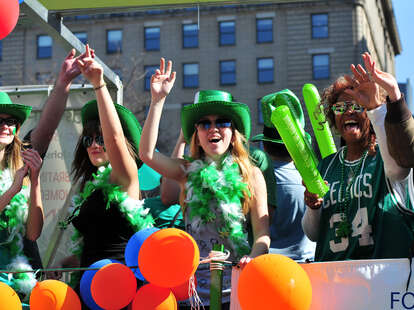 <a href="http://www.shutterstock.com/gallery-737851p1.html?cr=00&amp;pl=edit-00">Olivier Juneau</a> / <a href="http://www.shutterstock.com/editorial?cr=00&amp;pl=edit-00">Shutterstock.com</a>
St. Paddy's Day, much like your nearest "Irish" pub with the neon-green four leaf clover outside, is just around the corner, promising free-flowing Guinness, redheads unafraid of daylight, and dudes who claim they're an eighth Irish wearing shirts that say "Kiss me, I'm Irish!"
But which is the absolute best US city to celebrate in this March 17?
That'd be Pittsburgh, according to college data site Niche.com, which crunched numbers for cities with over 100,000 residents and factored in the number of bars per square mile, the percentage of the Irish population, holiday "hype" on Facebook, and the age of the St. Paddy's Day parade in each, to find the most Guinness-mad metropoles in America.
With 13.5% of the population identifying as Irish, bars everywhere, and a parade that dates back to 1869, the Steel City is as close to Dublin anyone's gonna get in the US. Boston, which you likely thought would be first, came in second place, with 13.6% of Irish folks and the oldest parade in the running, established in 1737. In third (or "turd") place is the rather unlikely choice of Davenport, IA, where 13.1% of the residents are Irish, and Facebook hype is strong.
While Pennsylvania wins the list, with Philly (no. 5) giving the state two of the highest ranking cities in the top 10, Missouri also has two big cities in the ranking: Kansas City (no. 7), and St. Louis (no. 9). As for Chicago -- which famously dyes its river green every year -- that just made 10th place, with little Facebook hype, and only 6.9% of citizens of Irish heritage.
And if you're wondering where New York or San Francisco landed, they didn't even sniff the top for lack of St. Paddy's hype on Facebook. Hey, don't hate the messenger.
Before you stumble in to your local dressed as a leprechaun, check out the 10 best cities to celebrate St. Paddy's this side of Ireland, below.
10. Chicago, IL
9. St. Louis, MO
8. Cleveland, OH
7. Kansas City, MO
6. Savannah, GA
5. Philadelphia, PA
4. Buffalo, NY
3. Davenport, IA
2. Boston, MA
1. Pittsburgh, PA