The Biggest Mistakes You Can Make Traveling in Europe
Shutterstock (edited)
Shutterstock (edited)
Aside from the typical advice not to drape yourself in an American flag (or the equivalent Team America uniform of stonewashed jeans, North Face fleece, running shoes, and a baseball cap), here are a few real-life tips to help you avoid making regrettable mistakes while traveling through Europe.
Expecting to travel on plastic
The monarchies may largely be disbanded but cash is still king in Europe. Expect to pay "bar oder bargeld," "efectivo," or "espèces" (they all mean "cash"!) at most cafes, restaurants, bars, shops, smaller museums, and for taxis and public transportation. Withdraw amounts large enough to avoid racking up fees but small enough to feel safe. (Also, here are some tips to avoid getting your pockets picked.) Most "bankomat" (ATM) machines allow you to select bill denominations.

Using just any old credit card
If you do throw down the plastic, make sure it's not a card with exorbitant international exchange fees -- that's not a fun bill to come home to. Look into the best travel credit cards before you leave. And while you're researching, don't forget to check the chip! The US security chip system that's built into many newer debit/credit cards ISN'T fully coordinated with the European version, so it's very likely that you won't be able to use your card at many ATMs. Ask your bank ahead of time if the chip works in Europe and seek out large international banks for the greatest chance of ATM cash-withdrawal success.

Not claiming your VAT tax refund
Especially if you're planning to make some large purchases, save your receipt and be sure to ask the cashier for a VAT tax-refund form. They will stamp your completed form, and you'll bring it to the tax refund desk at the airport before you leave Europe. You are eligible to receive a 19-25% cash refund on all purchases with minimums that range from zero (Germany, Ireland & the UK) to 175 euros in France (check this website). Then go spend that fun money at the duty-free shop, and you're totally winning the international tax game.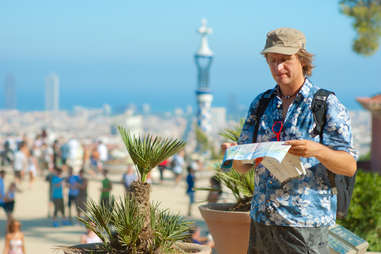 Wearing flip-flops, tennis shoes, shorts, or baggy pants... everywhere
Dressing like a tourist is the easiest way to put a barrier between you and your surroundings. True, you have to be comfortable, but a little extra effort goes a long way. So no, you don't have to rock a set of tails to the Duomo, but dress like you're going to a nicer restaurant and you should be good to go.

Stocking your suitcase with sausage and cheese
Hate to shatter your sausage-filled dreams, but the US Customs and Border Patrol strictly regulates what kind of meats, cheeses, produce, and other foods can be brought into the US. Sausage: no. Bacon: no. I cried when I learned that, too. And I may have eaten my body's weight in pork products the day before I flew back to the US. (Seriously, write your congressperson!)

Eating the bread basket and ordering tap water, expecting both to be free
Sometimes the water is, but don't be surprised if it's not. The extra couple of euros won't break the bank, but it could be an unexpected expense if you're near the end of your cash stash.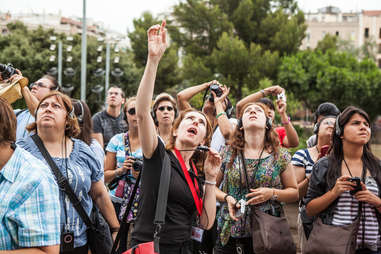 Picking the first organized tour that you stumble upon
Scour the Internet, invest in an guidebook, or download a Rick Steves audio tour before you spend all day on a boring, uninspired tourist bus. Europe's thriving tourism industry offers plenty of fun ways to experience the cities: try a Beer Bike in Munich or Amsterdam, kayak through the canals in Venice, or see Paris from a funky vintage 2CV. Or, you could just shamelessly tag along the next tour group that passes, like this woman does.

Skipping Eastern Europe
Slovenia's stunning waterfalls, gorges, and lakes; the summertime mecca of Croatia's rocky cliffs and turquoise Adriatic waters; Budapest, Hungary's historic architecture; crazy festivals and affordable luxury on the Black Sea's "Bulgarian Riviera;" the pulsing nightlife in Prague... there are so many rewards for traveling just a bit off the path well worn by most Western tourists, often at a fraction of the cost. For some ideas of insane places to hit, here is the most underrated tourist attraction in every EU country.

Not learning basic words in the language of the country you're visiting
Yes, almost everyone in big European cities speaks English, but it's not the same outside of town. At worst, it can be a necessity; at best, you'll save yourself time and embarrassment by learning a few key words and sentences. The effort is almost always appreciated and it can open the door to more authentic experiences. Here's a language app to get you started.
Bringing a suitcase that you can't carry
Cobblestones and giant suitcases don't get along. Just because you can check it on the plane, does not mean that it will comfortably roll down the aisle of a train or that you will want to carry it up the uneven, steep hill to your hotel. Leave the refrigerator-sized behemoth at home and stick to smaller rolling carry-on cases.

Traveling without a suitcase or bag that fits the strict limits of budget airlines
Often, the cheapest, fastest way to jump from city to city is to fly one of Europe's popular budget airlines (easyJet, Ryanair, Vueling, airberlin, Norwegian Air, to name a few). But they'll look for every possible extra centimeter and kilogram (the metric system!) to charge you hefty fees. Check the airlines' websites for specific size and weight restrictions before you fly and don't try to fudge it. If possible, consider picking up an inexpensive scale before you go. Also, here are a handful of online booking sites that specialize in European budget airlines: Skyscanner, momondo, and CheapOair.

Only staying in international chain hotels
Sure you might earn more Marriott points, but you'll miss out on the character that makes each European city interesting; family-run hotels and B&Bs open the doors to the homes and lifestyles of locals. They also often rock the best breakfast spreads, just so you know. A lot of tasty pastries, breads, cheeses, and jams from local purveyors.
For great deals on smaller hotels and guesthouses with a solid selection of last-minute availability, use HRS, BedAndBreakfast.eu, and Booking.com. Or, if you'd rather not share a bathroom with Frau Schweinsteiger, you can live like a true local in an apartment from Airbnb.
And, finally, for the most Instagram-worthy digs, book your stay on a local farm, vineyard, or mountain hut through one of the many agrotourism sites like Austria's Holidays on the Farm, French Vineyard stays, and Discover Tuscany. You can get your hands dirty by pitching in or just kick back and enjoy a different pace of life far from the crowded metropolitan areas.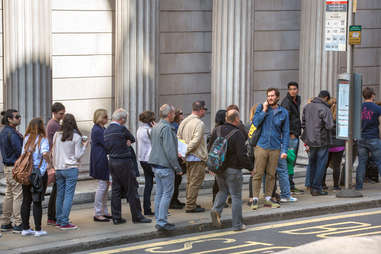 Expecting all public transportation to be on time
Even in the most punctual of countries (we're looking at you, Germany), public transportation is often derailed by construction, accidents, union strikes, and unexplained delays. In addition, the current refugee crisis has led to borders and highways throughout Hungary, Austria, Germany, the Netherlands, and Sweden opening and closing unexpectedly, trains stopping, and surprise passport checks delaying travel. Check government websites and speak with travel agencies for updated information. Pro tip: when you're planning your travel day, make a list of at least two backup connection options in case one leg is off schedule.

Not trying the local hangover cure
Centuries of brewing beer, bottling wine, distilling schnapps, and steeping liqueurs mean centuries of hangovers. Ask your bartender or check out these suggestions (or these) for the hair of the "chien," "hund," "cane," or "perro" to match its international counterpart.

Not traveling with ibuprofen
It's a PRESCRIPTION drug in Europe, so you can't pop into the pharmacy to grab a bottle of the little orange pills to cure that aforementioned hangover or your twisted ankle.
Not checking the current opening and closing dates/times
Tourism is a busy, seasonal industry and folks work hard during intense periods. They, too, need vacations. And as we all know, they get a TON of time off. Trouble is that those vacations don't always coincide with your travel plans, and entire towns can go to sleep just when you arrive. Call ahead to make sure the museum, restaurant, shop, or attraction isn't shuttered for one of Austria's 147 national holidays (kidding, it's 142!), a worker's strike in Italy, a mid-week "ruhetag," or the dreaded "off-season."

Also, leaving your shopping until the end of the day
"During business hours" means something different everywhere. To be safe, expect a midday pause from around 12-2pm (1:30-4:30pm in Spain) and closing times between 6 or 7pm. Large shops in major cities, however, may have longer hours without the midday break. All that's to say, be prepared for something to be closed at the EXACT time you need it most to be open.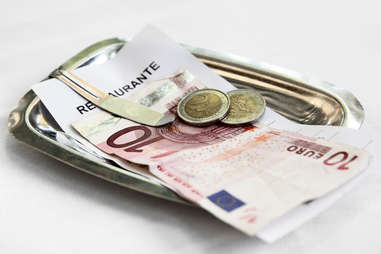 Tipping like an American
Restaurant workers won't grin and tap dance for your tip because they make a normal wage as a part of their basic employment. Save those extra few euros and tip via the local custom of 10%. Hand your server or taxi driver your money and tell them the total amount you want to pay, including tip. They will do the math and give you the correct change. Also, don't leave the tip on the table at a restaurant -- include it in the payment that you give directly to the server.

Not brushing up on military time before you leave
You'll remember this one when you're standing alone on the train platform at 5pm when your train left the station at 15:00. That pesky "one" makes all the difference. Pro tip: two weeks before you leave, switch the clocks on your computer and phone to 24-hour time to help you adjust.

Automatic is for wusses. And automatic transmissions aren't as prevalent in Europe as you're hoping.
Sign up here for our daily Thrillist email, and get your fix of the best in food/drink/fun.
Erin Snell's unwavering love of beer, cheese, sausage, music, and mountains transplanted her to Salzburg, Austria, where she sings opera. She now owns two dirndls and wears them non-ironically. Follow her on Twitter & Periscope.