These Mind-Blowing Ski Resorts Show Why Canada Is A Winter Wonderland
Resorts of the Canadian Rockies RCR
Resorts of the Canadian Rockies RCR
If you're looking to tear up the slopes this season, there's no better place to do it than Canada's mountain villages. The Great White North is home to picturesque resort ski regions like Resorts of the Canadian Rockies and Ski Québec city-Charlevoix. But it's not just about the trails and views; where you wind down after a run is just as important. Keeping all that in mind, we rounded up the best ski runs and après spots in these two regions. Once you experience Canada's finest wintry retreats, you're gonna hope summer never comes back.
Ski Québec city-Charlevoix
This region draws visitors in for many reasons: Québec City's European feel and urban lifestyle, Charlevoix's breathtaking views of the St. Lawrence River, and ideal snow conditions. The area receives about 600 cm (roughly 236 inches) of fresh powder each year.
Mont-Sainte-Anne
If you're looking for the quintessential Canadian ski experience, Mont-Sainte-Anne is just the place. It first opened more than 50 years ago as a formal resort (and boasted the only gondola in Eastern Canada at the time), but its roots run even deeper -- volunteers cut the first ski path here in 1943. Of course, you're not just heading here for a history lesson. Mont-Sainte-Anne is located in the city of Beaupré only 30 minutes outside of Quebec City, boasts 71-plus trails, and has three snow parks spread across three sides of the mountain. Plus, they offer unlimited night skiing.
Best run: La Crête is one of the mountain's black diamond trails and is actually one of the most accessible options in their expert zone. Located on the western point of the mountain's south side, La Crête is a 2.2-mile-long race trail with a sustained 40-degree angle, on a mountain with a 2,050-foot vertical drop. But the best part may just be the view from the top: you'll get an unobscured view of the St. Lawrence River, and even see Québec City before you speed down.
Best après: When you plan a ski trip, what you'll do after a day on the slopes is just as important as the runs you'll hit on the mountain. That's where après comes in. For a cozy, European après-ski experience (but without the hefty airfare) head to Le Brez after your run. Their menu is extensive, with everything from high end entrées to Euro-style pizzas (like a sausage pizza topped with green onions, arugula, and goat cheese). For a truly classic après experience, you can't go wrong with fondue. There are seven different cheese options, ranging from gruyères to tangy blue cheeses, with a wine menu to match. The restaurant is also situated slope side, just a short walk from the ski ticket window and gondola, so you won't have to wait long to warm up.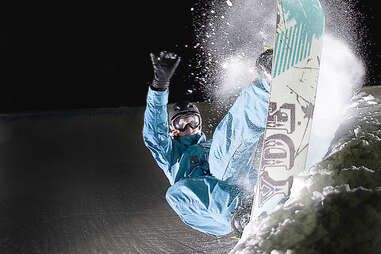 Stoneham
Like Mont-Sainte-Anne, Stoneham is located in the Québec region, but it's even closer to Quebec City -- just 20 minutes from downtown. That means when you aren't skiing down one of their 42 trails, you could be exploring the only walled city in North America. When you get back to the resort, it won't be time to call it a day just yet; Stoneham has one of the largest trail maps for night skiing in North America. When you do finally get tired though, you can ski right on over to the Condos & Hôtel Stoneham at the base of the mountain.
Best run: While 19 of the resort's trails are lit at night, you'll want to spend the day at Stoneham's snowparks. The resort has three, and one is equipped with a 22-foot Olympic half pipe -- making it perfect for freestyle enthusiasts (on skis or a board) who want to try out the kinds of jumps and tricks usually reserved for ESPN2's X Games highlight shows. It's also a permanent structure, so riders can head out as soon as there's enough fresh powder. Experts take note: one of the snowparks is set on XL proportions, meaning that it is more challenging with bigger jumps, rails, and wall rides.
Best après: Le Feu-Follet Restaurant near Condos & Hôtel Stoneham is the place to head if you're looking for a #treatyourself meal after your run. It has some of the best views of the slopes, not to mention a fine dining atmosphere that specializes in warm maple rosemary duck breast and seared scallops in an olive risotto. For something more casual, there's Bar Quatre Foyers right next door. It boasts a pub-like atmosphere with a classic, casual menu (this is Canada, so that definitely includes poutine) and a live band every Friday and Saturday night in the winter season. Be sure to grab your drink and hit up the Arctic Spas Zone onsite to give those sore ski muscles a break, too. (It's a totally free experience with your stay so you'd be crazy not to.)
Le Massif
Le Massif de Charlevoix (its formal name if you're fancy) sits right along the St. Laurent River in a UNESCO Biosphere Reserve -- meaning there's an abundance of untouched nature to look at while you ski. The resort is the brainchild of Daniel Gaulthier, aka the man who created Cirque De Soleil, so anticipate some unexpected quirky details. For example, at most ski resorts, you'll find the resort center (like where to purchase a lift ticket and the ski lodge) at the mountain base. At Le Massif, however, all of this action takes place at the top of the mountain, as the St. Lawrence River surrounds the base. Plus, having the resort center located at the summit also means you'll get prime views from the minute you arrive.
Best run: Speaking of views, the summit of Le Massif is just the beginning. While heading down the La Richard run, you'll be able to take in the St. Lawrence River and the Ile aux Coudres -- the small island that sits on it. (If you're lucky, you may even catch a boat going through the river's ice slab on your way down.) Among the mountain's 52 trails, La Richard is an intermediate option with a max speed of about 52 mph -- and the mountain has the highest vertical drop east of the Rockies.
Best après: Sitting high at the top of the mountain, the Summit Lodge at Le Massif is home to both a pub and a cafeteria, but we're not talking about what they served at your old high school. That's because Chef Guy Bessone is insistent that there are no fried foods on the menu -- instead, the restaurant has a French country feel with items like a sausage platter with local cheeses and freshly made pastas. As for the entertainment, Grand Duc Pub at the Summit Lodge is known for its parties, thanks to regular DJs and musical acts that perform almost nightly.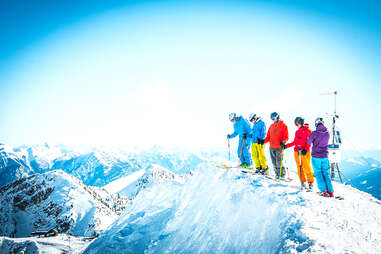 Resorts of the Canadian Rockies
The largest private ski resort owner/operator in all of Canada, RCR puts your ski needs above all else. If you're looking for a trip in British Columbia, look no further than two of its popular resorts: Kicking Horse and Fernie Alpine.
Kicking Horse
Sitting just outside the town of Golden in BC, Kicking Horse bills itself as the "Champagne Powder Capital" of Canada, thanks to the deep alpine ridges and bowls that fill with fresh snow throughout the mountain passes. It's also home to more than 100 ski runs, so whether you're a novice or looking for exhilarating black diamond runs, there's a trail for you to hit. One of its signature features is the gondola ride; in a single ride to the summit, you'll get prime views of the Rocky Mountains and nearby national parks. Afterward, you can head into the onsite ski village for everything from shopping to soul food at the Heaven's Door Yurt.
Best run: Cloud Nine, Sluiceway, and Show Off are all intermediate runs starting at the top of the mountain, which has the fourth highest vertical drop in North America at 4,133 feet. These three trails are among the locals' favorite for intermediate skiers and are recommended by the resort for first time visitors to Kicking Horse, as Cloud Nine and Sluiceway are about as high up the mountain as some of the more advanced runs. If you're looking for something a bit more extreme (and tons of untouched powder) Kicking Horse also has a heli-skiing operation right at the resort.
Best après: The Eagle's Eye Restaurant is perched at the very top of the mountain (a 7,700-square foot elevation) and is known for its five-star fine dining menu in a luxe rustic setting. Even though it's high up, it's not a hike to get there; just a 12-minute gondola ride to the mountain summit sits between the mountain base and you ordering the venison & bison bourguignon while you take in the views. If you can't bear to take the ride back down, you can even book your accommodations in a private suite at Eagle Eye -- if you're willing to pay about $900/night. (Hey, we said it was luxe.) For drinks, head off the resort to Whitetooth Brewing in nearby Golden -- offering six of their local craft brews in their tasting room.
Fernie Alpine Resort
Fernie Alpine, at the center of the Canadian Rockies and just 5 minutes from the mountain town of Fernie, has been hosting visitors as a winter destination since the 1920s. The resort gets more than 30 feet of snow each season and boasts 140 runs along 2,500 acres of skiable terrain -- meaning you've got plenty of options, whether you're looking for black diamond runs or beginner slopes. If you're lucky, you may even catch sight of the Griz, the local folklore hero who was said to have defeated a bear as a baby and became a hulking, 300-pound mountain man and whose nickname is honored throughout the town with bars and annual festivals.

Best run: The black diamond Morning Glory weaves through stashes of powder and untouched spots across the mountain. It's located in their Siberia Bowl, and is best tackled in the morning (when the light is best). If it's views you want, though, you'll need to run a tougher course on Mama Bear or Papa Bear -- both of these black diamond runs start above the cloud cover and will give you the best glimpses of the mountain. Almost any run will get your heart pounding though, as the mountain has a 3,550-foot vertical rise -- the highest in the Canadian Rockies region.

Best après: Located at the Lizard Creek Lodge (a ski-in/ski-out option for accommodations at Fernie), Cirque Restaurant and Bar is an upscale restaurant with modern decor offering everything from a butternut squash risotto to mussels in a cider cream sauce, complete with craft cocktails. Griz Bar, however, is an après-ski establishment that's been around since 1962. Definitely order the Mogul Smoker -- a hot chocolate cocktail made with rum, Kahlúa with coffee, and whipped cream to warm up and relax after your day on slopes.