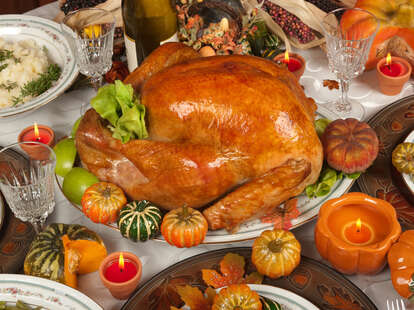 Not the Wednesday before. Or, the weekend prior, for that matter (Nov 22-23, this year, btw). But you already knew this.
No, assuming your schedule allows it, the Monday or Tuesday before Thanksgiving is your best bet for scoring the cheapest fare to grandma's house. At least according to data recently crunched by Priceline.com. Which, shouldn't come as much of a surprise.
As for return flights? Well, travelers who argue with their parents and are happy to skip out mid-meal before the Cowboys even kick off are in the best spot -- flying home on Thanksgiving Day or Black Friday is your cheapest move (even if it means missing $12 laptops at Walmart at 3am). Or, if you love your parents and can't get enough of family bowling nights, stick around until Tuesday, December 2. Prices drop after the Sunday/Monday rush.
In terms of best time of day to fly (and when to book), again, stop us if you've heard this before: Flights between 5am and 7am, or after 8pm, are least expensive, while those from 11am to 4pm should be avoided like ebola (too soon?). Unless you enjoy standing in security with these awful people, of course.
And logically, prices rise the closer Turkey Day gets, so booking before the end of October saves the most money. Don't think you'll get any last-minute deals. They don't exist.
Finally, one bit of somewhat surprising information. The current national average for domestic airfares around Thanksgiving compared to last year has pretty much stayed the same -- outrageously high. As of this month, the average ticket price is $420; compared to $421 in 2013.

Chloe Pantazi is an editorial assistant on Thrillist's travel team. Yes, that's a British accent. No, she doesn't watch Doctor Who. Follow her on Twitter at @ChloePantazi.