Inhalable coffee? Been there. Powdered alcohol? Done that. Snortable chocolate? Hmmm. Well, thanks to a creative confectioner in Antwerp, Belgium, you can strike that off your list, too.

It's called The Chocolate Shooter, and it's the ingenious brainwave of Belgian chocolatier Dominique Persoone (aka "The Shock-o-latier"), who was tasked with creating a special birthday dessert for one of the Rolling Stones.

The only place to get it is at The Chocolate Line (for about €45, $60), Persoone's store on Antwerp's outlandishly ornate main drag known as the Meir. While the former palace resembles a lavishly appointed 18th century parlor, the chocolate on display is anything but stuffy: ganaches spiked with cannabis (!), pieces shaped like disembodied hands (the emblem of the city), and even a tequila shot glass made entirely with salted chocolate (tequila included) called the Choc-tail.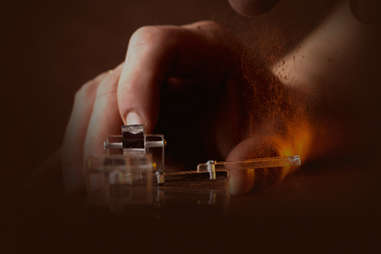 So here's how it works: The Shooter looks like a spring-loaded mini-catapult, which is exactly what it is. You load pulverized chocolate into the "basket" — it's about the width of a thimble — position it under your nostrils, hit the release, and snort. Hard. The result is a maxed out choco-blitz to the brain as it sprays up your nose.
Cinnamon, curry, nutmeg — in theory, anything that can be powdered is up for experimentation. Sadists will want to look into a chocolate with a paprika/cayenne pepper mix, perhaps.
And now watch it action, as Persoone mixes powered ginger and mint with the cocoa for what looks like a mind-blowing experience. The mint and ginger open wide the sinuses, even as the cocoa hits his scent receptors. His expression is classic.