These Cities Have the Highest Rents Across the US
Bad news: living in a major city is still way more expensive than living in Interior, SD. That doesn't mean it's totally impossible, but you're not going to be living in San Francisco unless you're making serious bank.
For its July 2015 National Rent Report, Zumper pulled US rent data to show the highest median rents in major cities across the country. SF landed in the top spot, with a median rent of $3,500 for 1-bedrooms, and $4800 for 2-bedrooms -- it beat out every NYC borough, so... congrats, guys? New York was in second with $3,100 for 1-bedrooms and $3,600 for 2-bedrooms. Boston came in third, with $2,230/$2,600 prices.
Also worth noting: San Jose rents increased 2.8% in June, with 1-bedrooms at $2,180. Washington DC prices also went up 3.3%, but it still has a lower median rent at $2,170 for 1-bedrooms. Chicago and Miami have also seen increased rents. But it's not all bad news -- Oakland, while still one of the most expensive ($1,850), has seen rent decreases, as have Denver, Minneapolis, and Baltimore.
All in all, everything is still terrible, but if you're not living in San Francisco, then at least it could be worse? And if you are living in San Francisco, good for you, stop bragging.
Check out the map below of the 10 cities with most expensive 1-bedroom rents to find out where to not spend your money: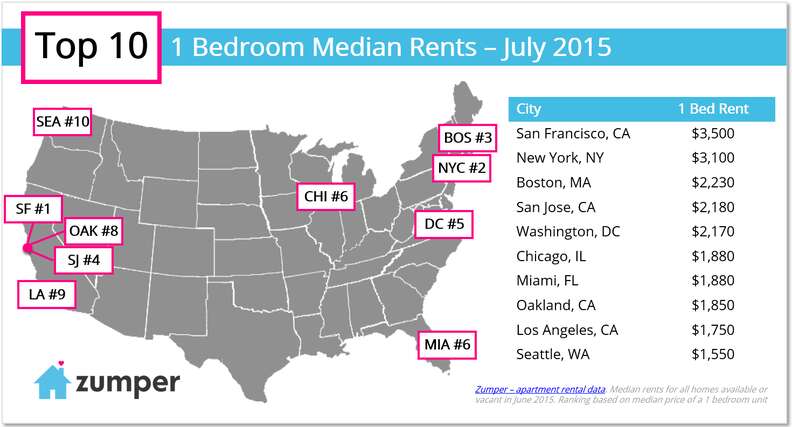 Lucy Meilus is a staff writer for Thrillist and is probably going to move to Interior, SD. Follow her on Twitter at @Lucymeilus and send news tips to news@thrillist.com.