Russians inexplicably build replica Times Square in a Moscow mall
Vladimir Putin may not be a fan of the West, but the same apparently can't be said of all Russians.
In a confounding move certain to lead New Yorkers to scratch their collective heads, Russia has replicated the absolute WORST part of New York City -- Times Square -- inside a Moscow mall. Although, admittedly, it's pretty awesome.
A recent addition to the VEGAS Crocus City mall (seriously, Vegas?), the cloned Times Square, which was built in collaboration with Philips Lighting of Russia, is a lot like the original -- replete with the ever-iconic golden McDonald's sign, tiers of TKTS bleachers, big-screen ads, and billboards for totally real Broadway shows that you can in no way see in Moscow.
Even crazier, Russia's Times Square isn't the world's only copycat -- there's an actual mall and office block tower in Hong Kong called Times Square. 
Check out the new, infinitely less crowded version of Times Square below, before Muscovites begin doing everything possible to avoid shopping there.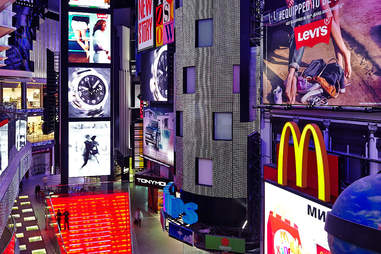 Chloe Pantazi is an editorial assistant on Thrillist's travel team. She would much rather visit this Times Square, than the real one. Follow her away from the crowds on Twitter at @ChloePantazi.