9 of the Coolest, Quirkiest, and Proudest Gayborhoods in the US
From Salt Lake to New Orleans, these are the best gayborhoods to let your rainbow flag fly.
Presented By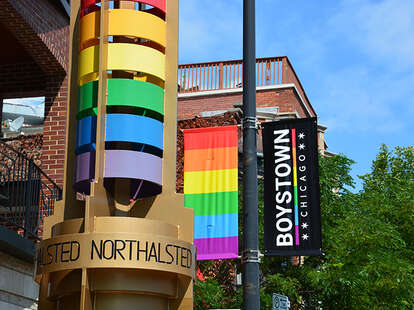 Across the US, in cities large and small, gay neighborhoods (gayborhoods) stand resolute as welcoming havens for travelers from every color of the rainbow. Bustling with nightlife, rooted in history, and colored by flashy flags and murals, these are the kinds of gay enclaves that cater to all members of the LGBTQIA+ community and their allies. Along with popular icons like The Castro in San Francisco or Chelsea in New York City, which command a queer pilgrimage in and of themselves, you'll find all styles of gay neighborhoods elsewhere, from up-and-coming Pride communities to the vaunted streets of West Hollywood. These are our picks for nine of the best gayborhoods in the US.
The Marmalade District (Salt Lake City)
For a place known for its Mormonism, Salt Lake City certainly has one of the cutest and quirkiest on-the-rise gayborhoods in the US: The Marmalade District. It's impossible not to love a neighborhood where everything is adorably named after fruit preserves. The whimsical monikers aren't the only fruity things here, though. A growing population and an uptick in LGBTQIA+ residents in the area is quickly turning The Marmalade even gayer. More peaceful and residential than the typical gayborhood, The Marmalade exudes an almost small-town pastoral charm, where the air is fragrant with fruit trees, rainbow flags flap in the breeze, and same-sex couples share hummus at gay-owned Laziz restaurant. While you're there, dance at Club Try-Angles or take in a show at Salt Lake Acting Company, an indie theater that turned a former Mormon church into a beacon of inclusivity.
Mass Ave Arts District (Indianapolis)
As gentrification and rent increases in larger Midwestern metropolises (ahem, Chicago), young people continue to disperse to other cities, steadily turning traditionally red states a sparkly shade of purple. Indianapolis is one of those markets whose LGBTQIA+ scene has boomed in recent years thanks to an influx of new liberal residents, many of whom crave theater, clubs, art, and martinis. The Mass Ave Arts District scratches all of those itches, with its gay-adored venues like the District Theatre for queer shows like The Golden Gays, Metro gay bar for late-night dancing, Zonie's Closet for drag shows, and Forty Five Degrees for sushi and cocktails. Pro tip: the latter's Sex on the Ave cocktail goes down smooth with its vodka, peach liqueur, cranberry juice, and orange juice.
From its pot to its politics, Colorado has long been a leader for progressive behavior and welcoming vibes, which are on full display throughout the gay-friendly confines of its largest city. Members of the LGBTQIA+ community can find comfort just about anywhere in Denver, but one emerging gayborhood worth a visit is River North, or RiNo. Booming with new construction and new businesses, this once-derelict neighborhood was overlooked and neglected for decades, previously ranking as Denver's most polluted ZIP code. Today, though, things have taken an extraordinary turn, as RiNo is home to gay-run galleries (like artist Tracy Weil's); street murals clad with rainbows and hearts; Bee Sweet, a trans-friendly hair salon that prices by the hour rather than the gender; and Tracks, one of Denver's premier gay clubs, which has been spinning disco balls and hosting pride parties long before the neighborhood had a hip nickname.
Wynwood (Miami)
When it comes to iconic — or dare we say stereotypical — gay culture in Miami, South Beach tends to take the spotlight for its late-night clubs, neon lights, and free-flowing vodka sodas. Drive a little inland, though, and you'll find an artsy enclave colored with every tint of the rainbow. Wynwood has come a long way since its warehouse district past. Nowadays, a visit to this rapidly growing neighborhood could involve posh steak frites, some of the most famous street art in the country, $900 sneakers, and a scoop of Filipino purple yam ice cream. It could also include a more laid-back gay vibe than the pump-action nightlife of South Beach. While Miami Beach Pride takes place in September this year, Wynwood began hosting its own Pride festival in 2019, providing a more chill gayborhood option for LGBTQIA+ locals and visitors with live music, drag performances, and collaborative programming with area businesses like art galleries, restaurants, shops, and breweries. The rest of the year in Wynwood, where rainbow murals are evergreen and queer artists are well represented at the famed Wynwood Walls, the neighborhood is home to one of the city's most popular drag brunches at the gay-owned R House, as well as the equally popular weekly drag night series, Double Stubble, at Gramps.
Logan Circle (Washington, DC)
Home to the US Supreme Court and the Human Rights Campaign, DC is the epicenter of many major milestones for the LGBTQIA+ community. Thanks to its advocacy efforts, progressive population, and tourists and dignitaries from all walks of life, this metropolitan melting pot has the recipe for an inclusive environment. It's also quite fun for LGBTQIA+ travelers. Of the many gay-friendly and gay-centric hubs and businesses dotted throughout the District, Logan Circle is definitely worth lingering in as a hip and happening 'hood lined with restaurants, indie boutiques, and bustling bars. Check out Number Nine, a swanky gay bar outfitted with leather banquettes and dark wood fixtures, where you can pair Chex Mix with margaritas. Then, head across the street to Trade, an art-filled go-to for happy hour and drag shows. Finally, treat yourself to a lash lift at the gay-owned Logan 14 Aveda Salon Spa, which puts particular emphasis on welcoming and supporting the trans community.
West Hollywood (Los Angeles County)
In 1970, West Hollywood hosted the first permitted gay pride parade in the world. That tiny rainbow seed would eventually grow to become LA Pride Parade & Festival, the second largest in the country, and forever frame West Hollywood as the vibrant queer epicenter in Southern California. Today, rainbow flags are about as commonplace around here as stop signs, and roughly 40% of the city's population identifies as LGBTQIA+. While the entire city is famously gay-friendly, particular pockets include nightlife-filled Santa Monica Boulevard and the West Hollywood Design District, the latter of which teems with gay artists and queer-friendly galleries. In addition to pride festivities, the enclave is home to the ONE Archives Gallery and Museum, the first museum in the region dedicated to gay history, and the June L. Mazer Lesbian Archives, stacked with historical lesbian art and literature. Santa Monica Boulevard is the main drag through West Hollywood's queer culture, with The Abbey as its heart and soul. One of the oldest gay bars in the US, it's been a martini mecca since 1971. When you've danced to your heart's content, call it a night at one of West Hollywood's numerous LGBTQIA-friendly hotels, like the Andaz West Hollywood or The London West Hollywood at Beverly Hills.
While not as overtly liberal as Austin, Houston's sheer size and diversity is positioning Texas' largest city as a major destination for LGBTQIA+ travelers, especially to increasingly gay-friendly neighborhoods like Montrose, southwest of downtown. This 4-square-mile area was developed in 1911, and it's calcified as a pocket of eccentricity and diversity, home to neon-lit tattoo parlors, art galleries, coffee shops, and more gay bars than one can count. Westheimer Road is the main corridor for Montrose's numerous gay bars and gay-friendly restaurants, like quirky dog-friendly diner Barnaby's, or stunning newcomer Ostia, where lamb shoulder gnocchi and wild boar bolognese mingle on Travis McShane's seasonal menu. After dinner, it's like a choose-your-own-adventure of queer clubbing. Ripcord is Houston's oldest gay leather bar while JR's Bar & Grill keeps it casual with a comfy patio, cheap happy hours, and drag shows. Crocker is where the cool kids go for karaoke. Finally, Buddy's is a sprawling club with a dance floor and the distinction of being the first gay bar in the country to serve as a presidential voting location.
Northalsted (Chicago)
It's hard to believe that a baseball's toss from Wrigley Field and Wrigleyville, an area on Chicago's north side known for straight bro stereotypes, lies one of the most vibrant and expansive gayborhoods in the nation. Instantly recognizable by its soaring rainbow pylons lining the main thoroughfare of North Halsted Street (hence the neighborhood name, Northalsted, a more inclusive name change from its previous moniker of Boystown), this is one of the oldest areas in the US to be officially recognized as a gay neighborhood. Pride Fest, a major highlight of this area, with attendance of more than 1 million annually, looks like the Cubs' World Series parade with more glitter. The neighborhood is absolutely bursting at the seams with gay-owned businesses, nightclubs, late-night restaurants, and important historical artifacts. Legacy Walk, bisecting the neighborhood along North Halsted for half a mile, is the only outdoor LGBTQIA+ history museum in the country, lined with multi-colored memorials and monuments dedicated to LGBTQIA+ pioneers and heroes. Whether you're thrifting at Ragstock, noshing on duck confit at Wood, or clubbing at Hydrate, it's all too easy to stay entertained at all hours of the day or night.
The Bywater (New Orleans)
In terms of its famous gay culture, the French Quarter is to New Orleans what South Beach is to Miami. The touristy Quarter, home to the city's iconic Mardi Gras celebrations and the annual Southern Decadence gay event, will always be an LGBTQIA+ mecca, but just beyond the nether reaches of Bourbon Street lies a calmer, grittier, and arguably more authentic alternative for gay-friendly spaces. The Bywater is a more peaceful and residential enclave lined with colorful pastel-painted houses and historic businesses like The Country Club, a social club-turned-restaurant and bar that's been flying rainbow flags and catering to gay customers since it opened in 1977. Nowadays, the neighborhood feels effortlessly cool and judgement-free; a place where folks can order rainbow muffins and pride cakes from Bywater Bakery; dance to live jazz in the low-key courtyard at Bacchanal Wine; or stay in style at the gay-friendly Hotel Peter & Paul, a former church and school house lavishly transformed into a boutique hotel. Nearby, the name of the resident gay watering hole, The Friendly Bar, sums up the Bywater vibe perfectly.
Orbitz believes everyone should be able to travel freely, no matter who you are, who you love, or where you're going. Discover LGBTQIA-welcoming hotels, plan queer-friendly trips, and get inspired to vacation. You'll feel welcomed whenever you book with Orbitz. Travel As You Are™.
Matt Kirouac
is a travel writer with a passion for national parks, Disney, and food. He's the co-founder and co-host of Hello Ranger, a national parks community blog, podcast, and app. Follow him on IG @matt_kirouac.