Every state is bad at something. We've explained this before. But when it comes to what every state is good at, well, they all have one thing in common: some seriously cool people have come from them. Like that popular rapper from North Dakota. Or the dude from Connecticut who does the voice of Peter Griffin. Also, Jesse Owens.
Which is why we thought it'd be fun to figure out who the coolest dude from (defined as born OR raised in) every state actually is. Not the richest or most popular, not the most successful, athletic, or best looking (although, admittedly, all of those qualities come into play), we're talking about the coolest cat. Period.
From athletes, astronauts, and activists, to musicians, writers, and movie stars, here are our 50.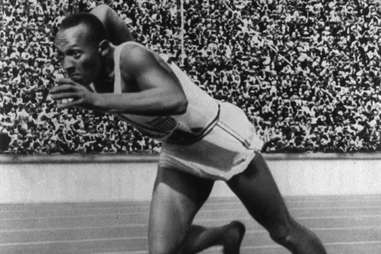 Alabama
Jesse Owens, Olympic runner and four-time gold medalist
Born in Oakville, AL
At the 1936 Olympics in Berlin, Jesse Owens pretty much showed up in the front yard of a dude who'd staked his entire career on the idea of a "master race," beat the snot out of his country's best runners, and gave him the greatest "Oh, really?" in the history of the world.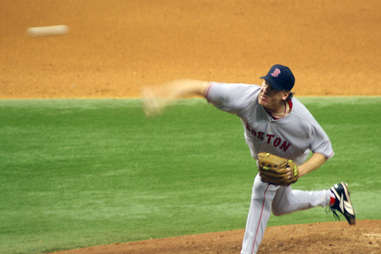 Alaska
Curt Schilling, baseball player
Born in Anchorage, AK
Yeah, he's gone a little off the deep end since retiring from baseball, we'll admit that. But pitching through a bloody ankle to break an almost 100-year-old curse and bring relief to some of the country's most long-suffering sports fans, AND beating cancer? We think people can look past some weird Twitter rants.
Arizona
Cesar Chavez, farm worker and civil rights leader
Born in Yuma, AZ
If you said to yourself, "Wait, I thought he was a boxer?" just stop reading now. While the retired fighter Julio Cesar Chavez is pretty cool, he's from Mexico, and this guy -- who, you know, just led the fight for fair working conditions and civil rights for Hispanic farm workers throughout America -- has his own holiday.
Arkansas
Bill Clinton, 42nd President of the United States
Born in Hope, AR
With all due respect to The Man in Black, he didn't preside over the greatest decade of American economic growth in our generation. While engaging in extracurricular activities. In the oval office. And lying about it, having everyone in America know he lied, and still leaving office with an approval rating near 70%. If that isn't cool enough, these days he spends his time doing stuff like attending Chad Ochocinco's South Beach birthday party and dining with A-Rod and Cameron Diaz. Yeah, didn't see Millard Fillmore doing THAT.
California
Dr. Dre, musician/producer/electronics mogul
Straight outta Compton, CA
While wearing "Beats by Dre" headphones in public makes you look like the complete OPPOSITE of cool, Andre Young himself is the embodiment of it. He changed rap music forever with N.W.A, introduced the world to Snoop Dogg and Eminem, and then got into the electronics biz, becoming the hip hop world's first ever certified billionaire.
Colorado
Trey Parker, co-creator of South Park
Born in Conifer, CO
Since Matt Stone is technically from Texas, half the offensive genius behind South Park doesn't even have to share the honor. The voice of Eric Cartman has also given the world classic cinema like Team America: World Police (America, F*** Yeah!) and the runaway Broadway hit Book of Mormon.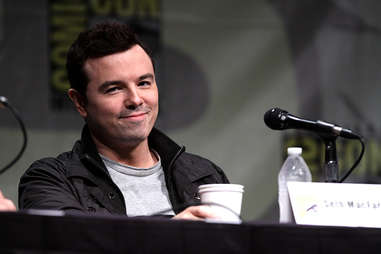 Connecticut
Seth MacFarlane, creator of Family Guy
Born in Kent, CT
If for no other reason, MacFarlane is cool for putting so many '80s pop-culture references into a TV show popular with people born in the '90s; finally, these kids will understand the importance of the Facts of Life. Also, he's hosted the Oscars multiple times and could probably give Steve Sondheim a run for his money if syndicated cartoons didn't pay so much better than Broadway.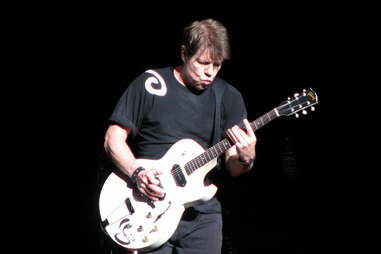 Delaware
George Thorogood, musician
Born in Wilmington, DE
He already told you he's bad to the bone and isn't shy about drinking alone, which makes him way cooler than anyone in Delaware running a credit card company. Also, Tyler Durden isn't real.
Florida
Jim Morrison, musician
Born in Melbourne, FL
Most people associate the mind behind the Doors with Los Angeles. But before he was rocking LA, Mr. Mojo Risin briefly attended Florida State and was arrested for stealing a cop's helmet and umbrella, which is a helluva lot cooler than stealing crab legs.
Georgia
Ray Charles, musician
Born in Albany, GA
Though the greatest R&B pianist of all time was technically raised in the Sunshine State, nobody really remembers him for his hit "Florida on My Mind." And while it might not be the best song ever written about Georgia, Ray was definitely the best character Jamie Foxx ever played. Since he definitely wasn't winning an Oscar for Booty Call.
Hawaii
Duke Kahanamoku, Olympic swimmer/surfer
Born in Honolulu, HI
Roll Michael Phelps and Kelly Slater into one, and you've got a guy who smokes a LOT. And you also have Kahanamoku, who, before becoming the world's first celebrity surfer, won five Olympic medals in swimming; he'd have taken home more if it hadn't been for that pesky First World War.
Idaho
Nikki Sixx, bassist for Motley Crue
Arrested multiple times as a juvenile in Jerome, ID
Nikki Sixx moved around as a youngster, but before he attended the same high school as Sir Mix-a-Lot in Seattle, he got his hooligan start while living in Jerome, ID. He was arrested for vandalism, dealing drugs, and general lawlessness.
Illinois
Miles Davis, jazz musician
Born in Alton, IL
If Miles Davis had been born on the planet Cool, he'd be the coolest guy from there, too.
Indiana
James Dean, actor
Born in Marion, IN
Driving fast, smoking cigarettes (in the '50s, NOT now) and dying young do a lot to up your cool factor. Which is why the coolest Hoosier ever has nothing to do with Indiana basketball and a lot to do with driving off a cliff in a badass sports car. Probably while smoking a cigarette.
Iowa
John Wayne, actor
Born in Winterset, IA
For some reason, they named an airport after The Duke in Santa Ana. No such love in the Hawkeye State, though, where they seem to forget the coolest on-screen cowboy of all time got his start in tiny Winterset.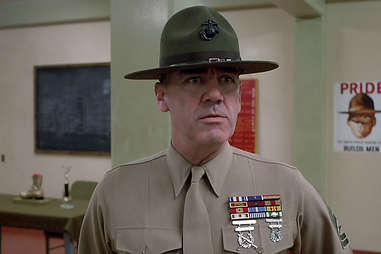 Kansas
R. Lee Ermey, actor & Marine Corps drill instructor
Born in Emporia, KS
You know why the first 40 minutes of Full Metal Jacket is the most realistic boot camp sequence in movie history? Because this guy -- an actual Marine Corps drill instructor -- turned a soundstage into a Parris Island squad bay, essentially ad-libbing the entire scene. He made a career playing badass DIs. And then he kissed Jack Black.
Kentucky
Muhammad Ali, boxer
Born in Louisville, KY
According to legend, Cassius Clay's Olympic medal from 1960 still sits at the bottom of the Ohio River in Louisville, where he chucked it after being refused service in a "whites only" restaurant. He went on to become one of the most hated -- then most beloved -- athletes in American history, and his cocky style and quick wit made him the coolest boxer ever.
Louisiana
Louis Armstrong, jazz musician
Born in New Orleans, LA
Picking the coolest jazz musician from New Orleans is kinda like picking the hottest Victoria's Secret Angel. So this might be the only time you'll see Louis Armstrong called the Marisa Miller of anything.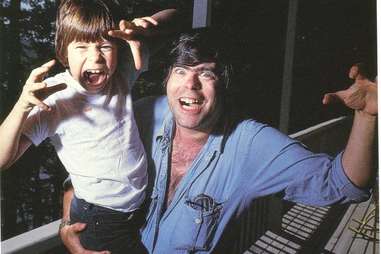 Maine
Stephen King, horror author
Born in Portland, ME
Not only has Steven King introduced us to some of the most nightmare-haunting characters of all time, he's actually made reading cool. Mostly by writing books with 14,000 pages that require people to spend the better part of a presidential administration reading them.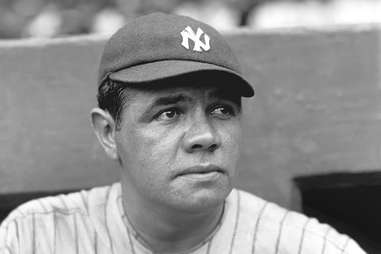 Maryland
Babe Ruth, baseball player
Born in Baltimore, MD
Who needs "the Clear" when you've got cigars, red meat, and prostitutes?
Massachusetts
John F. Kennedy, 35th President of the United States
Born in Brookline, MA
Imagine, if you will, Barack Obama throwing nightly, White House ragers with Diddy, Jay Z, and Usher, and having Jessica Alba jump out of a birthday cake to sing him "Happy Birthday," all the while narrowly averting nuclear war. JFK remains the only president to party like he was, well, the most powerful man in the world.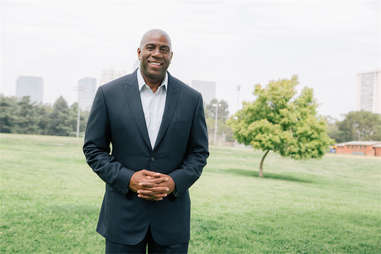 Michigan
Magic Johnson, basketball player/entrepreneur
Born in Lansing, MI
Sure it's impressive that Magic beat Larry Bird to win a college championship, and Dr. J to win one in the pros. And then beat Larry, again. But then he went on to beat AIDS! Like, AIDS, the unbeatable disease. And instead of blowing all his basketball money on watches and strippers at the Gold Club, Magic invested it in businesses in the inner city and is now the guy signing those big checks for the Dodgers.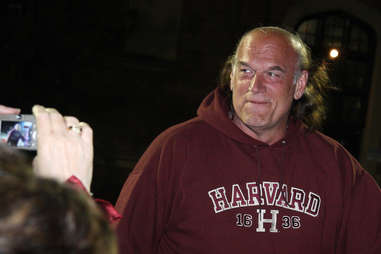 Minnesota
Jesse "The Body" Ventura, wrestler/actor/governor of Minnesota
Born in Minneapolis, MN
Quiz: Which 1980s action movie featured two future US governors and Carl Weathers? No, not Rocky 4 (though Governor Lundgren does have a nice ring to it), but Predator, where The Body starred with Arnold before both went on to become governors. Meanwhile, Carl Weathers went on to a recurring role on Arrested Development.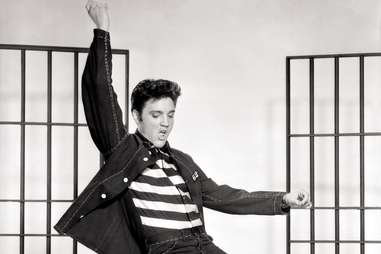 Mississippi
Elvis Presley, King of Rock and Roll
Born in Tupelo, MS
JUST managed to edge out Ray J.
Missouri
Chuck Berry, Rock 'n' Roll singer
Born in St. Louis, MO
Both Bruce Springsteen and Steve Miller once performed with Chuck Berry... as his BACK-UP singers! That's what happens when you're a Rock 'n' Roll pioneer. Also, you achieve legendary status and sing songs that include the lyrics, "playing with my ding-a-ling."
Montana
Phil Jackson, basketball coach
Born in Deer Lodge, MT
Hard to say what's more impressive about Phil Jackson: that he won 11 NBA titles with two different teams, got Kobe Bryant AND Michael Jordan to listen to him, married his billionaire boss' daughter, or that he was on a Knicks team that was actually relevant.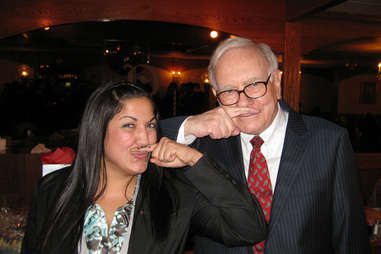 Nebraska
Warren Buffett, CEO of Berkshire Hathaway
Born in Omaha, NE
You know all those "How to get rich quick" books written by sketchy dudes who make you wonder, "If they really knew how to make so much money, why are they wasting their time writing books?" Those are not the books written by this guy, who's largely considered the smartest investor and one of the greatest business communicators in history. Although, yes, he does write books -- as a hobby.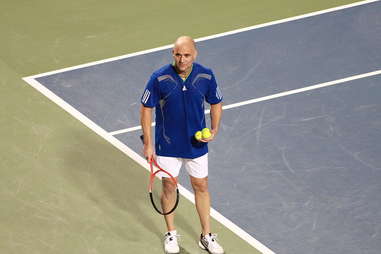 Nevada
Andre Agassi, tennis player
Born in Las Vegas, NV
If there's one thing America loves, it's refillable sodas. But if there's another thing we love, it's redemption; and no athlete has gone from the top to the bottom and back up again better than Agassi. A longhaired tennis phenom before succumbing to a drug problem and male pattern baldness, Agassi eventually returned to top, winning eight grand slams, an Olympic gold medal, and Steffi Graf.
New Hampshire
Alan Shepard, astronaut
Born in Derry, NH
While that Armstrong guy gets all the glory for being the first man on the moon, Shepard was the first American to ever go into outer space! He also ended up being the fifth American to stand on the moon, eventually hitting golf balls off the lunar surface with a makeshift six-iron in 1971.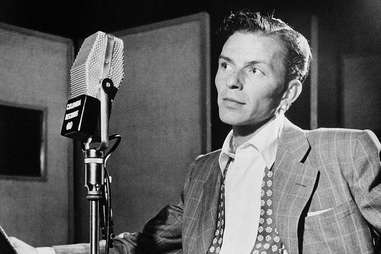 New Jersey
Frank Sinatra, singer
Born in Hoboken, NJ
It's great to be The Boss. But it's even better to be the Chairman of the Board.
New Mexico
Jeff Bezos, founder of Amazon.com
Born in Albuquerque, NM
In 15 years, when Jeff Bezos is emperor of the world, we really hope he remembers how we said he was cooler than Cody Ross.
New York
Theodore Roosevelt, 26th President of the United States
Born and raised in New York, NY
It's pretty incomprehensible to picture any of our recent presidents herding cattle through a North Dakota blizzard. Or assembling a group of volunteer renegade cowboys to fight the Spanish in Cuba. Or boxing. TR did all of these things, and in his spare time wrote an entire tome on the Naval War of 1812, ordered the construction of the Panama Canal, created the National Parks system as we know it, took on railroad tycoons (and won), and even coined the phrase "speak softly and carry a big stick."
North Carolina
Dale Earnhardt, NASCAR driver
Born in Kannapolis, NC
If you've ever driven through the southeastern United States and wondered why so many people display big 3s on their cars/trucks, right between their rebel flag and "Southern by the Grace of God" stickers, it's because of this guy. And the fact that the greatest driver in NASCAR history died trying to win the biggest race in the sport only adds to his legend.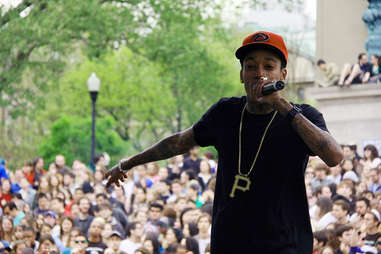 North Dakota
Wiz Khalifa, rapper
Born in Minot, ND
Yeah, Wiz Khalifa is from North Dakota. Wrap your head around THAT. 412 exclusive, indeed.
Ohio
Aron Ralston, climber and subject of 127 hours
Born in Marion, OH
Sure, LeBron is pretty cool. But did he have to saw off his own arm to win those two championships in Miami? No, he did not. But this guy, who literally cut off his own arm after being trapped under a boulder for five days did, which though not enviable, is undeniably tough.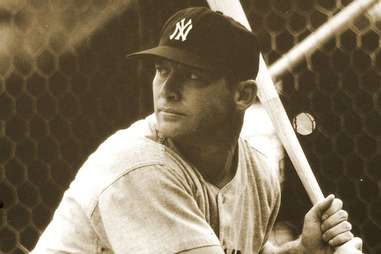 Oklahoma
Mickey Mantle, baseball player
Born in Spavinaw, OK
In an era when heroes were still heroes, and an athlete could go to a bar without TMZ splashing it all over the Internet, The Mick was the idol of every kid who ever picked up a baseball bat. Sure, he played half-buzzed most of the time, but what's cooler than being better than everybody at sports while taking swigs from your flask between innings?
Oregon
John Krakauer, mountain climber and author
Raised in Corvallis, OR
Any writer can sit around and think of funny ideas about flying wizards, kinky rich guys, and the coolest dudes from every state. You know what's tough? Spending three weeks alone in the Alaskan wilderness to research Into the Wild, before, oh you know, just CLIMBING MOUNT EVEREST for his next book, Into Thin Air.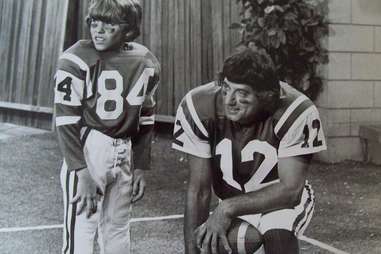 Pennsylvania
Joe Namath, Super Bowl winning quarterback
Born in Beaver Falls, PA
Broadway Joe was known for wearing full-length fur coats, hanging out with models, and guaranteeing victory. So, if he played today he'd absolutely be a wide receiver with an hilarious Twitter feed.
Rhode Island
James Woods, actor
Raised in Warwick, RI
The real question is who is cooler: real life James Woods, who's won three Emmys and been nominated for two Oscars, or Cartoon James Woods who successfully escaped a shipping crate and stole Peter Griffin's identity.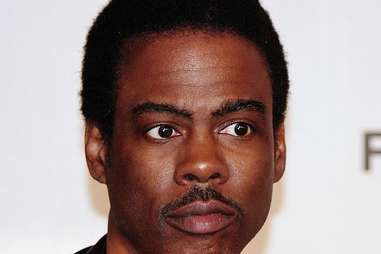 South Carolina
Chris Rock, comedian and actor
Born in Andrews, SC
You can't even come close to quantifying the amount of money Chris Rock has saved American strip club patrons over the years by warning us that there was, in fact, no sex in the champagne room. But calling out Jude Law for his mediocre acting while hosting the Oscars? That's cool no matter what Sean Penn says.
South Dakota
Mike Miller, basketball player
Born in Mitchell, SD
The greatest talent ever to grace the Corn Palace has single-handedly created a state full of fans with jerseys from SEVEN different NBA teams.
Tennessee
Quentin Tarantino, film director
Born in Knoxville, TN
Saying Quentin Tarantino is "a little weird" is kinda like saying Amanda Bynes is "a little reckless," but when you've won two Oscars and made Reservoir Dogs, Pulp Fiction, Inglorious Bastards and Django Unchained, well, who needs normal?
Texas
Woody Harrelson, actor
Born in Midland, TX
Staying relevant in Hollywood is harder than finding a waiter who's not writing a screenplay, but this versatile actor who started as a dopey bartender on Cheers has managed to be a Hollywood A-lister for 30 years. And that's while also being Busey-level nuts offscreen. Throw in the fact that his dad was a convicted hitman (and we don't mean he was a record producer who made popular songs), and you've got your Lone Star State winner.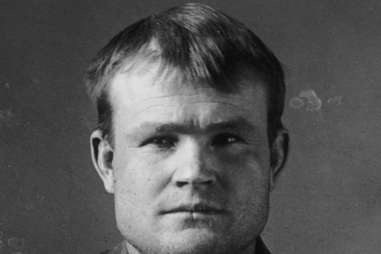 Utah
Butch Cassidy (Robert Leroy Parker), Wild West train and bank robber
Born in Beaver, UT
In a state known mostly for 3.2% beer, it's hard to find a lot of natives one would describe as "cool." But one of America's greatest outlaws actually hails from the Beehive State, where he was raised before making a name for himself robbing banks and trains. He eventually escaped to South America with his famous sidekick the Sundance Kid.
Vermont
Joseph Smith, founder of the Mormon Church
Born in Sharon, VT
Only guy in history who didn't have his own HBO show to make polygamy cool. Also, neither Ben nor Jerry is actually from Vermont.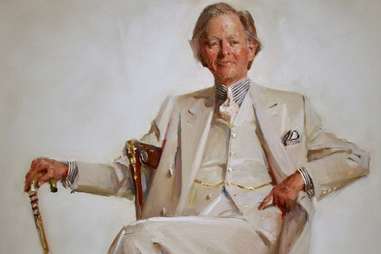 Virginia
Tom Wolfe, author
Born in Richmond, VA
While one of the greatest satirists of the 20th century, the originator of New Journalism, and a 75-year-old man who managed to accurately capture the college experience of an 18-year-old girl, Wolfe's also the only guy who's not a fictional Miami cop/fried-chicken magnate to actually pull off the white suit.
Washington
Jimi Hendrix, guitarist
Born in Seattle, WA
Even though he was supposed to be some kind of lawless, counterculture 1960s anti-hero, Jimi Hendrix also played the most famous rendition of The Star Spangled Banner ever, making patriotism cool in a way "Hacksaw" Jim Duggan never could.
West Virginia
Chuck Yeager, test pilot
Born in Myra, WV
While he was busy working his way up from Private to Brigadier General in the US Air Force, Chuck Yeager tested the fastest, most insane planes our military could invent. He became the first man to break the sound barrier in 1947, and later went on to set another speed record, Mach 2.44 (1857mph), in 1953. All of which must help keep a man young, since he's still kicking today at age 91.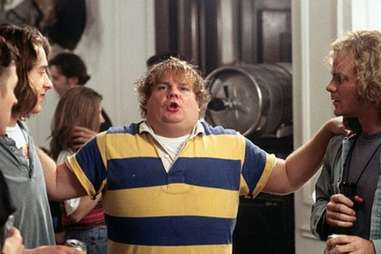 Wisconsin
Chris Farley, comedian
Born in Madison, WI
Of all the comedians whose lives have been tragically cut short, nobody made us laugh harder than Chris Farley. Somehow he made living in a van down by the river seem downright hilarious, while forever helping fat guys in little coats feel a little bit better about themselves.
Wyoming
Jackson Pollock, artist
Born in Cody, WY
Considering that by the time artists get famous, they're usually living in big city lofts and hosting posh Soho gallery exhibitions, you'd probably never guess one of the most famous American painters of the 20th century came from a small town in Wyoming. Then again, you'd probably also never have guessed Wiz Khalifa was from North Dakota. So, hey, you learned something today.