Budapest's Ruin Bars Are Worth a Trip to Hungary
Budapest has a rep for being an epic party city -- after all, where else would you find electronic music and laser shows in a thermal bathhouse? But the city is also known for its famous ruin pubs.
Romkocsma, as they're called locally, are massive abandoned buildings that have been converted into bars and eclectic hangouts -- think old factories, abandoned department stores, and former apartment complexes, all turned into bars or clubs. Ruin pubs offer cheap drinks, mazes of rooms, street art, and communist relics. And they're freakin' cool places to drink. Here are 10 of Budapest's best.
District VII
No ruin-pub crawl would be complete without hitting up Szimpla Kert, the ORIGINAL romkocsma that started it all. Once an abandoned factory set for the wrecking ball, its owners had another idea: throw together old furniture and artsy DIY decorations, and inadvertently write the DNA for every ruin bar to follow. Szimpla's since become a cult pick in guidebooks, so don't come here expecting to meet locals (there won't be any); instead, come to explore the labyrinth of quirky themed rooms and taste the city's modern history.
District VII
This underground nightclub, located in the basement of an old cultural center, is out-of-date -- in the best possible way. With walls covered in records and rock memorabilia, it kind of feels like being a kid in your older brother's bedroom. Filter regularly schedules rock and metal shows, but there's also the odd ambient and reggae act too. And apparently, Friday nights are pure Depeche Mode, if you just can't get enough of studded leather and the freakier side of the '80s.
District VII
The "House of Teeth" as it's known in Hungarian got its name from an old dentist's office sign found during the bar's first renovations. It was a squat house until 2010, when Fogaz Ház was born as a ruin pub, artists' studio, and bike shop all rolled into one. Talk about a hipster's paradise. The space is known for its eclectic courtyard complete with an enormous tree decked out in multi-colored lights.
District VI
By definition, ruin bars are ginormous -- and in size, Instant is the mother of them all. Budapest's largest ruin pub (once upon a time, an apartment complex) has over 20 rooms, several bars and stages, and two outdoor gardens. There's no such thing as a "pop-in" here, considering it's a maze of dance floors with DJs and live music, and open until 6am every night. We recommend using the buddy system and marking some eccentric décor (a glittery disco ball shaped like a boar… disco boar?) as your group's meeting point.
District XIV
A former university building, Dürer kert has stayed close to its roots -- it's a ruin bar for drinking like you're still in college. Tap into your inner freshman as you knock back a few beers over foosball, Ping-Pong, darts, and a French game called pétanque (there are metal balls and you throw them… trust us, it's fun). The courtyard garden -- with its tables, benches, and even cozy hammock -- is perfect for enjoying some live tunes.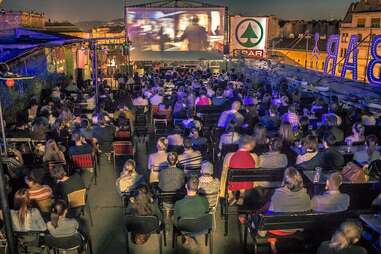 District XIV
Welcome to Corvin Club, a massive nightclub spread out over a formerly derelict department store. The building is grey and industrial -- a throwback to the communist era it was built in -- but made modern with glow lights and minimalist décor. Summertime shenanigans don't get much better than Corvin's rooftop terrace, known for holding a smorgasbord of events from techno parties to open-air movie screenings.
District VII
As the name suggests, this spacious brick complex gets its name from District VII's Jewish ancestry. One of Budapest's newer ruin bars, Mazel Tov is also a community center and restaurant serving hummus and shawarma platters. The courtyard is much more chic and put-together than its predecessors, and it's the kind of place you could bring your parents during the day. At night, Mazel Tov's courtyard lights up with DJs and live entertainment.
District XIV
Nyereg is in City Park, next to a former bathhouse and one of Budapest's oldest buildings. It's known for a secluded outdoor garden serving lemonade, beer, and traditional Hungarian snacks. There are usually families and kids milling about during the day, and Nyereg isn't open late, so make this the calm, pre-game before your ruin-bar-hopping storm.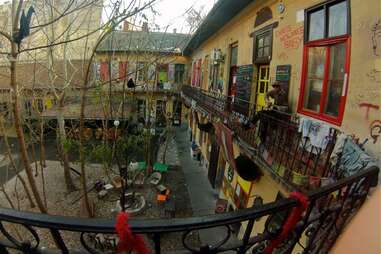 District VII
If you've come to Budapest for a rager, Grandio is where you want to be. The building doubles as a backpacker party hostel, with graffiti-themed rooms and staff known for showing guests a good time. Grandio also rocks a party-friendly outdoor garden, art murals, mismatched vintage furniture, and a random statue of a carrot.
District VII
This outdoor garden-cum-Mexican taqueria is stealthily located behind a plastic curtain in the Jewish Quarter. Despite this, Ellátó Kert is popular and getting a seat after sundown can be tough. It's perfect for downing palinka -- a horrifying local brandy served only in shots -- and people-watching a crowd that includes hardcore punks and hipsters alike. And come on, there are tacos.
Sign up here for our daily Thrillist email, and get your fix of the best in food/drink/fun.
Barbara Woolsey is a Berlin-based writer who has a complicated relationship with palinka. Follow her adventures around Europe on Facebook and Twitter.