The 10 Coolest Subway Stations in the World
New Yorkers spend most of their time on the subway either stressing over train delays or wondering why the dude manspreading next to them is wearing a velour jumpsuit and eating a full plate of spaghetti. Straphangers abroad have similar woes, but with an added bonus: many of their subway stations are actually nice to look at!
And to prove just how good other subway riders have it -- at least in terms of aesthetics -- we scoured the world's metro tunnels to find the 10 coolest subway stops on Earth.
SPOILER ALERT: Times Square - 42nd Street didn't make the cut.
Drassanes Station
Barcelona, Spain
It might look like a set from Tron or Star Wars, but that wasn't always the case. Drassanes station's proximity to the Port of Barcelona resulted in some pretty serious flooding problems a while back, and as a result, the station was remodeled in 2007. Architectural firm ON-A led the charge and wanted the space to emulate the look and feel of a train car, with glass-reinforced concrete panels and zig-zagging overhead lights.
Candidplatz
Munich, Germany
This stop on the Munich U-Bahn was named after a 16th-century Flemish painter and, as such, has an artsy feel; the walls, ceilings, and pillars are all bathed in the colors of the visible light spectrum. It's a captivating sight to behold, unless you're colorblind.
Jiantan Station
Taipei, Taiwan
Arguably the most striking Metro station in Taipei, Jiantan received almost instant recognition for its distinctive design, a blend of modern minimalism and traditional Chinese dragon-boat styling. Jiantan is often packed with evening travelers thanks to the nearby Shilin Night Market -- one of the busiest in the city.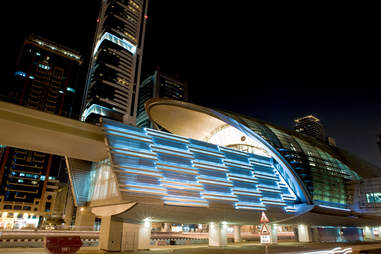 Shutterstock
Burj Khalifa/Dubai Mall Station
Dubai, UAE
One of the Dubai metro's busiest stations, it opened to the public on the same day as the nearby
Burj Khalifa
, and is a prime example of the uniform design implemented throughout the metro system. It also features a climate-controlled, 2,690ft footbridge that allows people to visit the Dubai Mall without having to take a bus. How walking the equivalent of nearly 10 football fields is any better than taking a bus, though, is anyone's guess. Even if it does have A/C.
T-Centralen
Stockholm, Sweden
Sitting, as the name would suggest, at the center of Stockholm's metro system, T-Centralen serves as the crossroads for all three of the city's subway lines. Like several other stops on the Blue Line, T-Centralen is noteworthy for its painted bedrock ceilings and walls that make you feel like you're in an actual cave -- albeit a well-lit, and intricately painted one.
Expo MRT Station
Singapore
Built to handle the crush of passengers from the nearby Singapore Expo, this station's striking metallic canopies aren't just for show. The UFO-looking disc above the ticket hall ferries passengers up to the platform via elevator (or tractor beam??). Not only that, but the 656ft-long, titanium-clad ellipse over the passenger concourse is specially designed to reflect sunlight onto the platform, while keeping the temperature several degrees cooler than the street below.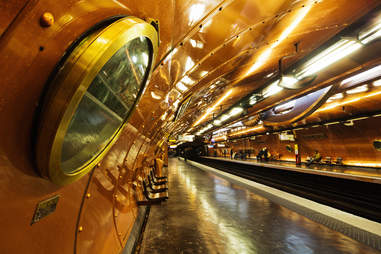 <a href="http://www.shutterstock.com/gallery-679411p1.html?cr=00&amp;pl=edit-00">Christian Mueller</a> / <a href="http://www.shutterstock.com/editorial?cr=00&amp;pl=edit-00">Shutterstock.com</a>
Arts et Métiers
Paris, France
This station originally opened in 1904 but underwent a dramatic redesign about 20 years ago to celebrate the bicentennial of the Conservatoire National des Arts et Métiers (for which the stop gets its name). Portholes dot the burnished copper walls while giant cogs and gears hang from the ceiling; the whole thing looks like one of Jules Verne's steampunk fever dreams.
HafenCity Universität
Hamburg, Germany
Located in Hamburg's HafenCity district, this stop earns its place on our list thanks to the 12 colorful cubes that hang above the platform; each is filled with 280 LEDs and helps bathe the platform and surrounding steel-plated walls in a constantly shifting spectrum of color. Designed to represent the way the light changes color throughout the day in HafenCity, it just looks badass.
Park Pobedy Station
Moscow, Russia
Most of Moscow's Metro stations look more like Communist museums than mass transit hubs (go figure), adorned with stained glass, floor-to-ceiling marble, and cavernous ceilings. What makes Park Pobedy particularly interesting, though, is that it's the deepest station in the city and, at 275ft down, the third-deepest in the world. As a result, it rocks the longest escalators in Europe, each of which is 413ft long and takes about three minutes to ride.
<a href="http://www.shutterstock.com/gallery-482764p1.html?cr=00&amp;pl=edit-00">luckyraccoon</a> / <a href="http://www.shutterstock.com/editorial?cr=00&amp;pl=edit-00">Shutterstock.com</a>
Toledo Station
Naples, Italy
Since it's one of Naples' Metro Art Stations -- special stations built with consideration given to aesthetics, functionality, and comfort -- Toledo was designed with a water/light theme. The results speak for themselves: a speckled blue and white mosaic lines the walls, and the ceiling above the escalators is dominated by a massive, 125ft long wormhole that allows passengers to glimpse all the way up to the surface.
Gianni Jaccoma is an editorial assistant for Thrillist Travel, and thinks stations like these are way overdue on the NYC subway. Follow him down the N/Q line on Twitter @gjaccoma