The Coolest Towns You've Never Heard Of (That You Should Visit Right Now)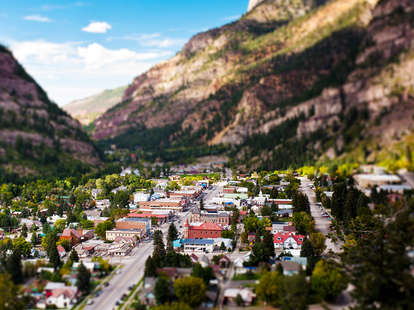 <a href="http://www.flickr.com/photos/lamouroux/6296502708" rel="nofollow" target="_blank">Felix Lamouroux/Flickr</a>
<a href="http://www.flickr.com/photos/lamouroux/6296502708" rel="nofollow" target="_blank">Felix Lamouroux/Flickr</a>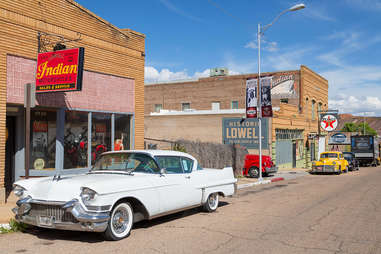 Bisbee, Arizona
Bisbee is home to one of Arizona's best Pride festivals… and tons of festivals in general. It's also got serious mining history. Just past the historic downtown is a giant hole in the ground called the Lavender Pit, and the old Copper Queen Mine now offers tours where you can suit up like a miner and learn how they went to the bathroom (we've all wondered).
What to do: Complete the Bisbee 1000, a 4.5mi course that ascends nine of the town's numerous staircases (that's more than 1,000 steps), which connect colorful hillside homes with the town's main drags. After that, refuel at Café Roka -- definitely the towns "first date" joint, and a good bet for live jazz most weekends.
Hanapepe, Kauai, Hawaii
Supposedly the inspiration for the town in the Disney classic Lilo & Stitch, Hanapepe is OLD. It has a ton of locations on the State or National Historic Register, the most iconic of which is the town's swinging bridge. It's best conquered after a giant acai bowl at Little Fish Coffee.
What to do: Stop by during the Kauai Orchid and Art Festival or on any Friday night between 6 and 9pm to experience the town's Art Night. More people than you thought lived on Kauai come out and walk the small main street, lined with vendors like the one family that sells the most mouthwatering malasadas, fried right in front of you.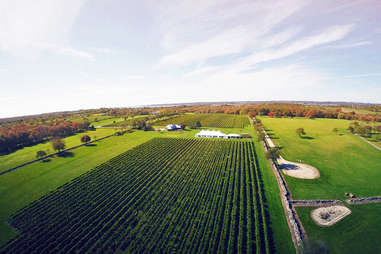 Little Compton, Rhode Island
Note that Little Compton is in no way related to Eazy-E's Compton. Instead, it's where you'd expect the Kennedys to hang out if they hadn't chosen Hyannis Port instead. Locals surf at South Shore Beach, close to a shallow tidal creek and wildlife refuge called Goosewing Beach. Each summer, area artists open their spaces as part of the surrounding area's annual Studio Tours.
What to do: The local scallops are some of the freshest you'll ever eat and you can stuff your face silly during Crowther's all-you-can-eat fish and chips Tuesdays (a whopping nine bucks). And for Johnnycakes, the regional specialty, hit Commons.
Fredericksburg, Texas
North of San Antonio in Texas hill country, there's a special dialect of German spoken that likely exists nowhere else in this world, and the popular German form of group walking, Volkssporting, is all the rage. Beyond influences of the Deutsch persuasion, the area is also home to the country's largest wildflower farm, 15 vineyards, 40% of the state's peaches, and the former residence of President Lyndon B. Johnson. And if you're really feeling the European vibe, check out Wine Road 290, an association of 15 local wineries along Highway 90 that will make you think you took a wrong turn to Italy or France.
What to do: Enchanted Rock State Natural Area has pink boulders said to be more than one billion years old. They're good for rock climbing, but somehow walking all over billions of years of history seems wrong.
Corolla, North Carolina
The Outer Banks is a well-known tourist destination (for good reasons), but this town in the northern portion has some similar scenery, complete with lighthouse, with far fewer tourists. This means more untainted sand for you. Surrounded by Currituck National Wildlife Refuge, the area is good for beachside walking and spotting the wild horses. Just remember they're actually wild and you're actually not the Lone Ranger. Feel like cooking but... not? Outer Banks Boil Company will bring the seafood to a minimum of 10 of you ( or just say you have 10), set everything up, cook, and then even take away the trash.
What to do: 30mi long, 3.8mi wide Currituck Sound is a popular kayaking spot, adjacent to Church's Island, part of Coinjock (yup, that's its real, unfortunate name). The latter is more a peninsula, and if you were still in high school, you'd call it Makeout Point. But you're not. So don't.
Baker City, Oregon
When people think of Oregon and Washington, they seem to forget that the eastern half of the states are basically as far opposite as you can get from their lush, green, rainy coastlines. Baker City has the Elkhorn Mountains to the west and Eagle Cap Wilderness to the east, meaning there are miles of hiking trails, plus lakes and mountain rivers. It's also one of the best starting points for the Hells Canyon Scenic Byway, a more than 200-mile-long iconic road. Also check out The Lone Pine Café for breakfast, lunch and local music at night (after you've sourced dinner elsewhere).
What to do: To feel like a true pioneer badass, go gold panning in the Wallowa-Whitman National Forest. Just be sure to avoid the more than 1,500 areas already claimed by others. You can spot 'em by looking for paperwork in a jar nailed to a tree.
Make an entrance
Pull up in a Camaro in any of these towns, and people will talk about it for weeks.
Trinidad, California
The coastlines of western Washington and Oregon are known for their moody offshore sea stacks, but Northern California looks pretty much the same only with none of the people running around yelling "Hey you guuuuuys!" and looking for where The Goonies was shot. The only things barking around here are sea lions sunning their blubbery bodies on rocks.
What to do: Driving through Trinidad, just south of the northernmost part of the Redwood National and State Park, you may think, "Why would I stop here?" But funky local fixture Larrapin Café is reason enough, plus you can walk out to the sea stack called Pewetole Island at low tide… just make sure you have a vague sense of when to haul ass back to shore.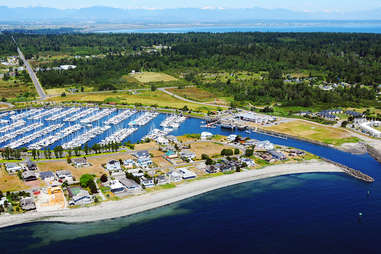 Point Roberts, Washington
You actually have to drive through Canada for 45 minutes (depending on how much border security cares about checking your passport and questioning your intentions) to get to this five-square-mile strip of American territory at the tip of a Canadian peninsula. Basically, this is the result of poor planning in the late 1800s when the Canada and the US agreed to separate at the 49th parallel. Today this manifests at restaurant/store Brewster's Fine Foods as locally sourced picnicking staples from Whatcom County, Washington, and Canada.
What to do: Despite being forgotten by their own country way back then, the tiny town manages to squeeze in a golf course, a boat-loving harbor, and some super duper scenic coastline. Depending on time of year, you may spot pods of Orcas off Lighthouse Point and, on clear days, you can see Mount Baker from its southern beaches.
Skaneateles, New York
"Skinny atlas" (as it is pronounced) sits on the north shore of the 16mi long Skaneateles Lake, which is touted as one of the world's cleanest. The Finger Lakes region of New York is mostly considered a summer destination, but this place has a bunch of year-round festivals that keep it from becoming too sleepy (the right amount of boring can be conducive to a vacation that's actually relaxing).
What to do: The Skaneateles Community Band plays summer concerts and town festivals, including the Antique and Class boat show in July, while the Skaneateles Festival brings in chamber orchestras in August. Hit up Doug's Fish Fry for delicious, low-key chow (we're talking slaw in styrofoam) first.
Polebridge, Montana
What it lacks in power, electricity-free Polebridge makes up for in natural scenery. The Northern Lights Saloon and Polebridge Mercantile, basically the lone businesses that make up this tiny town, run on generators. And if camping isn't your thing, there are four cabins for rent. Despite its size, the town (well, its "General Mercantile Historic District") is on the National Register of Historic Places.
What to do: Remember that on the Transboundary Flathead River you're way closer to (getting mauled by) a grizzly bear than a Starbucks, so plan accordingly. Besides hiking, there's canoeing, kayak, and paddle-boating on nearby lakes, river floating, and biking on the Inside North Fork road.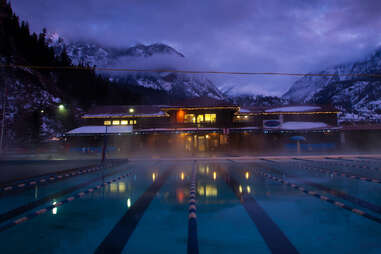 Ouray, Colorado
Ouray sits in a box canyon, surrounded by the San Juan Mountains. The area is called Switzerland of America, and akin to its Alps counterpart, you can ski or mountain bike from hut to hut. Those mountains and cliffs also make the town a good base for hiking and climbing (the world's first ice climbing park was created here), with alpine lakes made for paddle-boarding, the suddenly hip sport of the moment. Also hip are award-winning local heroes Ouray Brewing Company and their attached restaurant downtown.
What to do: Or not. The town's got the lock down on laziness, too: there are six sulfur-free hot springs right in the middle of town. Supposedly Chief Ouray of the Ute Indians visited often and held ceremonies in the local vapor cave.
Berea, Kentucky
This Appalachian town proves there's more to Kentucky than bourbon; it's where you come to actually work with your hands on some type of craft. The whole crafty gang is here -- instrument makers, furniture artisans, glassblowers, sculptors, and weavers. The Kelly Mehler School of Woodworking has day-to-week-long workshops that will have you crafting your own coffee table in no time. Start thinking of your Etsy username.
What to do: If you think woodworking isn't rugged enough, hike the Pinnacle on the Berea Forest Trail for the area's best views.