Based in Sardinia, the Costa Smeralda's a 34mi stretch of sand that's home to four of the world's 10 costliest hotels. So why is this seemingly obscure beach so freaking expensive?
Well, for one, it all centers around the town of Porto Cervo. There're only 200 permanent inhabitants, but enough rich people come every year that the biggest nightlife spot is straight-up called "The Billionaire Club". The area was founded in '62 by Prince Aga Khan, who, in addition to $800m, has around 10 million religious followers who believe him to be infallible. He hired an architect to design the entire town. Now it has a sailing regatta, a vintage car rally, film & wine festivals, and mad yachts, son. Oh, and a Bond film was set there (The Spy Who Loved Me, natch).
And the hotels? Well, first up's the Hotel Romazzino, which is only considered to be the seventh most expensive hotel in the world, with an average rate of $1,850 per night. One can only assume Costa Smerelda's peasants stay here. You too can be one of those peasants.
Getting warmer at #6 is the Hotel Cala di Volpe, charging an average of $1,904 per night, meaning that Costa Smeralda's aspiring middle classes may possibly stay here. But not in the Presidential Suite, which is a cool $32,736 per. See what you'd get right here.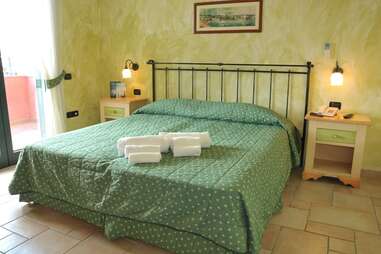 Just accross the bay is the Villa Del Parco, which sneaks in as the fourth most expensive hotel in the world, asking an average $2,031 for each room. If they were slumming it, and absolutely desperate for a room, maybe, just maybe, Costa Smerelda's upper echelons might drop by. See what you can get for the cost of a small diamond each night.
Lastly, and clocking in as the third most expensive hotel in the world, the Hotel Pitrizza: $2,041 per night rooms, a swimming pool carved out of rock, and insane views of the bay. Can you imagine how much the minibar costs?! Find out here.