Not every vacation spent on a cruise ship is just lounging by the pool while sipping on slushy cocktails with tiny umbrellas. While that definitely is one cruise style (and one that can also be just the escape you needed) sometimes to truly forget about your 178 unread work emails over the holidays you need to do something, well, out of the ordinary. Like: zoom down one of the world's longest zip lines in Haiti, scuba dive through shipwrecks, or summon a genie to do your bidding. These are all things you can actually do on a cruise (on a single cruise ship, actually: Royal Caribbean's Harmony of the Seas). If those don't float your, er... ship, try out one of these other totally wild adventures onboard Harmony of the Seas:
Have a personal genie do all your chores
Royal Caribbean's exclusive Star Class suites, like the super-luxe two-story Royal Loft Suite, will not just put your apartment to shame -- they also come with a "Royal Genie." That's what Royal Caribbean calls the uber-concierge and travel insider assigned to your suite, who can arrange private adventures for you, line up dinners, or even do your shopping. We think it's even okay to wish for more wishes from them.
Scuba dive for buried treasure
You can get your PADI scuba diving certification and meet the open dive requirements in some of the world's top bucket list scuba destinations right on the ship. So even if you didn't plan to explore the Caribbean's legendary shipwrecks and the Mesoamerican Reef, there's nothing holding you back once you board. And while finding buried treasure isn't necessarily guaranteed, you will see tropical fish, reef sharks, moray eels, sea turtles, and eagle rays once you're underwater. Trust us -- it's way better than the touch tank at your local aquarium.
Go on a one-of-a-kind private adventure
Group tours not your thing? You can have a complete, private journey organized by one of Royal Caribbean's destination insiders. Like taking a solo trip to Loterie Farm Resort in St. Maarten, where you can opt to lounge around poolside in a private cabana or trek through the forests, depending on how "adventurous" you feel that morning.
Eat a dish straight out of a Mad Hatter tea-party
Wonderland is a two-story restaurant onboard Harmony of the Seas that seems like something straight out of the imagination of Lewis Carroll -- and each dish is specifically crafted to be a feast for all five senses. The restaurant features decor and dishes from "down the rabbit hole" like giant colorful goblets and menu items like "liquid lobster" and cheesecake with wasabi air. And you won't even have to shrink down to a mini-size to go inside.
Sip a cocktail made by a robot
Mix and Mingle are the names of the two drink-slinging robots at Bionic Bar, a futuristic bar onboard. While they may not remember your name, they do mix up to 1,000 cocktails a day, and have more than 30 spirits and 21 mixers to work with. You also place your order through an app, so feel free to get as weird with your drink as you want, sans judge-y shade.
See a performance in the deepest pool at sea.
Harmony of the Seas' onboard pool transforms at night to a 700-seat, oceanfront amphitheater. Their newest show, The Fine Line, features high-flying stunts, impressive acrobatics and enough extreme athletics to inspire you to get back the gym once you get home. (Maybe.)
Zoom down the longest zip line in the world.
Labadee, Haiti is home to not only a private beach, but also the world's longest zip line over water.  At 2,600 feet long and  500 feet high, the Dragon's Breath Flight Line is not for the faint of heart. After, you can reward yourself with a relaxing paddle through the Bay of Labadee and see what it looks like from sea level. If you don't feel like leaving the ship that day, though, you can zip line from bow to stern on Harmony of the Seas too. The zip line on the ship is 10 decks up, and you'll win all the bragging rights if you tackle it.
Enter the mouth of the most frightening fish in the sea
We don't fully know what lurks at the bottom of the sea, but for now we're going to go ahead and say the angler fish is the most menacing-looking. And now you'll get to enter the jaws of one,  through the tallest slide at sea. The Ultimate Abyss comes in at 150 feet tall, and you'll plunge down it in 15 seconds. Just be sure to tie that draw string extra tight -- your fellow cruisers don't want an extra show they didn't pay for.
Watch someone wipe-out on a surfboard, without leaving the ship
Or try to get into the green zone yourself. Flowrider is a 40-foot wave simulator onboard Harmony of the Seas, with plenty of spectator seating. Best part? This one's included in the cost of your cruise, so if you ever wanted to try to hang 10, now's the time. Or you can just watch the other guests eat waves.
Plunge down three multi-story water slides
Plunging through a fish's mouth not for you? You've got three other options aboard Harmony of the Seas, known as the Perfect Storm. Independently, these water slides are called Cyclone, Typhoon, and Supercell, and they all are multi-story thrills that twist and turn over Central Park, which is 10 decks below. (But more on that in a bit.)
Use a hoverboard that DOES work on water
A "flyboard" is part mini-rocket, part hoverboard, that propels you over the water. While on it, you can do flips, trick turns, and even jump over dolphins in the middle of the Caribbean. And if you're self conscious about your dolphin-jumping skills, don't sweat it -- there's an instructor who will work with you one-on-one beforehand.
Learn how to fold napkins like a fancy butler
Who says adventures can't be of the domestic nature? And who also doesn't want to learn how to turn every napkin and towel in their apartment into a wild critter? In these classes, you'll learn how to turn your linens into elephants, cats, frogs, and even lobsters -- and then be able to act like you're in a napkin safari once you get home.
Stroll through Central Park
You can stroll through Harmony of the Seas' "Central Park" without taking a long subway ride uptown or battling lost tourists to see the best parts. On the ship, this park-sized atrium is made up of 12,000 live trees and plants, with plenty of benches to read on. And (most likely) zero pigeon droppings.
Get botox onboard
Seriously? Seriously. All those wrinkles caused by meetings that could have been covered with an email can be handled in an FDA-approved spa treatment. They also offer non-invasive treatments to reduce wrinkles too (which is the latest for anti-aging). And while getting botox on its own may not be adventure, doing it on your cruise? Sounds pretty out of the box to us, and you won't have to worry about missing that "super important" meeting with a doctor's appointment back home.
Explore hidden Mayan Ruins in Cozumel
Sure, you can always hit up the beach in Cozumel, but if you want to truly take "the road less traveled" you can take a Monster Jeep down an ancient path to part of the island that few get to see. That's because it's only accessible by one road, which was closed to the public for years -- meaning none of your other friends have had a chance to 'gram it yet. Once you get to the end, you'll be able to take in Mayan ruins along the oceanfront.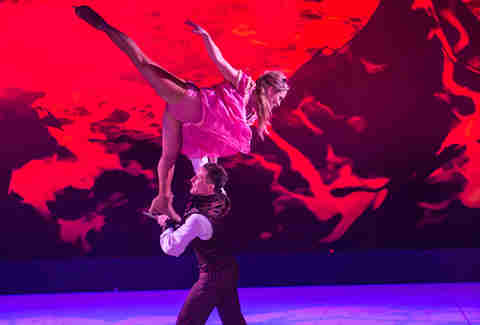 Impersonate an Olympic figure skater
Studio B is the onboard ice rink, and when the professionals aren't practicing for one of the shows, guests are welcome to lace up some skates and give figure skating a go themselves. For inspiration, check out the moves from the cast of 1887, an original production about time travel and romance. Or you can just try to master skating backwards without falling all over yourself.
Scale a mountain
To get to the best view on the ship, you're going to have to work for it. You can climb not one, but two 43-foot rock walls right on deck, without even making a reservation. From the top, you'll be able to take in nearly unobstructed ocean views, which will make the sore arms worthwhile.
Sample real Jamaican jerk recipes
In Falmouth, Jamaica, you can personally test taste one of the 300 different recipes cooked by locals. After you've had your fill, wait the appropriate 30 minutes, then drift down the Martha Brae River in a bamboo gondola, explore Green Grotto Caves, or horseback ride on the beach.