The Craziest Party Hostels in the World
Shutterstock
Shutterstock
Sex. Drugs. Booze. The travel trail has it all, especially if you're crashing in a hostel. It's always someone's first or last day, and that means there's always an excuse to party.
I've been traveling for over a decade and have stayed in hundreds of hostels around the world (here is how to pick a solid one, btw). And yes, there are plenty of "good" party hostels out there. But party-minded travelers cluster together for a reason and, over time, certain hostels develop a (well-deserved) reputation for debauchery. These are 11 of the most bacchanalian:
Amsterdam, Netherlands
Travelers arrive expecting the Pig to live up to its VERY weed-friendly reputation. And it doesn't disappoint; my stays have been smoke filled. Plus, you can play pool and drink cheap beer before heading out to the clubs in the red light district or Leidseplein. While you should expect a good scene, don't go in looking for a wild club atmosphere -- those space cakes mellow people out, man.
Melbourne, Australia
While Base is like the McDonald's of hostels -- they're all over Australia and New Zealand -- the chain outdid itself with its Melbourne spot. Not only is there a thumping club downstairs where they pour cheap Jager shots late into the night, but you can pretty much find parties going down in the dorm rooms all the time.
Puerto Viejo, Costa Rica
Rocking J's is kind of an institution and one of the cheapest places to stay in Central America -- travelers on a tight budget can string up a hammock for just a few bucks a night. The owner is a notorious partier and throws wild beach bashes complete with bonfires, BBQ, and beer. With the music/dancing going all night, most guests just party until sunrise and sleep the day away on the beach.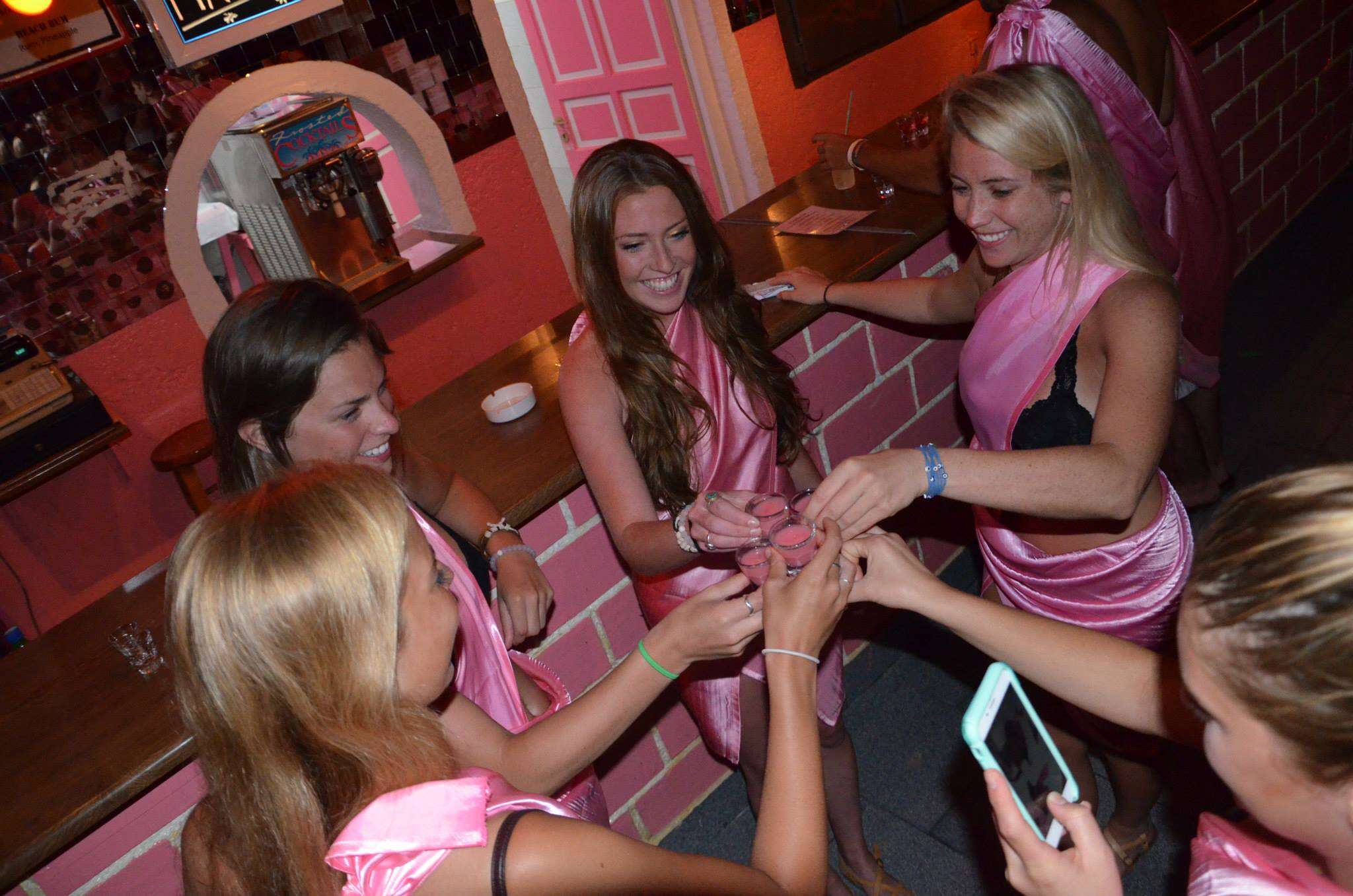 Corfu, Greece
The world's ORIGINAL party hostel, the Pink Palace is famous for its toga parties, filthy facilities, booze cruises, and ability to get even the most straight-laced of travelers to knock back more than their fair share of ouzo. With four bars that serve 24/7, this is NOT a place to get a good night's sleep. Nor, really, is it a place you go for a clean bathroom. It's pretty much a place to drink, go wild, and get naked.
San Juan del Sur, Nicaragua
And speaking of naked... this Nicaraguan joint is aptly named considering all the nudity that occurs here. The quick rundown: this hostel features only dorm beds, communal (and gross) bathrooms, and little privacy (bring a lock). But on the plus side, there's a beautiful pool, a nice sunset overlook, and a ton of beverages. Located out of town, the Tiger's goal is to bring out your inner animal. Plus, it's part of the "Sunday Funday" route, when all the local hostels join together in a crazy town-wide bar crawl. Honestly, I've never had as much fun or gotten so little sleep as I did at the Naked Tiger.
Krakow, Poland
Greg and Tom's offers free breakfast, free dinner, PlayStation, and some of the most badass showers I've ever used in a hostel. (Yes, I just mentioned the showers -- that's how nice they are.) You know what else it has? Free vodka and a nightly pub crawl. Every night, a hostel employee takes guests out on the town for a sampling of Polish spirits, an event made even better since the hostel is small enough that you really get to know your fellow partiers. There's a cool community here.
Barcelona, Spain
Arguably one of the top hostels in the world, Kabul is just an all-out fun place if you're eager to spend your nights carousing. In fact, it's so well known for its atmosphere that beds get reserved months in advance and it's always booked over the summer. Travelers socialize in the halls, play cards, and listen to music upstairs before heading down to the giant common room to shoot pool and drink dirt-cheap beer.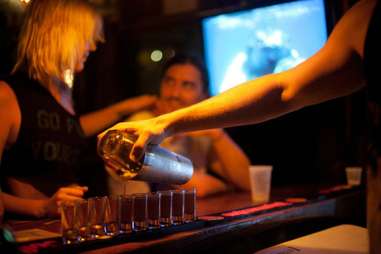 Bocas del Toro, Panama
Tiny, run down, and with thin walls, this hostel on the party islands of Bocas del Toro is owned by some Americans who felt the lure of island life. They throw incredible parties (often themed) and each night crank up the tunes and pour gratis jungle juice (alcohol and Kool-Aid, of course). The facilities aren't nice, the building looks unfinished, and it's a bit cramped, but you won't care -- it's the best place in the area to start your night.
Budapest, Hungary
Located in one of the biggest party cities in Europe, Retox (or at least the crew working there) has one goal: to get you fucked up. Seriously. Do NOT come here if you're gonna be all like, "No thanks, just a glass of water no ice for me please." People stay here exclusively for the party, and the staff's mission is to make sure it's a good one. The rooms and facilitates are dirty, people hook up IN the hallways, and you never know who will end up in your bed. Although not even with YOU, literally, just while you're partying.
Lagos, Portugal
Booze cruises, toga parties, and beach bashes -- the Rising Cock will ensure your memories of this Algarve town are muddled at best. Lagos is known for its all-night party scene and this hostel is right in the middle of the action.

Queenstown, New Zealand
One word for this hostel: badass! The place has a huge, restaurant-sized kitchen, top-notch showers and toilets, and a large lounge. Plus, most rooms have balconies. Moreover, unlike other hostels in New Zealand, this one doesn't have a bar -- which is actually a good thing because it means you can drink your own booze inside. Which, in turn, leads people to stick around and socialize at night, instead of spending money at the bars. The hostel also hosts nightly activities, including a $10 pub crawl, and has a free dinner and quiz night on Sunday!
Sign up here for our daily Thrillist email, and get your fix of the best in food/drink/fun.
Matthew Kepnes is a travel writer and author of New York Times bestseller How to Travel the World on $50 a Day and the creative force behind Nomadic Matt, a website that provides detailed information on how to travel cheaper, better, and longer. His advice is often featured in Time, CNN, The Wall Street Journal, New York Times, Lifehacker, BuzzFeed, National Geographic, BBC, and The Guardian, among other publications.