Everything You Need to Know to Vacation Alone
Follow your own itinerary.
It used to be that traveling alone made people (read: your parents) worry, and say things like, "But she seemed so popular in school. I mean, she has friends. We don't understand." Thankfully, times have changed, and according to Kayak, searches for single-person flights are up 36% in 2023 compared to 2022.
But what's driving so many folks to hit the road on their own? Good question. If we had to speculate, it's because the Holy Grail of travel is freedom, isn't it? Maybe you don't want to go to the Louvre, or stand in line with your significant other to ride the London Eye. Maybe you want to shop for a pair of wooden clogs. And drink Grolsch. On your own schedule.
When you travel by yourself, you don't have to do things to satisfy someone else. It's your hard-earned vacation, your limited time off, and you might as well enjoy it exactly the way you want. And to help you do just that (whether you're a seasoned solo trekker, or contemplating your first weekend away), we've put together this comprehensive guide to vacationing all by your lonesome.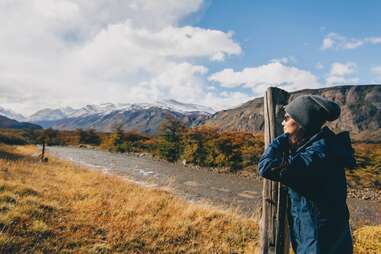 Where should you go?
If I've learned anything traveling the world on my own for the past three years, it's that some places are undeniably better than others for both meeting other solo travelers and for not blowing your budget in the first five minutes. Also, there are certain types of places that attract more stag tourists than others—usually places known for outdoorsy sports. So as a general rule, even if you're not into SCUBA diving, rock climbing, slack-lining, or surfing, but you're cool hanging with the usually laid-back people who are, target those places as possible destinations.
Bangkok, Thailand is pretty much always a winner as far as finding other unaccompanied travelers and preserving your budget. The well-laid tourist infrastructure, bus systems, and wide range of budget-to-luxury digs all contribute to making this a great spot for first timers.
Berlin, Germany is a super funky, laid back, and artsy place to get lost for days in the depths of a nightclub or go street art exploring. It tends to attract equally interesting visitors from all over the world. Pick this place if you are cool with ditching the beaches for an intellectual party vibe instead.
Cape Town, South Africa is a great place to meet a really eclectic mix of other travelers in one of the most beautiful cities in the world. It's coastal, full of super models, and comes with a side of safari. What's not to love?
Wellington, New Zealand is one of the safest places you can visit, plus, it's beautiful, full of people with a gorgeous accent, and it's easy to travel through. Even if you show up there solo, you can bet that other indie travelers are drawn there for the same reasons, too.
Playa del Carmen, Mexico is an expat haven mostly because it's affordable, warm year-round, and has tasty food. Basically, people go there on holiday and then decide to stay for months or even years. If that's not a good sign, what is?
Granada, Spain made its way to this list because it's got great nightlife, really cool architecture, and it isn't as expensive as its other Western European neighbors. Grab some paella and wine and enjoy the view.
El Chaltén, Argentina is for those who really love the outdoors, whether it's trekking, mountaineering, rock climbing, or leisurely strolls. Nestled in Argentinian Patagonia, this little town draws in all kinds of adventurous folk who you can join for a hike or two.
And finally, let's not forget: Just because you're going on vacation by yourself doesn't mean you have to leave the country. Not at all. Maybe you'd like to plan a weekend getaway around an exciting museum exhibit.
Stay at an all-inclusive resort
Sometimes, after the grind all year, an all-inclusive resort with those little paper umbrellas in your libation is the way to unwind without having to think or stress too much. That's the point of a vacation, isn't it? For full enjoyment with a side of social opportunities, check these out:
Anax Resort & Spa, Mykonos, Greece: Mykonos is known for hillsides dotted with clean white buildings and blue roofs. It seems like it could just be a place for couples, but in reality, there is always a party going on day or night. If you want to meet people in more relaxed surroundings, the Little Venice stretch is a nice area full of cool bars and restaurants. Not only that, but you can take a ferry from Mykonos to Santorini, which is right out of a postcard.
Southernmost Beach Resort, Key West, Florida: A chill vibe and friendly locals make this a lovely part of the country to explore, and most people will usually have time to chat. There are a ton of fun bars and restaurants, a vibrant party scene on Duval St, and, while the beaches here are a little weak, there's plenty of fishing, scuba diving, and other fun stuff to keep you busy.
Casa Alternativa, Río Grande, Puerto Rico: If you're interested in more of a wellness center, this is the place to unplug and have a kind of peaceful, mental refresh. Ideal for the solo traveler, this resort will take your individual goals into consideration, offering all kinds of retreats set between the ocean and El Yunque National rainforest.
Hop on a cruise
Cruises might (unfairly) get a bad rap, but there's something to be said for not having to plan any itinerary or figure out transport. The ports are fixed, you never have to go far to find food, and drinks are pretty much just outside your door, too! Here are a few cruises that are ideal for solo adventurers:
Sail the Western Mediterranean on Norwegian Lines' Norwegian Epic: Traveling from Barcelona and visiting Rome and Palma de Mallorca, this ship includes productions of Broadway favorites like Six and The Choir of Man. Studio cabins without a single traveler supplement are a welcome inclusion, with a private lounge for unchaperoned travelers.
Relax in the Caribbean on P&O's Azura: For those looking for something a little more luxurious, the Azura offers up Michelin-style eats at The Epicurean onboard, and a variety of bars and clubs. The studio rooms are compact, but have the benefit of no single traveler supplement. Plus, they're wonderfully comfortable and stylish.
Dance through South America on Costa Cruises' Costa Fascinosa: Calling at some of the iconic destinations such as Buenos Aires and Rio de Janeiro, this cruise is great for those looking to explore new locations. The ship has four swimming pools, a luxury spa, and even a large movie screen, not to mention plenty of dance floors and teachers for those looking to learn. Also, cabins designed for single travelers.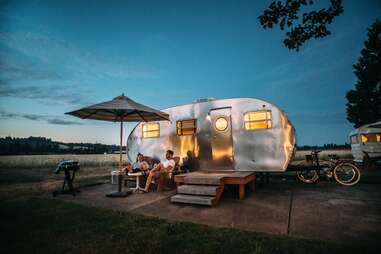 How to meet people
So, the ultimate irony of solo travel is that you don't always want to be alone. Sure, part of the fun is to actually be by yourself, but as most solitary travelers will tell you, it's also about meeting new people, hanging out, and then parting ways before your new "friends" drive you crazy. And here are a few great ways to make those new friends:
CouchSurf. Because even if you don't intend to actually spend the night on a stranger's couch, it's a solid tool for finding get-togethers and English-speaking locals who actively want to meet visitors and show them around. Plenty of other friendly travelers use the service, too.
Rent a room from a local with AirBnB, camp in someone's backyard, or eat a meal with a few other travelers in somebody's home using EatWith.
Stay in a social place. Whether it's a hostel, a guesthouse, a resort that caters to solo vacationers (more on that below), or a cruise ship, pick something that attracts other individual travelers, too.
Use online forums to meet others, from meetup.com to destination-specific Facebook groups, or even by posting to your own Facebook wall openly asking others if they have friends or know people in the place you plan to visit. You'll be surprised by how small the world is and how much they might offer by way of introductions.
Why not use Hinge to meet people when you travel? Yeah, we know it's a dating app, but lots of travelers actually use it as a way to meet locals. Just be upfront about what you're looking for before you grab a drink. Or try Bumble BFF for a safer bet.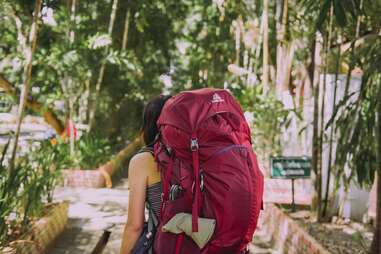 How to stay safe
It's a common misconception that traveling by yourself means traveling dangerously, whether it's sightseeing through Madrid or exploring an island in the Caribbean. It can actually be quite the opposite. You're much more aware of your surroundings when nobody is there to distract you, your intuition becomes sharper, and locals are more likely to want to help you out if they see you alone. While staying safe is not rocket science, here are a few things to keep in mind:
Don't walk around by yourself, especially at night, in places where it's unsafe to do so. How do you know if a place is unsafe, you ask? Talk to the people who run your hotel or hostel—if they tell you a street or neighborhood is a no-go zone, then listen. That rule goes double for walking around with headphones in (something you should NEVER do after dark, btw).
Lay off the sauce if you're flying solo or out with people you don't know. Would you get intoxicated at a bar by yourself in a major city back home? Oh, you would? Never mind, then. Just don't do it when you travel.
Bring a decoy wallet with a few canceled cards and a small amount of cash in it. Keep the good stuff hidden in your bra or shoe, and if a thief tries to rob you, hand the decoy wallet over—you'll both be happy. Or, at least the thief will be until he gets home, checks the wallet, and realizes he's been duped.
Walk around with confidence and your head held high. Did somebody say power pose? Yes, they did. It's amazing how much power and prowess you can communicate simply by looking like you know what's up.
Tips for female travelers
Finally, people might look at you like you're foolish for wanting to travel the world on your own as a woman. They might tell you that you're being irresponsible or putting yourself in harm's way; even worse, they might try to talk you out of it entirely. Why do only the boys get to have all the fun roaming the globe? Come on, we all saw Eat. Pray. Love.
In reality, staying safe boils down to being aware, trusting your inner voice when it senses something sinister, and doing all the things on the road that you do at home to stay alive, plus a few extra precautions. Here a few more safety tips:
For peace of mind, bring an alarm that's small enough to stow in your pocket. If you ever feel in danger, push the damn button and make so much noise that any would-be assailant will run away.
Dress appropriately for your surroundings. In some parts of the world, it's the best way to avoid harassment; in others, it's pretty much a requirement. Read up ahead of time to find out what is and is not appropriate to wear in the place you plan to visit.