The easiest way <em>ever</em> to hit the road with your favorite band
Because following your favorite band on tour doesn't have to involve sleeping in a tent and not showering for a week (unless, like, you're into that. We're not here to judge.), Fantrotter's a one-stop travel site that helps you coordinate tickets to shows/sports/events with the flights, hotels, and rental cars you need to get there.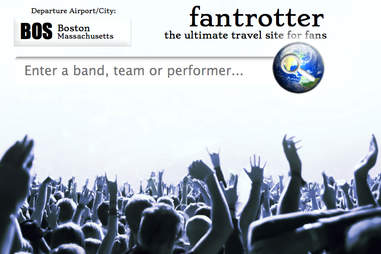 First question: Who do you want to see in concert? Marina and the Diamonds? No? Of course not. How about Taylor Swift? Negative. Gotcha. Ahhh, got it… Matt and Kim! Yesssss. Kim totally rocks. Seriously, she's insane. Good call. Now type it in.
Is it Matt and Kim with an "and" or an "&"? Doesn't matter, as long as it's not Matt Mays or Matt Hires. Now select your departure airport and let Fantrotter get to work.
It'll fine-tooth-comb the entirety of the Internet to track down the cities/venues for all their upcoming shows, plus -- and here's where you're going to be blown away...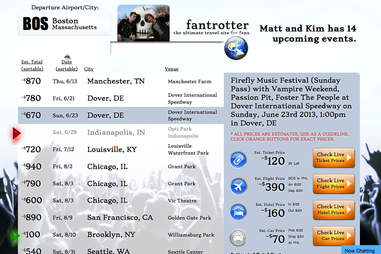 ...FT also shows you how many tickets are left for a particular venue, compiles the average prices for flights, rental cars & hotels, and adds it all up, giving you an "Estimated Total Cost" for the trip. Better yet, it provides links so you can book the whole thing in one fell swoop… Now! Now! Now!