Spend the weekend watching elk do it
Danny Hopkins/Estes Park's Facebook Page
Offering you the until-now elusive opportunity to cross "Watch elk do sex" off your bucket list, the Colorado town of Estes Park's recently unveiled a four-day-and-three-night "Tail"gate package for the month of October that's designed to provide unprecedented access to elk mating season, or "The Rut", as it's referred to colloquially by those more acquainted with the smooth moves of the elk population.
Now that Estes Park is back open for business after some of the worst flooding in almost 50yrs, they could use your dollars, so you don't have to feel like such a perv. What's included in said getaway, other than a front-row seat to Elk-do-Hedonism-II, you ask?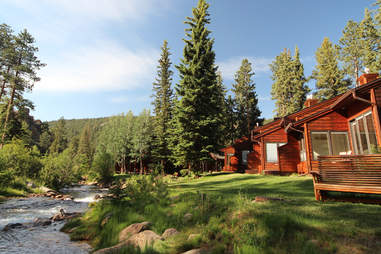 Boulder Brook on Fall River
Well, you'll stay at the Boulder Brook on Fall River resort, which's situated at the base of Rocky Mountain National Park and boasts spa suites with jetted tubs, fireplaces, and private riverfront decks. You'll also score a "Welkome pack with local elk-themed products" on arrival.
Rocky Mountain Rush Tours
In addition to a week-long pass to Rocky Mountain National Park, you'll embark on both a wildlife-watching "Elk Expediton" and an off-road "Rock'n Roller Coaster Tour" of Roosevelt National Forest in the sweet vehicle pictured above.
During which, you're likely to see a lot of this [Note: young bucks, this is NSFW, and the "w" here stands for "wildlife"].
Yelp
Finally, enjoy an evening processing what you've just witnessed over dinner, beers, and live tunes at The Rock Inn Mountain Tavern, you peeping tom, you.