The European Castle Bucket List: 14 Castles You Must Hit
Because you can't spend your entire European vacation visiting -- or sleeping in -- every single castle or palace, we narrowed your medieval bucket list down to the continent's (and UK's) coolest 14.

Mont Saint-Michel
Normandy, France
France is home to all sorts of magnificent strongholds, but Mont Saint-Michel is one you don't want to miss. It fills up an entire island off the coast and is known for a stunning yet treacherous high tide (although that was helpful against assailants back in the day). During the Middle Ages, Mont Saint-Michel was a monastery and pilgrimage site but became a prison during the French Revolution. Today, it's one of France's most recognizable landmarks.
Bran Castle
Bran, Romania
You might know this Transylvanian castle as Dracula's pad, but that's not totally true. Bran Castle inspired the setting of Bram Stoker's novel, but Vlad the Impaler only spent a short time imprisoned here. Beyond the pop-culture horror, it's a medieval fortress with its own interesting history, told through tours of dark halls and secret tunnels.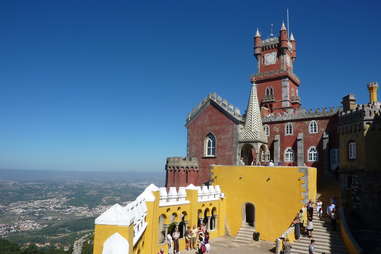 Pena National Palace
Sintra, Portugal
Perched on a hill, this romantic Portuguese palace can usually be seen from Lisbon on a clear day. It's still worth taking the 19-mile drive from the capital though, to explore its lush gardens and vibrant stonewalls.
Hohenzollern Castle
Berg Hohenzollern, Germany
Literally a castle in the clouds, Hohenzollern is located on a mountain 2,805ft above sea level in the Swabian Alps. Built in the 11th century, its majestic towers and turrets have been reconstructed twice, first after being destroyed in a 10-month siege and then later from disrepair. Once the home of emperors, Hohenzollern is now a major tourist attraction in Southern Germany.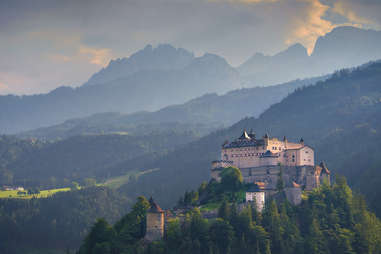 Hohenwerfen Castle
Werfen, Austria
Situated on a craggy pillar and pushing 950 years old, you'd think Hohenwerfen should be about to crumble -- but this mighty fortress, one of Europe's best preserved, is as sturdy as ever. Over the centuries, it's survived countless attacks, and even once served as a prison for noblemen.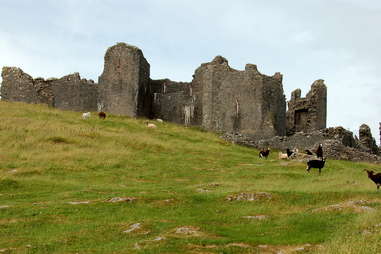 Carreg Cennen Castle
Trapp, Wales
In Welsh, Castell Carreg Cennen means, "castle on the rock," which is appropriate considering its roost on a limestone cliff. The surrounding countryside is home to more castles per square mile than anywhere else in the world, but -- despite being the only one in ruins -- Carreg Cennen is considered the finest for its view of the rolling green fields and moorland.
Neuschwanstein Castle
Schwangau, Germany
The crown jewel of European castles has to be Neuschwanstein, which boasts over a million visitors a year and is the most photographed palace in the world. Despite its enchanting and whimsical design that inspired Walt Disney, Neuschwanstein's fairytale is dark. The castle was built in 1869 as a hideaway for the "Mad King Ludwig," whose death is still shrouded in mystery.
Guedelon Castle
Burgundy, France
Guedelon is the only castle on this list that's not ancient -- in fact, it's not even fully built yet. Started in 1997, it's a project with one simple premise: use 13th-century techniques and technology to build a castle from scratch. Considering the workers wear period costumes, and abide by a medieval diet and "horses-only" policy, the whole thing's a coin toss between neat and bizarre.
Predjama Castle
Predjama, Slovenia
Slovenia's Predjama Castle is built into a cave, so expect lots of creepy dungeons and spooky underground tunnels. Predjama's also got quite the bloody past -- a robber baron once spent a year under siege here before dying from betrayal and a single cannonball. Now, every year the place holds a famous medieval tournament.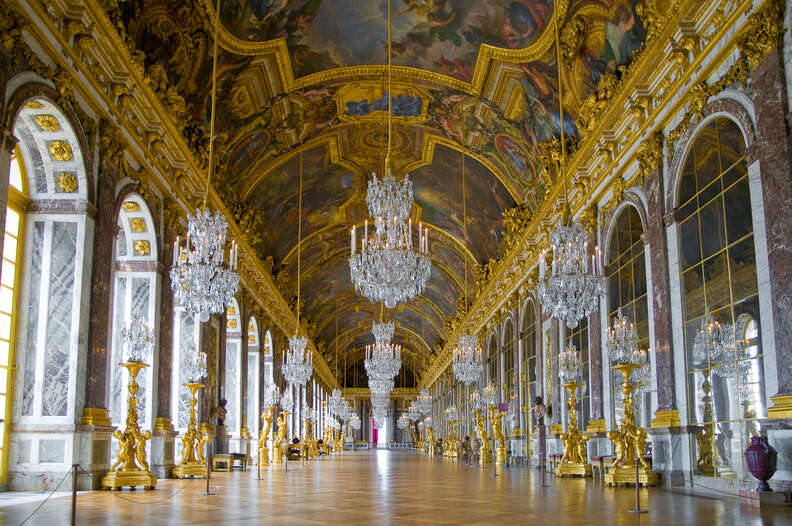 Palace of Versailles
Versailles, France
Versailles is known as the world's largest royal domain, measuring in at an insane 87 MILLION square feet (that's not including the 230 acres of gardens outside, too). It's easy to see why an angry mob came and captured King Louis XVI and Marie Antoinette. From the epic Hall of Mirrors to the Royal Chapel, and even an on-site opera house,Versailles definitely takes the cake (that Marie Antoinette definitely did not say you should eat) when it comes to opulence. By the way, be aware: selfie sticks are banned here.
Castle of Coca
Segovia, Spain
Just a 90-minute drive north of Madrid lies a fantastic red-brick colossus known as the Castle of Coca. Despite its moat running dry these days, the fortress looks much the same as it did hundreds of years ago, when the great Roman emperor Theodosius was born inside.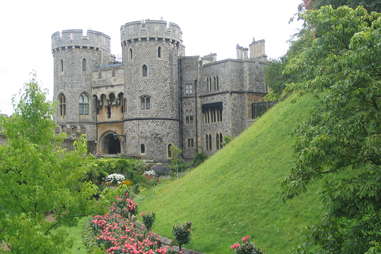 Windsor Castle
Windsor, England
Windsor Castle's the oldest and largest castle in the world that's still inhabited. When the queen's at home, you'll know by a royal standard flag flying from a tower. That's what makes Windsor Castle a popular tourist attraction, but also an iffy one -- when royal duty calls, it's prone to be shut down on short notice.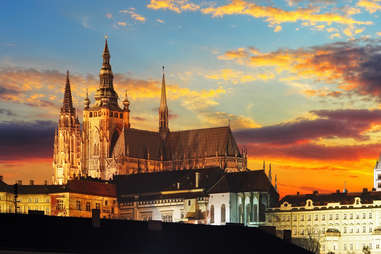 Prague Castle
Prague, Czech Republic
About the size of seven football fields, Prague Castle is considered the world's largest castle from ancient times. Getting around here can be confusing, considering its winding labyrinth of churches, gardens, and alleys. Assuming you're not lost, don't miss the St. Vitus Cathedral and the tomb of St. John of Nepomuk, a massive crypt made of solid silver.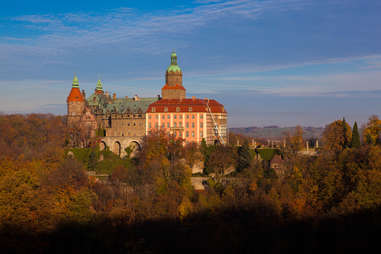 Ksiaz Castle
Walbrzych, Poland
This picturesque Polish castle has been making headlines recently with rumors about the discovery of a Nazi gold train hidden here. The Third Reich seized Ksiaz in 1944, allegedly with the plan to make it a home for Hitler. That's why treasure hunters are apparently lurking around, looking for swag. Ksiaz is also a popular tourist attraction, known for its eclectic architectural style and surrounding greenery.
Sign up here for our daily Thrillist email, and get your fix of the best in food/drink/fun.
Barbara Woolsey is a Berlin-based writer who's considering crossing the Polish border with a metal detector. Follow her European adventures on Facebook and Twitter.