Sleep in an old-fashioned pub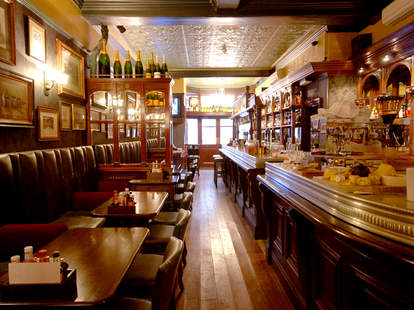 A stone's from both Central & East London, Fox is a truly old-school inn (a pub + rooms = an inn), whose rooms are just as affordable -- and as awesome -- as their beer
There are only six rooms all told (it's an actual inn, not a Holiday one), and they variously feature huge plasmas, working fireplaces, and freestanding tubs by the foot of the bed.
If you pedantically prefer your bath in the bathroom, the other rooms have that too, along with copper sinks and slick designs.
As mentioned, this place is above a pub, so if you're in the mood for daily rotating cask ales, craft taps, and 30+ bottles, then you're in luck
Being next to one of London's biggest markets, you'll also find the freshest oysters, pies (rabbit, bacon & cider, anyone?), and uber-traditional beer-battered fish w/ goose-fat chips, which will soon be migrating to your mouth
They've also got cosy private rooms at the back of the bar known as the Foxes Dens, formerly used by cockneys to discuss stuff that nobody can understand anyways, so why bother guys?
And because it's right next to Smithfield Market, it's also right next to some of the city's best restos (you + these places = good).