All the naked ladies and blue cheese oysters you can handle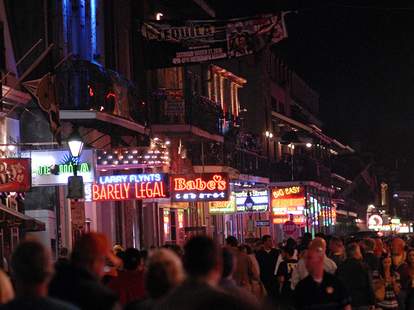 You'd think it'd be impossible to go wrong in a neighborhood that hosts Mardi Gras, the week-long booze celebration that is Tales of the Cocktail, and way more rooftop pools than you'd think -- but even in the French Quarter, a man can make the kinds of terrible decisions that don't lead to great stories. We rounded up some of the most common wrong moves, followed immediately by the right ones.
Don't get out of your pjs... for the coffee at PJ's.It's time to make the donuts... jealous, by hitting the 24/7 classic Cafe du Monde for a chicory au lait primed for dunking powdered sugar-caked beignets
Fast forward... past Brennan's hardly-bananas Foster come brunch-time. Skip to the end... of the morning hangover at Green Goddess, a hidden Exchange Alley global kitchen serving Bellini-cured lox with wasabi caviar and Satsuma Mimosas
Do not bring your wallet... to Big Daddy's -- getting Kaned is a more pleasurable experience.Ditch your girlfriend... and hit Larry Flynt's Hustler Barely Legal Club, where it's never amateur hour, but every Wednesday's Amateur Night. Hey, is that your girlfriend
Good excuses... to avoid the gravy rolls at Gazebo Cafe are bountiful.Po' excuses... for po' boys are everywhere, so wolf down the city's richest at GW Fins, overloaded with fried Maine lobster
Liberate yourself... from dropping Lincolns at the Royal St. Subway.Sandwich yourself... inside Central Grocery for the city's original Muffuletta, an only-in-NOLA Italian loaf layered with salami, ham, Provolone, and a spicy two-olive salad
Take a turn... away from the 190 Octane "world's most kick ass" daiquiris at Fat Tuesday.Take your turn... on the Hotel Monteleone's Carousel Bar, where everyone from Ernest Hemingway to the ghost of the dude who haunts the lobby's started a drinking revolution. Because the bar revolves. Really slowly, but still, it's pretty awesome
Wade your way... out of the Camp St La Quinta lobby.Lap up some history... at the Royal Sonesta, where upstairs suites open directly onto a garden courtyard complete with one of those rooftop pools
Don't plunk... down for mainstream lame at House of Blues.Don't blink... or you'll walk straight past One Eyed Jack's, a Toulouse St bordello packing the back room with touring comics and indie rock shows
Bark... at anyone asking you to stray towards the drunk-food drudge at Krystal."You lucky dog!"... is what you'll be telling yourself when you stumble upon one of the dudes hawking Lucky Dogs' man-sized mobile tubesteaks, the 'hood's best post-midnight eats that aren't from Arby's
Cold shoulder... the shucks at Corner Oyster Bar. Cool off... the hot pepper BBQ oysters at Red Fish Grill with their house-made blue cheese dipping sauce.
Forget the cold shave... at FQ's lone snowball-er Mr. Apple.Clean up... on Vietnamese coffee and pineapple cilantro at Meltdown Pops instead
Cut off... any dude who recommends returning to Headquarters.Then get a hot shave... at the Monteleone Barber Shop, which does not revolve, because a dizzy barber is always the wrong move.