Throwback elegance in the heart of South Beach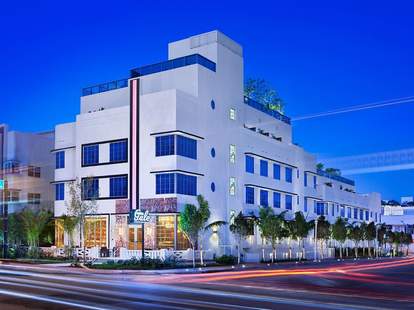 Bordered by attractions like Lincoln Rd., The Fillmore, and the New World Symphony building (not to mention one of the biggest Deco Bike stands!), The Gale provides easy access to Ocean Dr and Miami proper, and easier access to its rooftop pool and life-changing meatballs.
Because 40oz sconces would just black everything out, a collection of '40s sconces illuminate the vintage black/white portraits lining the lobby
What looks like a page from a Restoration Hardware catalog is actually one of the 87 spacious guestrooms. Not pictured: over-sized marble showers
There aren't many reasons to ever leave this rooftop pool..
...other than to stuff yourself, which can be easily done at Dolce Italian, a lobby-level spot slinging Neapolitan pies, short rib ravioli, grilled shrimp & scallops, and a trio of must-down veal meatballs.

THis photo is simply to reiterate the "must-down" part.

After dinner, toss back 'tails at vinyl-lined Rec Room, which manages to channel a kick-ass '70s basement without actually being a '70s basemen