10 Reasons to Drive to Mammoth Lakes, California
From skiing to snowboarding to nature hikes, here are some winter-wonderful reasons to visit.
From pine forests dusted with snow to majestic mountain ranges, dozens of lakes and hot springs, Mammoth Lakes is bathed in natural beauty. Located to the east of Mammoth Mountain in Mono County, the town sits at 7,880 feet elevation and is just a five- to six-hour drive from both San Francisco and Los Angeles. This picturesque mountain town enjoys an extended winter season—usually lasting from November through the end of May—and is an ideal weekend getaway, with an array of options including skiing and snowboarding to make the most of your time away from the city.
Whether snowshoeing in solitude, hopping on crowded lift runs with friends, or enjoying a night on the town, Mammoth's activities are just as plentiful as its bear population. And if you're craving a low-key escape, there are plenty of other ways to unwind. Here are ten reasons to drive to one of California's top ski and adventure destinations this weekend: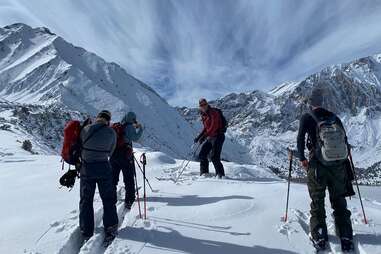 Soak in the outdoor activities
Skiing and snowboarding are always an option—Mammoth's 150 trails that span over 3,500 acres are a snow enthusiast's dream. But if you feel like venturing off the beaten path, look into backcountry tours with the Sierra Mountain Center, which offers tours for different skill levels, as well as rock climbing and waterfall ice climbing—which is exactly what it sounds like. Get your adrenaline pumping with Sierra Mountain Guides, which offers a two-day, 13-mile trek from Mammoth to June Lake.
If you're feeling more mellow, try a round of ice skating at the Mammoth Lakes ice rink, which is located behind the library. Get in touch with your inner child at Woolly's Tube Park, where you can barrel down the mountain in a high-speed snow tube. There's also a snow play area for the little ones, where they can build a snowman or ride the merry-go-round tubes. Nestled deep in the forest nearby is the Mammoth Lakes Earthquake Fault, a rare natural phenomenon that cuts through volcanic rock and reaches a depth of 60 feet. A short trail descends into the fault, and signs reveal information about its history.
Take a self-care snow day
Make it a self-care snow day (should that be a thing?) and treat yourself to some therapeutic bodywork at Simply Massage. Offering an assortment of massage techniques, you can also take advantage of their Hydreight Mobile IV services, which can help with altitude sickness and remedy your hangover, among other things. For something different, try a Sagra Bodywork massage, a barefoot method. Also recommended is the Healing Arts Center, which offers a variety of massage therapy and integrative bodywork services as well as acupuncture.
Mammoth also has an independent bookstore in the downtown area, which has been around since 1978. The Booky Joint has a great selection of both used and new fiction and non-fiction, local interest, and children's books, as well as gifts and games. Pick up a page turner here that you can pore over later in the comfort of your cabin.
Hit up happy hour, après-ski
Accustomed to abiding by après-ski hours? Options abound at Mammoth, where you can hit up happy hour at Roberto's or 53 Kitchen & Cocktails. Mammoth Tavern's happy hour specials include half-off draft beer, well drinks, and wine, which you can pair with an order of Ham Croquettes or Shrimp Ceviche.
If you're a brewery connoisseur then check out the granddaddy of them all, Mammoth Brewing Company. Sample their Double Nut Brown or Golden Trout Kölsch, two microbrews that are staples on the tap list. If you're in town on a Tuesday, be sure to check out their Trivia Night. Shelter Distilling is another popular spot for happy hour, with a selection of homemade spirits, beer, and handcrafted cocktail mixers. Visit Distant Brewing's tasting room for a hometown feel and a dozen beers on tap. You can also join them for live music during the week and Monday Open Mic Nights.
Go hot springs-hopping
There are several hot springs to be found along Highway 395, which may be the perfect place to rest your weary muscles after a day of adventure. There are a few located along Benton Crossing Road, and perhaps the most well-known of the bunch is Wild Willy's Hot Springs. Make your way down a boardwalk and you'll find two hot springs pools with steam rising above them. The Hilltop Hot Tub is a lot smaller but easier to get to from Benton Crossing Road. Crab Cooker Hot Springs is a rock tub that has water piped in from a mineral spring nearby.
The precursor to all of these hot springs is Hot Creek, a spot that both locals and visitors used to frequent back in the day. Now restricted to a geological site, you can still hike down the paved path to marvel at the periodic geyser eruptions as you watch boiling water bubbling up from the creek. Located 15 miles south of Mammoth, you'll find it off Hot Creek Hatchery Road.
Enjoy exciting fine dining restaurants from award-winning chefs
Mammoth has quite a few options for fine dining, whether that's a meal set on the banks of the Twin Lakes, or overlooking a bowling alley. If an intimate meal that includes Beef Tenderloin Carpaccio and Duck Confit sounds up your alley, then you'll want to check out the tiny Lakefront Restaurant, which is located inside the historic Tamarack Lodge. Mammoth Rock Brasserie at Mammoth Rock 'N' Bowl offers a creative and eclectic menu by chef Frederic Pierrel that includes Wild Mixed Mushroom Strudel and Black Angus Ribeye, plus a full bar menu. After a decadent meal, you may be tempted to challenge your dinner companions to some bowling.
Morrison's Restaurant is another favorite for high-end dining, with a lengthy international wine list, plus house-made pastas and hearty entrees like Braised Lamb Shank with root vegetables. For a special treat, check out The Restaurant at Convict Lake, its sister restaurant. Just a few miles outside of town, it is worth the trip not only for the spectacular views of the lake but also the menu which includes an assortment of fresh fish, such as a cashew-crusted Rainbow Trout or almond-crusted and pan-seared Fresh Diver Scallops. Browse our Mammoth Lakes dining guide for more ideas.
Drive the June Lake Loop
If you've made it all the way to Mammoth, you might as well venture further along Highway 395 and drive the June Lake Loop. Also known as CA Highway 158, it's a 16-mile horseshoe-shaped road that travels through the town of June Lake, which is also home to a family-friendly ski resort. Stop for a pint at June Lake Brewing, and enjoy a plate of Hawaiian-influenced soul food from Ohanas395, a food truck parked nearby.
June Lake Loop winds its way around four lakes—after June Lake you'll pass the trout-laden Gull Lake next, and then Silver Lake, which is lined with cabins and hosts one of the Sierra's oldest fishing and vacation resorts. Grant Lake, the largest and most imposing of the four lakes, greets you before you reach Highway 395 again. If road conditions allow, you can also visit the otherworldly landscape of Mono Lake, which is just a short distance away.
Do a wine bar crawl
Who knew that a small mountain community would have so many appealing options for savoring a glass of wine? Stop by one of the town's newest additions, Bevi Bene, for a glass of Chianti or Lambrusco—their menu highlights wines of Italy. For a spectacular selection of over 250 wines, Petra's Bistro & Wine Bar is a sure bet. As is Side Door Wine Bar & Cafe at the Village, which serves an assortment of wines from around the world.
Black Velvet Coffee has a cozy wine bar inside that focuses on small winegrowers with biodynamic and sustainable farming practices. If you're in the mood to enjoy a bottle in your cabin or hotel room, browse the selection at Bleu Market & Kitchen, which also offers an array of gourmet deli and bakery items. And if you're craving a glass on the slopes, stop by DAOU Lounge at McCoy Station, where you can enjoy complimentary tastings from the Paso Robles-based winery during the ski season.
Explore Mammoth's backcountry
Visit the Tamarack Cross-Country Ski Center, where you can rent a pair of snowshoes or skis and explore over 19 miles of freshly groomed trails. A haven for cross-country skiers and snowshoers of all abilities, feel like you're one with nature as you take in the tranquility of the backcountry. Located in the Lakes Basin, away from the hustle and bustle of town, go here if you're looking for a change of pace or just want to explore Mammoth in a different way. They also offer Full Moon and Alpenglow snowshoe tours several times throughout the year.
Take in the beauty of Mammoth's forests and geological formations with a snowmobile tour by Mammoth Snowmobile Adventures, which takes off from their headquarters behind Yodler Restaurant & Bar near the Main Lodge. Glide through the snow as your experienced guides lead you through thousands of acres of trails and lush pine forests.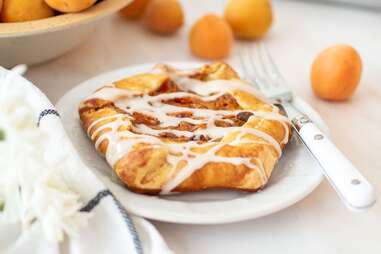 Check out the dessert scene
For an eco-friendly, organic masterpiece, check out Dessert'd Organic Bake Shop, which serves a selection of cakes, cookies, cupcakes, brownies, and ice cream. The assortment of cookies alone ranges from meringues to florentines to shortbreads, sandwich cookies, biscotti, and even cookies for dogs. Oh, and did we mention the pies? Fruit pies, sweet cream pies, and pie jars in just about every flavor you can think of.
If that's not enough, there's also Hugs Ice Cream in the Village, which has dozens of flavors of ice cream, sorbet, and sherbet, as well as ice cream sandwiches. The best donuts in town are at Mammoth Coffee Roasting Co., so grab a ring to go along with a fresh brew.
Ride the gondola to the top of Mammoth Mountain
You can't visit Mammoth without paying tribute to the man who made it the world-renowned adventure resort that it is today—Dave McCoy. Take the gondola to the Mammoth Museum at McCoy Station, which is the first stop on the way to the summit. Journey back to the 1950s, and trace how McCoy's innovations made his vision a reality. Then, hop back on the gondola for a trip to the top.
Perched 11,053 feet above sea level, Eleven53 Interpretive Center is a visual treat, offering 360-degree views of the snow-capped Sierra Nevada Range. Exhibits that highlight the region's geology, wildlife, natural history, and climate are on display year-round. You'll want to visit if you've ever wondered how the jagged peaks of the Minaret Range were formed, or wanted to learn more about the North American black bears that have made Mammoth their home.