The 36-Hour Guide to a Perfect Mammoth Lakes Visit
Mammoth Lakes does winter better (and longer) than anyone, so here's your guide to a day and a half of bliss as pure as the snow around you.
You already know all the ways to race, bounce, climb, and soar over the Mammoth Mountain slopes. But in that flurry of snowy activities over numerous trails, don't forget to hit these recommended retreats, recreations, and relaxations. You wouldn't want to miss anything... although that would give you a reason to come back next week.
Courtesy of Mammoth Lakes Tourism
Morning is for the slopes
Obviously you're going to ski/board/snowmobile Mammoth Mountain. Not doing this would be like going to the moon and not saluting the American flag. So get out there ahead of all those lazybones and hit the slopes (or the plains if you're into cross-country) as soon as they open. With 28 lifts and 150 trails stretching 3,500 acres, you'll never glide down the mountain the same way twice. Woah. That's kind of philosophical.
If your heels won't be pinned down, then Mammoth Lakes' many cross-country ski trails range from a fun couple of miles to a mighty 14. Whew! Feel the calories! You'll earn your hot chocolate tonight.
Lunchtime!
We know you got in early, but hold off your appetite and take a late lunch; everyone else will abandon the slopes to hit the lodge, leaving you to enjoy the extra elbow room. When the hills fill up again, that's your cue to get your well-deserved midday meal. 
The appropriately named Delicious Kitchen is known for its massive, meaty sandwiches. Tip: make your lunch sweet and smoky with the burnt ends sandwich.
If you're done skiing for the day, check in at the 53 Kitchen & Cocktails, where a beloved atmosphere melts warmly into evening entertainment. The item to have here is (warning: don't drool into your keyboard when you read this next bit) their fresh pretzel bread with stout cheese dip.
If you're looking for a quicker bite, Latin Market Taqueria's authenticity draws praise from even the most demanding SoCal palate at rock bottom prices, and if you don't get the sope, you're a dope (pretend that rhymes).
If health food is your bag, hit the wellness-conscious Food Cache Cafe (grab yourself a Dragon Bowl Z açaí bowl. You're welcome), where a party of mixed diners can enjoy everything from steak to vegan -- and not that sacrificial vegan meal of steamed greens, either: real, nutritious, tasty vegan food.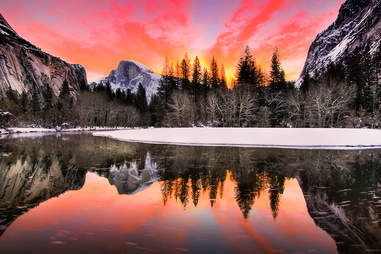 Shutterstock
An afternoon activity up everyone's alley
Once you've skied, boarded, and snowmobiled as much as you can, visit the world's most vista-riffic bowling alley. There's bowling, and then there's bowling, and Mammoth Rock 'N' Bowl is definitely the latter. Grab one of its 12 lanes or go relax on the golf simulator.
Taste the rainbrau
Sample the local flavor at Mammoth Brewing Company's tasting room. In a hop-heavy era, MBC sports a refreshingly diverse menu, which includes some choice experiments like Peach Vanilla Sour double nut brown ale, a blonde bock, and the ghoulishly gleeful Charley's Revenge English olde ale. The tasting menu must be tried too, unless you have another source for banh mi pizza and pork belly reubens out there. (Didn't think so.)
Travel the world at the dinner table
You almost can't go wrong with pizza, and you definitely can't go wrong with a pizza menu by a James Beard-nominated chef like Campo's Mark Estee. A wood-fired Neapolitan "Bee sting" pizza is great to share, while you sample a charcuterie plate and/or the crispy goodness of a spatchcocked chicken al mattone.
Feel like eating Norse by Norse best? Follow your Nordic skiing with some Nordic eating at SKADI. This tiny restaurant rewards those seeking attentive service and fresh fare. Note that the menu disclaims "Please no substitutions. Our chef is crazy, seriously," while offering plates of house-smoked trout with horseradish cream, or maple leaf duck breast with Arctic lingonberries, juniper, and aquavit. The only way to make that dish more Norse would be if Thor were your waiter.
Feeling more like a steak? Giddyup to The Mogul, where cattle is king, and the fish ain't bad either. The Angus prime rib in particular is touted among locals in the know.
Or go deeper: visit the rightfully beloved Lakefront Restaurant inside the Tamarack Lodge Resort for a delicious dinner and dessert. Tip: go when the moon is full for maximum romance.
Courtesy of Mammoth Lakes Tourism
Guss up, go out, and get down
You've got a few options here, depending on how crazy you want to get. Bars range from raucous to refined. For example, you might want to bring on the beach at Lakanuki tiki bar, known for its wild dancing. Or, hey, maybe you've had a full day and you just want to relax over some elegant cocktails with a spectacular view. In that case, the Mammoth Rock Brasserie is your huckleberry. Wander back over to the Mammoth Rock 'N' Bowl. Say what? It's true! Above the alley await romantic drinks and dining with a focus on local cuisine. Despite the fact that it's over a bowling alley, it's a tranquil way to wind down the day. Not that you should exclude bowling a second time. Everyone loves bowling.
After all that, it's time to hit the hay, kid, you've had a long day.
Break the fast
Good morning! It's time for breakfast. That means coffee at Looney Bean, Stellar Brew & Deli, or Black Velvet Coffee. All three are awesome, and a good place to feel that community vibe. Tip: if you're particularly inclined towards veganism or gluten-free food, breakfast up at Stellar when you get your java.
Now for nosh: at Good Life Cafe, where you're advised to get the eggs benedict. You're having an active weekend, so don't be afraid to load up on calories. Besides, you're on vacation for a few more hours.
Courtesy of Mammoth Lakes Tourism
Hit the trail
Give your legs a break and check out the snowcapped scenery on a snowmobile tour. The area's 80 miles of groomed trails are well worth the price of a tour led by one of the two local snowmobile rental companies, DJ's Snowmobile Adventure Rentals and Mammoth Mountain Snowmobile Adventures. That way, you can poach a line from the pros and then open it up on the unblemished powder to your heart's fill.
Duck in for lunch
It's cold outside, so why aren't you watching football? BOOM! Now you are, while you nosh on a duck taco (or lobster burrito, if you fancy) at Roberto's Mexican Cafe. Good rule of thumb at restaurants: always order the dish that would be too much hassle to make yourself. Unless you know which menu item would be the most delicious -- which is duck, so you win again!
You can also stock up at Bleu Market & Wine Bar, where the good kind of preserved foods await you: cheese, cured meats, olives, dried fruit, regional beer and wine!
Tired and happy with full arms and a fuller heart, you can now head for home -- till next week.