We love surprises at luxury hotels: Godiva chocolates on your pillow. Complimentary cocktails at happy hour. Lions staring at you when you wake up -- okay, maybe not that.
But what about walking into the lobby to find an original John Lennon drawing, or a genuine Picasso painting? It's a definite perk to have the hotel bring the museum to you, even if your idea of fine art is limited to pictures of animals dressed up like people.
So that you don't have to actually be surprised when you check in, here are 10 hotels that showcase some (relatively) famous artwork.

Sugar Beach -- St Lucia, Caribbean
This fancy Viceroy resort in St. Lucia might be tucked away on the private beach of a UNESCO Heritage Site, but what truly gets us excited is the artwork displayed in the resort's Cane Bar. Owner Roger Myers (a former accountant to the Rolling Stones) hung some of his private collection, which includes an original John Lennon self-portrait, in addition to a Matisse print.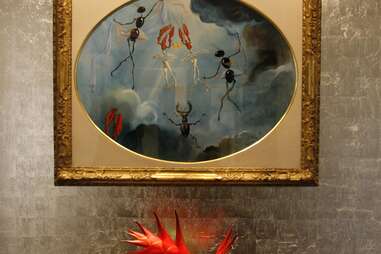 Dolder Grand -- Zurich, Switzerland
Among the lavish furnishings and antiques found inside the historic Dolder Grand are 130 works of art from relatively famous artists. A massive renovation in 2008 brought in Salvador Dali's "Femmes metamorphosees -- Les sept arts", which now adorns the entrance to the restaurant. Guests can even take an engaging, self-guided art tour, compliments of the hotel.
Bellagio Resort & Casino -- Las Vegas, Nevada
You would hope that the Bellagio's super pricey, two-Michelin star Picasso restaurant would have at least one legit Picasso painting hung somewhere inside. Turns out, there are four, not to mention a few original ceramics. And, not to get all Picasso'ed out, but his son, Claude, actually designed the restaurant's carpet and furniture.

Gramercy Park Hotel -- New York, New York
If there's ever a reason to skip the crazy lines at MoMA or the Met, it's to make a beeline to the Gramercy Park Hotel, where the owner rotates his personal multimillion art collection. Artists featured at one point or another include Michel Basquiat, Keith Haring, Dan Colen, Charming Baker, Andy Warhol, and Damien Hirst.

Twin Farms -- Bernard, Vermont
While this rustic Green Mountain State resort has suites designed by architect Peter Bohlin (who also designed homes for Bill Gates and Steve Jobs), the art is the true eye catcher. Private and common areas are decorated with works from the owner's personal collection, which includes pieces by Roy Lichtenstein, David Hockney, Frank Stella, Donald R. Wilson, and Ed Ruscha, and gives the place that unpredictable art gallery feel. Also, animals dressed up like people!
Chambers Hotel -- New York, New York
Not only is there a buzzing Momofuku behind the doors of this hidden NY boutique gem, but the Chambers boasts more than 500 works of art on display, including site-specific installations by John Waters, Sheila Pepe, and John Newsom.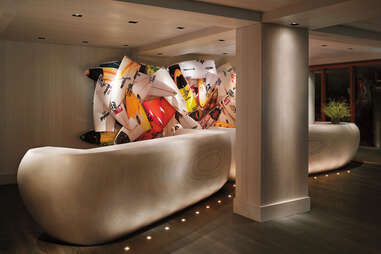 The Modern Honolulu -- Honolulu, Hawaii
While no Leonardo Da Vinci, Herbie Fletcher is a world-famous professional surfer-turned-artist who, in his formative years, caught the eyes of Bruce Weber and Julian Schnable. His masterpiece -- a work of art constructed from 100 collected, broken surfboards from the world's best surfers (like Kelly Slater and Mick Fanning) -- can be seen at the hip Modern Honolulu.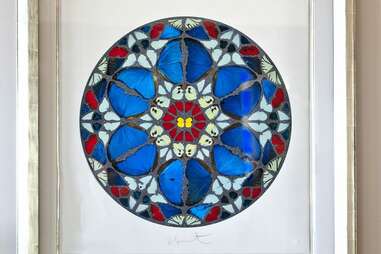 Belmond El Encanto -- Santa Barbara, California
This Belmond property dates back to the '20s and made headlines last year when it reopened after an extensive seven-year renovation. They hit up notable artists like Damien Hirst to decorate the walls and give the rooms some artsy soul. Hirst's "Psalm print: verba mea auribus" on a silk screen with diamond dust hangs behind the concierge desk.
Rancho Valencia -- Rancho Santa Fe, California
Located in one of the most expensive zip codes in the world, Rancho Valencia (25 miles outside of San Diego) is an ideal spot for showcasing priceless art. Inside the hotel's Veladora bar, an equestrian-themed hotspot for highbrow locals, visitors can get up-close and personal with Damien Hirst's "Imploration", 84 inches of butterfly wings arranged in a trippy pattern.
Semiramis Hotel -- Athens, Greece
Athens may be chockfull of ancient history but visitors can get their modern-art fix at Semiramis, which is home to an array of work by contemporary artists like Jeff Koons, Takashi Murakami, Jenny Holzer, and Michael Bevilacqua. Thank the hotel's designer Karim Rashid for injecting pop culture.