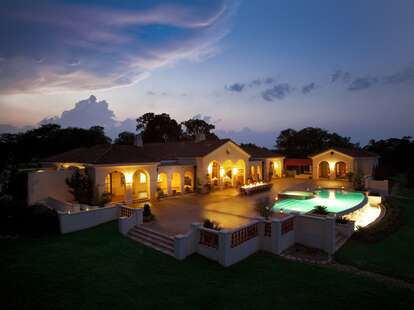 Love the movie City Slickers so much that you named your kid Norman, but too lazy to actually go on an actual cattle drive? Then The Cowboy Special at Texas's Inn at Dos Brisas is just the trip for you. You'll learn to ride and rope just like Jack Palance, but without all the dustiness of sleeping on the trail as you'll be holed-up in a 5-star resort an hour outside Houston
Bed-down in a 750sqft casita with views of horses roaming the "pastoral fields"
The cowboy experience starts with a one hour tutorial on equestrian basics in their show barn/ arena, the second-largest such arena in Tejas
Once you've got the basics well in hand, master trainer Kim "O.K." Estes will teach you how to do gnarly stuff like rope live cattle, and rim-shot a spittoon from clear across a tavern
You'll also get to eat! Gourmet breakfasts and five-course dinners are made using ingredients picked at their 24-acre organic farm, and served at Texas's only Forbes Five-Star resto, which is honestly where most of the cattle on those drives end up anyways.