Elegance Bratton has led a life of contradictions. At 16, his mother kicked him out for being gay. After 10 years of homelessness, he joined the United States Marine Corps, a backbreaking organization rife with homophobia. The new movie Bratton wrote and directed, The Inspection, fictionalizes his experience in boot camp, where he couldn't acknowledge his sexuality but walked away refusing to bury it. Bratton says the film started out as "Beau Travail meets Falcon," and that's as much a contradiction as the rest of his biography: The former is a revered French art-house drama and the latter a popular gay-porn studio.
While homeless, Bratton stole clothes, food, and books, which is how he read about the work of directors like Spike Lee, Pedro Almodóvar, and Martin Scorsese. A former latchkey kid accustomed to fending for himself, he related to the unsupervised preteen Jodie Foster plays in Taxi Driver. So it was kismet when a recruiter recommended three jobs available to him in the Marines: intelligence aide, journalist, or filmmaker. Bratton immediately chose the last option.
He then spent three years as a videographer and photographer at Camp H.M. Smith on the Hawaiian island Oahu—"paradise," Bratton calls it. This was the era of the military's "don't ask, don't tell" policy, so he still didn't dare admit he was gay, not even to someone who seemed sympathetic. Getting discharged would mean returning to a homeless shelter, and life was better with purpose and community.
"Serving in the Marine Corps was very traumatic for me. It still causes me a lot of psychological issues," Bratton says. "At the same time, though, I found my family within this family. I was living in Hawaii with good friends and barbecue on the beach. I could go to Turtle Bay and snorkel and play tennis every day of the week. My whole point with this film was that more than one thing can be true at once. You would never think there would be allies in a place where there's such ripe and thick homophobia. But I wouldn't be here right now if it wasn't for those people who saw the truth of who I was."
Bratton was trained to shoot with the same type of handheld camera David Lynch used on the movie Inland Empire, something he knew because of those books he'd stolen. Most of the footage he captured—retirement ceremonies, gear demonstrations, humanitarian missions—wasn't meant to be artful. Still, the experience planted seeds that bloomed as Bratton became a professional director.
"I'm watching men at the peak of their physical beauty working out and handling weapons, and I'm definitely aware of them being beautiful," he recalls. "I was able to encode the things that I filmed with what I noticed while also keeping it under the radar of those who would terrorize me if they knew what I noticed. Now that I'm writing scripts and dealing with subtext, I'm using the camera to suggest the subtext of the script. Especially in The Inspection, the camera is very much a queer gaze. I can look back on that military stuff and say, 'Oh, maybe this is where that started.'"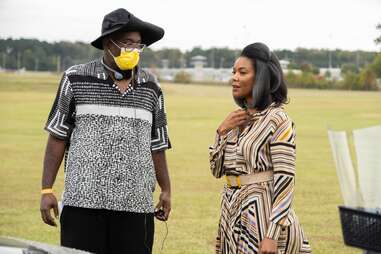 Bratton's stint as a combat camera operator also took him to South Korea, Japan, and Thailand, where he befriended musicians and restaurateurs. He filmed and participated in a Royal Thai Marine Corps ritual in which infantrymen kill a male cobra in the jungle, drink its blood and semen with whisky, and exalt their stamina. After Bratton spent three years in Hawaii, a compassionate master gunnery sergeant asked if he'd like to finish out his five-year term as a military police officer in New York City, where he could get his own apartment and live the life he wanted.
And he did. Bratton is now married to Chester Algernal Gordon, a producer and costume designer. Together they made Pier Kids, a documentary about three homeless queer teenagers living on the famous Christopher Street Pier in downtown Manhattan. The project taught him to treat the camera less didactically. "That was the moment where it really shifted for me from the mechanical use of a machine into an expression of something internal that I wanted other people to understand," he says.
However autobiographical, The Inspection marks Bratton's first feature-length fiction film. The bigotry borne by Bratton's analog, Ellis French (Jeremy Pope, star of Netflix's Hollywood), butts up against the homoeroticism rippling through the barracks. With a sensuality that's tender but never lurid, Bratton lingers on male bodies and indulges the fantasies building in Ellis' head as he interacts with fellow recruits. More crucially, Bratton applies sensitivity to the push-and-pull of a militarized environment that many young gay men might find too antagonistic. For every ruthless disciplinarian (Bokeem Woodbine), there's an officer (Raúl Castillo) who seems stuck in Ellis' same closeted predicament.
Bratton made The Inspection in hopes of winning over his mother. She gave up on their relationship, but he never did. His mom is played by a stoic Gabrielle Union, an early favorite for a Best Supporting Actress nomination at the 2023 Oscars. He suspected his mother would see The Inspection, or at least find out that an A-lister like Union was portraying her, at which point his accomplishment would be unignorable. Three days after The Inspection secured the financing needed for a green light, Bratton's mother died. While cleaning out her house in New Jersey, Bratton found press clippings about his work that she'd left behind. Despite her silence, his mother had found her own way to express pride.
"The whole message of this movie is that chosen family is where you find it," he says. "It's not a pro- or anti-military film, and that's intentional because I had all of these angels in uniform who knew my truth. It was healing for me."