You wouldn't expect to find a 22-story skyscraper out in the middle of the desert. But there is one, kind of—stretched out on its side, steel and tempered glass cantilevered over rocks, propped up by barely perceptible cylindrical columns. Its reflective surface swallows the bulbous boulders of its surroundings, to the point where you question if the building is in fact there. Is this a mirage? You wonder. Everybody else sees it too, right?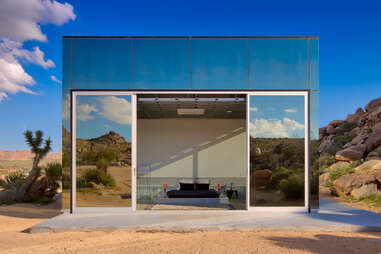 This is the Invisible House, a 5,500 square-foot fantasy construction on 90 private acres in the wilds bordering Joshua Tree National Park. Part of the Foxden Hospitality portfolio—a new boutique firm which specializes in fancy digs in the California desert (they also rent a home featured in Andy Samberg's Palm Springs)—the railroad property comes fully loaded with 3 bedrooms, 4 bathrooms, and a prefabricated guest house by Office of Mobile Design (OMD). On the inside, the reflective glass are full windows, immersing you in the landscape outside (clear shower stalls follow suit, should you want to feel like an exhibitionist for the desert wildlife). The massive sliding glass doors can also open up and merge the two environments.
There's a 100-foot solar-heated indoor pool, a fire pit for stargazing, and controllable LED lighting that lights up neon against the black desert night. Oh, did we mention it comes with its own mountain? And it can be all yours— for a cool $2,697 per night on Airbnb.
The Invisible House is at once a stunning showpiece, and yet totally unobtrusive. Designed by owner and filmmaker Chris Hanley, with Gehry collaborator Tomas Osinski, in a roundabout way it exists thanks to Andy Warhol. Before he was producing films like Buffalo '66, Spring Breakers, The Virgin Suicides and American Psycho (famous narcissist Patrick Bateman would have a field day with those reflective surfaces), Hanley and his wife Roberta were fixtures in the New York arts scene. Hanley's Intergalactic Studios was frequented by artists including The Ramones and Afrika Bambaataa ("Planet Rock," recorded at Intergalactic, pioneered digital sampling and paved the way for hip hop and electro rock).
Warhol would also visit their studios. "[He] always made comments about how 'land is the best art,' and 'having land and not ruining it was the best art,'" says Hanley. Warhol's words planted a seed. When Hanley and Roberta moved out west, they found a 90-acre reserve bordering federal land, replete with mountains, valleys, and foothills to explore. They purchased it as an art collaboration with Warhol superstar Jane Holzer, aka "Baby Jane Holzer." "In late 2005, when I found the Joshua Tree land, I called Jane and said, 'We have to get this,'" says Hanley. "It's the best art we ever bought."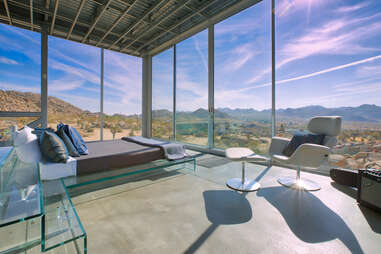 In 2010, the couple took over sole ownership and first added the OMD pre-fab that now serves as a guest room. "It's not a trailer but more of an office structure you find on the backlot of a film studio, but converted to a 720 square-foot home," says Hanley.
The idea for the floating rectangle skyscraper came from Hanley's childhood. He took frequent trips into Manhattan with his mother, who danced with Metropolitan Opera Corps de Ballet. "I had this idea of the monolithic skyscrapers on Avenue of Americas and Fifth Avenue," he says. "When I drew the horizontal rectangle with skyscraper glass at Invisible House, it was influenced by the NYC reflective monoliths of my childhood."
Invisible House was fully completed in 2020—with environmental sustainability incorporated into the design, and special care not to harm the bird and wildlife population with its reflective surfaces.
There's something about the bizarro landscapes and Joshua Tree air that feeds artistic sensibilities. There's the former Wild West film set of Pioneertown nearby, originally built by actors who played cowboys (actual cowboys in the area were not too happy about it). And there's the midcentury Integratron built by UFO enthusiast George Van Tassel, now used for sound baths. Airbnbs come in shapes from domes to spaceships. Artists of all stripes make the area their home and if you could count the number of music videos filmed out there, well, good for you.
Unsurprisingly, the Invisible House has already been used for multiple photo and film shoots, and Hanley has even come up with his own treatment for a movie. It's "a kind of search into the interstices of the mind horror genre," he says. If it gets made, maybe don't watch before an overnight stay.
And watch out for American psychos.