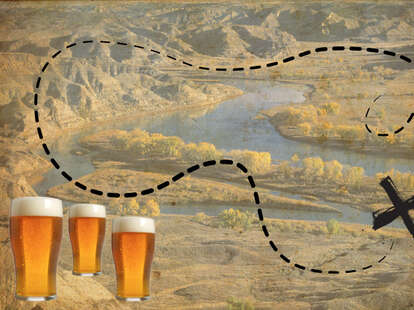 Were you aware that the greatest trips in the world don't even exist yet? Or at least they didn't, because we hadn't created them for you... until now. Launching an entirely new way of traveling, Thrillist is putting together some of the most unique itineraries known to man and gifting them to you, starting with this nine-day road trip that follows in the Missouri River footsteps of Lewis & Clark, but adds in way more suds and strip clubs. Bon voyage!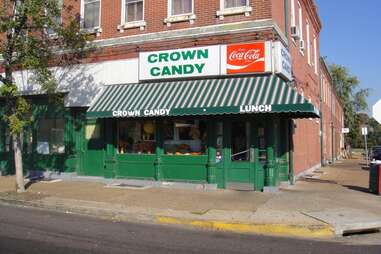 Day One: St. Louis, MO
Highlights: Deep-fried brain sandwiches, a century-old milkshake challenge...
Fly into St. Louis and secure your rental car. The only requirement is that its trunk holds lots of beers, because you have nearly 4000mi to go. Tomorrow's an easy drive, so go big by starting out at Schotzie's, where the house special's a deep-fried brain sandwich. Save room for dessert, though, because next up's Crown Candy Kitchen, one of the oldest soda fountains in the country, and home to a five-24oz-milkshakes-in-under-30mins challenge. And try not to literally puke your brains out when you hit the city's top craft brewery, Schlafly.
Day Two: Kansas City, MO
Highlights: Gas station BBQ, seeing JESUS'S MOM'S HAIR...
Rise whenever you fancy, because you only have 5hrs in the saddle today. Your goal is to stay as close to the Missouri River as possible, so take Rte 94 2.5hrs to Jefferson City for lunch, being sure to hit up Central Dairy for a massive cone filled with your choices from a seemingly limitless menu. Your postprandial trek is another 2.5hrs along Hwy 70 to KC, but since you have a car, skip Arthur Bryant's and head a touch outside town to Oklahoma Joe's, where some of the best BBQ on the planet (seriously) is served in a gas station. And if the idea of eating this much BBQ and ice cream two days into your journey isn't hair-raising enough, drop by Leila's Hair Museum, where there are more than 2K pieces of hair jewelry and 400 "hair wreaths", including two "reliquaries containing the hair of Mary, Mother of Jesus", the most follicle-forward anyone from Nazareth has been since recording "Hair of the Dog".
Day Three: Omaha, NE
Highlights: McRibs, real-life Goodfellas...
Hop onto 29 for a quick ride up the river to Omaha, which's 1) home of the College Baseball World Series, 2) "somewhere in middle America", and 3) where the real-life version of Ray Liotta's character from Goodfellas lived in Witness Protection... until he started getting sloppy drunk at local bars and telling people who he really was. There's a surprisingly solid bar scene to hit up on Howard St, but first head to a McDonald's and order a McRib in the very city where it was invented!
Day Four: Pierre, SD
Highlights: An unlimited-sized prime rib, weird rodeo history...
Riding 29 further yet, you'll pass through Sioux City, where you should stop and pour one out for the original trek's Sgt Charles Floyd and his fatal burst appendix. From there, it's a handful of river-running backroads to your home for the evening, South Dakota capital Pierre. The move here is a sawdust-floored steakhouse called Cattleman's, where they'll literally cut you whatever size prime rib you want. Don't go under 3lbs. You can also indulge your love of rodeo fondness for kitschy museums by hitting a museum dedicated to Ft. Pierre (other side of the river) native son and rodeo legend Casey Tibbs.
Day Five: Williston, ND
Highlights: Ramshackle foodtrucks, crazy strippers...
Roughly 8hrs of plains and Teddy Roosevelt National Park stands between you and the oil boomtown of Williston, ND. Stop off in Bismarck and grab lunch at surprisingly authentic Mexican joint Taco Pelanque, then continue on to Williston, which is in the throes of one of the largest oil booms in American history. Here, everyone with a mobile home still slings food even though they outlawed the practice in city limits, and strippers earn more than most doctors. Beds are hard to come by, so either try to strike gold with a pretty young prospector, or plan to crush beers until you don't mind passing out in your car, but heed one local's advice and simply "try not to get stabbed".
Day Six: Great Falls, MT
Highlights: Avoiding zombies, drinking with mermaids...
With the Missouri finally snaking West again, Rte 2 is your ticket to ride for seven hours through some seriously beautiful, seriously uninhabited country to Great Falls. This place is about as A River Runs Through It as it gets... that is, if that flick also involved a zombie invasion, which for a moment last February citizens thought had occurred, thanks to a hack of the local emergency alert system. More astounding than a zombie apocalypse, though, is the O'Haire Motor Lounge, which not only features Clark & Lewie's Pub & Grill, but also has the Sip 'n Dip Lounge, a tiki bar with a mermaid pool. FYI, by the time L&C arrived here, they'd already been on the road for a full year and hitched their wagon to Sacajawea.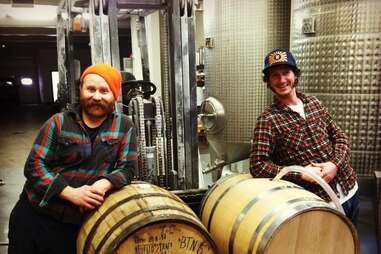 Day Seven: Missoula, MT
Highlights: Drinking straight from the still, vertical tacos...
Follow Hwy 15 west and you'll find yourself in the Montana Rockies. It's only a few hours to MT's cap city, Helena, but there's not much between there and Missoula, so stop off at the Staggering Ox for one of their famed vertical tacos. From there, it's on to the home to the University of Montana, which promises a 1:1 bong-to-student ratio. Higgins and Front Streets are loaded with bars & breweries, but the highlight's an upstart craft distillery known as Montgomery, where you can sample locally-sourced vodka and gin, and, sometime soon, their first batch of oak-aged whiskey.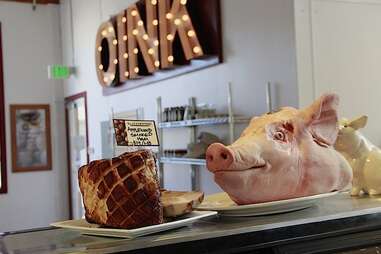 Day Eight: Portland, OR
Highlights: Everything you can do in Portland...
Sneaking off onto Rte 12, cruise through the mountains for a few hours before pulling off for a pit stop in Weippe, ID for an early lunch at the exact location L&C arrived at in September of 1805, nearly starving from their trek through the Rockies. It's nearly six hours (mostly on I-84) to Portland! If, like L&C, you are now totally out of booze and tobacco, drop by Tails & Trotters for some serious pork, then drink your way through town using using this even serious-er guide.
Day Nine: Astoria, OR
Highlights: Coastal bars, the actual house from The Goonies...
Fortunately for you, there are only a few more hours to go before your final destination! Pull up a chair at coastal haunt Mary Todd's Workers Bar and Grill, then prepare yourself to check out the actual house from The Goonies, which was filmed right here in town! Trek complete -- breathe a sigh of relief knowing that you managed to make the entire journey without even one crippling bout of typhus. Right?
Overview: On May 21st, 1804, America's original road trip warriors Lewis & Clark began their Westward push from St. Louis along the Missouri River, exploring the lands acquired as part of the Louisiana Purchase. Thus began a two-plus-year odyssey wrought with death, destruction, the befriending & offending of Indians, and, worst of all, running out of booze, which is not something that will happen on this trip.