If you're in the market for an adventurous getaway, then stop, because it's right here. It's in a place where the beer flows like wine. Where beautiful women instinctively flock like the salmon of Capistrano. We're talking about a little place called As-pen. And it's in Aspen that you'll find The two dumbest dudes in the world Little Nell, a five-star hotel now offering the brand-spankin' new Aspen Adrenaline Package.
Boy, you can see why they call it The "Little" Nell. Now onto the package:
Day 1
Get pumped! Day one kicks off with some heart-stopping, battle-cry-inducing fly fishing on the Roaring Fork River, which'll surely have you roaring "Fork Yeah!" all day long.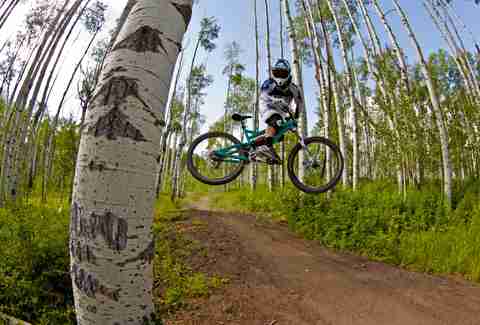 Day 2
Take a private downhill guided bike tour at Aspen's celebrated Snowmass... most famous for its legendary locals who can oft be heard screaming "Kick his ass, Snowmass!" as you fumble to properly put your kickstand up.
Day 3
If fly fishing and bike riding weren't extreme enough for you, Sir Richard Branson, then day three will see you tandem paragliding off Aspen Mountain, and when you land, be greeted by a Champagne brunch. Following that, spend the latter half of the day rock climbing and rappelling on Independence Pass, which is the traditional thing to do after a Champagne brunch.
Day 4
Today you take a whitewater rafting trip on either the Roaring Fork, Arkansas, or Colorado River -- and since you totally owned the Roaring Fork when you fly-fished it right in the face, opt for the CO or Arkansas instead.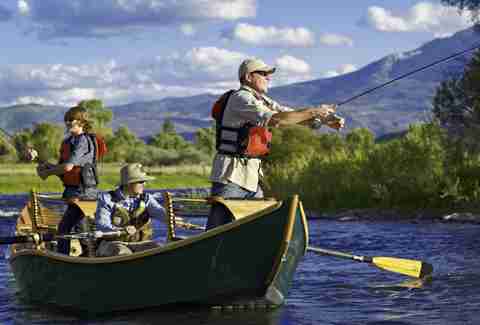 Day 5
The trip concludes with a 1/2 day hike up to American Lake, where you can catch American fish from an American boat while Tom Petty's "American Girl" rocks staunchly in the background.