Leaf peepers and lovers of the pumpkin spice latte, you're in for a real treat this season: heavy rains in the Midwest this year have made for some lush foliage. And when all those leaves turn Technicolor in just a few short weeks? Well, get ready to post all your #nofilter pics in Instagram's new full-photo format.
Fall is, quite simply, the BEST season. And if you happen to be in the Midwest, here are the BEST places to experience it.
Recommended Video
Debatable: It's Fine To Recline Your Seat On a Plane
Copper Harbor, Michigan
We recently put Copper Harbor dead last in our ranking of Michigan beach towns because beaches are not what Copper Harbor does best. You know what it does do best? Fall. In fact, September/October anywhere in Michigan's Upper Peninsula is going to be pretty damn phenomenal, because Michigan's state forest system is the largest in the eastern United States -- 4 million acres total (and not one of them on fire!). But autumn on the tip of the Keewenaw Peninsula, which has more topographically in common with Scandinavia than it does with anywhere else in the Midwest -- GTFO. Copper Harbor rules.
They've got the hiking (and the waterfalls and the old-growth pines and the mountain biking). They've got the beer bars and restaurants (especially in near-ish-by Eagle River). They've got the greatest of the Great Lakes. Maybe you've heard of the Tunnel of Trees that runs alongside Lake Michigan through Harbor Springs and into Good Hart? Yeah, Copper Harbor has its own tunnel, and it's longer.
Plus, there are historic lighthouses and abandoned mines (copper, go figure) and ghost towns (Halloween!) to explore, and more remote natural beauty for hundreds of miles in any direction than anywhere else in the Midwest.
North Shore, Minnesota
Michigan isn't the only state that can claim Lake Superior frontage. Minnesota's North Shore offers rugged coastline with dramatic bluffs, waterfalls, rushing rivers, dense forests, and SEVEN state parks along the way to Canada. A National Scenic Byway, the 142-mile North Shore Scenic Drive starts in Duluth and winds along the cliffs and beaches of Lake Superior, bordered on one side by ocean and on the other by the tree-covered Sawtooth Mountains and its thousands of acres of pine, aspen, and birch.
Pro tip: start your drive with a meal at the Duluth Grill just off I-35, a VERY basic-looking diner serving locally-sourced, made-from-scratch fare that would seem much more at home in an urban gastropub than a roadside diner in MN; we're still reeling from how great our meal was there.
Hocking Hills, Ohio
Get ready for 10,000 acres of maple, sassafras, oak, hickory, and hemlock to light up your life in a fiery (but again, not actually ON fire!) barrage of color. Ohio's Hocking Hills is one of the best reasons to visit Ohio (the snarkier among us might say the only reason, but the snarkier among us are from Michigan).
Just an hour's drive from Columbus -- actually a pretty fun city in its own right -- Hocking Hills has scenery you would never expect to find in the Buckeye State, especially if your only experience with the Buckeye State is calling it the Buckeye State. Gasp-worthy rock formations carved out millennia ago by glaciers, waterfalls spilling over cliffs and crags, and explorable caves tucked away like enchanted kingdoms (seriously, we just said that about OHIO) will quickly change your tune about the corn-filled flatlands. And you can experience it all by kayak, zipline, Segway, ATV, horseback, climbing, rappelling, hiking, or good old American-made car.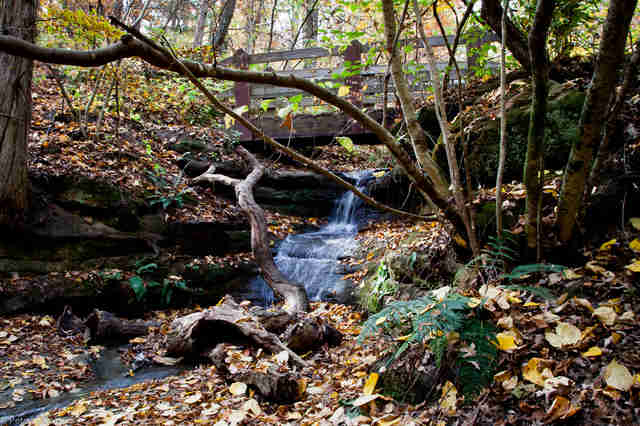 Starved Rock State Park, Illinois
When most people think of Illinois, they think of Chicago and its many suburbs. And there are many. But a barely two-hour drive outside of the Windy City along the Illinois River Road National Scenic Byway will bring you to Starved Rock State Park and its 13 miles of well-traversed trails and 18 glacier-carved sandstone canyons -- many of which boast natural waterfalls flowing through them.
But what you're really here for are the fall colors, and this well-forested area along the Illinois River has plenty. Also, be sure to stay in the park's on-site lodge or cabins if you want to enjoy the wildlife -- animals are known to come right up to the cabins. In fact, a few weeks ago there was an owl and doe spotted hanging out by one of the buildings. Robin Hood and Little John, walking through the forest...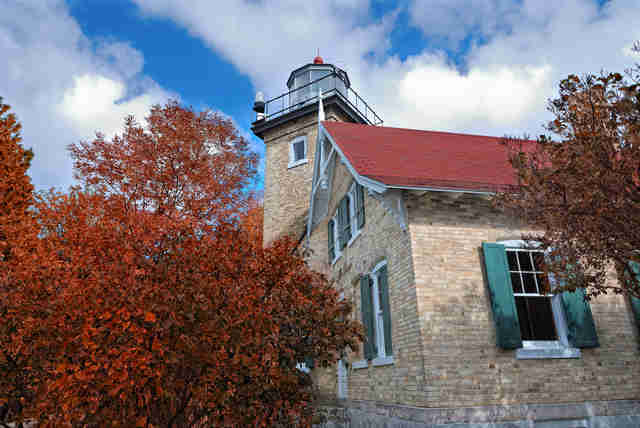 Door County, Wisconsin
Wisconsin has its own cool little scenic peninsula, and its name is Door County; its name is derived from the treacherous waters that separate Washington Island at the tip of the peninsula from the mainland -- the straight is known as the "Door of Death." (Incidentally, there is a great Wisconsin-based distillery called Death's Door you should familiarize yourself with while you're there.) There are orchards and pumpkin patches and lighthouses and wineries and 300 miles of shoreline, as well as protected forests at Peninsula State Park, all for your leaf-peeping enjoyment.
Plus a ton of beer and cheese, because this is Wisconsin. Door County has the added advantage of being a 45-minute drive to Green Bay, which is NOT just for Packers fans, we promise. Plan on being there on a Wednesday night, when you can enjoy the excellent Farmers' Market on Broadway (alas, only through September) followed by a multi-course tasting-menu dinner at the private (but open to the public!) dining studio Three Three Five. Only open once a week on Wednesdays, Three Three Five is headed up by "The Traveling Chef" Christopher Mangless and will surely be written up in all of the trendy food rags once Green Bay takes its turn as the "New Brooklyn."
The Ozarks, Missouri
Missouri is an interesting place. It's the "Midwest," geographically speaking, though anyone native to the Great Lakes region will find little in common with it. That said, the Ozarks are an interesting geologic highland region that span across southern Missouri into Arkansas and Oklahoma, and they come with their own cultural legacy.
Down in Branson, astutely described on The Simpsons as "like Vegas if it were run by Ned Flanders," Lake Taneycomo and Table Rock Lake provide plenty of scenic vistas of the surrounding Ozark Hills, and the 10,000-acre Dogwood Canyon Nature Park -- full of sandstone cliffs, mysterious caves, spring-fed waterfalls, and trees in full jewel-toned fall glory -- offers a tram tour where you can get VERY up-close-and-personal with the area's wildlife.
But the Top of the Rock Ozarks Heritage Preserve is easily what makes Branson the finest fall destination in the Ozarks. Featuring a Jack Nicklaus-designed par-three golf course, Lost Canyon Cave boasts golf cart tours with a natural underground waterfall and not-natural underground cocktail bar, a wine cellar and bourbon room in a cave under the Osage Restaurant, and a patio sunset view of Table Rock Lake that makes every other sunset inferior by comparison, probably because they also fire a Civil War cannon when said sun sets.
Black Hills, South Dakota
If the semi-biographical film about Hunter S. Thompson Where the Buffalo Roam got you wondering, "Well, where do the buffalo roam?" the answer is nowhere in North America. We have bison here, not buffalo. It's always been bison. Buffalo Bill and 200 years of American folk history are wrong. Keeping that in mind, there is a whole hell of a lot of bison to be found in Custer State Park and South Dakota's Black Hills mountain range.
First, drive through the blasted granite tunnels and wind your way around the towering granite "needles" along the Needles Highway National Scenic Byway. Then, hop on the 70-mile Peter Norbeck Scenic Byway where you'll pass lakes surrounded by aspen and pine forests and more granite towers, before driving over spiral bridges and around hairpin curves for what is, by far, one of the coolest scenic fall drives in the country. Oh, there's also this little thing called Mount Rushmore along the way, which apparently, people really do think is little. Which is crazy.
Mississippi River region, Iowa
Much like Ohio, Iowa isn't nearly as flat and boring as people think, particularly in the northeast corner of the state along the Mississippi River. Soak in the views from 500ft bluffs along the riverbanks -- particularly the ones at Pike's Peak State Park and Mount Hosmer -- and explore historic river towns from the 1800s like Marquette, Lansing, and McGregor.
The mighty Mississippi might be best known for its association with the South and the Bayou, but its presence in the Midwest is just as important. While in the area, definitely swing through the 2,526-acre Effigy Mounds National Monument -- which, as the name might suggest, is filled with some 200 prehistoric Native American effigy mounds shaped like birds and bears, remnants of one of North America's oldest civilizations.
Valentine, Nebraska
Nebraska is the gateway to the West, meaning it also serves as the Terminus of the Midwest. The Sandhills is a fascinating ecoregion within the boundaries of the Great Plains, featuring grass-stabilized sand dunes of up to 330 feet high. The Sandhills cover about one-quarter of the state's landmass, all through north-central Nebraska, and make for some scenic backcountry driving. And rest assured, it is all backcountry.
Stay near Valentine at the Prairie Club, a semi-private golf club and resort built on the rim of Snake River Canyon; it utilizes the natural dune terrain to the fullest extent. You don't have to be a golfer, though, to enjoy the stunning views, excellent restaurant (with surprisingly good local wines), and heavenly soft beds.
Also in the area is the Smith Falls State Park. Kayak down the wide and (mostly) peaceful stretch of the National Niobrara Scenic River surrounded by dunes, sandstone canyon walls, and forests of birch and aspen, then end your journey with a brief walk over to the 63-foot Smith Falls, the tallest in Nebraska.
Sully Creek State Park, North Dakota
North Dakota's Maah Daah Hey Trail winds northward and connects two of the three parts of Theodore Roosevelt National Park. The Maah Daah Hey is 96 miles long and winds through the Little Missouri National Grassland, past the most picturesque parts of western North Dakota (including the Little Missouri River), and the buttes of the badlands. It is the longest contiguous single-track mountain biking trail in America, although it is also open to (and regularly used) by hikers and horseback riders. By nature, North Dakota is rugged and remote; the best way to experience it is by camping in Sully Creek State Park, where you have access to both the river and the Maah Daah Hey.
Kansas City, Kansas
Kansas is known more for its tornadoes than its fall colors, and not without reason -- you can usually expect more yellows and browns than oranges and reds, as it's usually pretty dry. But not this year! Like the rest of the Midwest, KC got drenched from May through July. So, it's a good year for fall foliage even in the typically warmer, drier climate. Kansas City has the urban environment with just enough hipster influence to make it habitable (coffee roasters and farm-to-table restaurants, in addition to the old school barbecue!), while still offering plenty of outdoorsiness with tree-lined streets and neighborhood parks.
Case in point, the picturesque 73-acre Loose Park boasts 6,000 roses in its garden, as well as a Japanese tea room and lily-covered pond full of geese and ducks and a romantic arch footbridge running over it, and it's located in Kansas City just east of… the Kansas state line in Missouri. Damn, Kansas. We tried. It's literally less than a mile from the border though! And actually, come to think of it, all the cool hipster stuff is on the Missouri side, too. Get it together, Kansas.
Sign up here for our daily Thrillist email, and get your fix of the best in food/drink/fun.
Nicole Rupersburg is a freelance writer who is, according to Thrillist commenters, "a complete f-ing idiot." She looks forward to hearing about all the gorgeous Midwest spots she missed in this article.