The inherent beauty of train travel is that it's often more about the journey (and the spectacular scenery along the way) than the actual destination. Which, despite being a (ho-hum) horribly tired cliche, happens to be absolutely true -- especially if you're on one of Amtrak's best five US routes. Or, if your fare includes butler service, gourmet meals, and access to elegant bar cars, like these six international luxury lines.
Australia: The Ghan
Travel between: Adelaide and Darwin
Short for "The Afghan Express" (the name given to Australia's pre-railroad camel trains), and originally run on tracks that followed the country's overland telegraph, The Ghan's a spectacular 1,852mi rail adventure from the Top End of Australia to the bottom, with whistle stops in the heart of the Outback.
You could get used to: Complimentary nightcaps, 24hr steward service, binoculars upon request, and amazing off-train excursions that include helicopter tours and gorge cruises.
Outside your window: Dear Lord, only some of the world's most remote and gorgeous landscapes. The Outback and Australia's stunning Red Center demand you charge your spare camera battery.
A ticket will set you back: $5,998 for 3 days/ 2 nights in a Platinum Double cabin

Europe: The Venice-Simplon Orient Express
Travel between:London and Venice
By far the world's most storied luxury train, the original Orient Express (started in 1883) officially ceased operating in 2009. The VSOE does its namesake proud, though, running lavish trips in restored vintage 1920s carriages along multiple routes through Europe, including the line's original Paris to Istanbul journey.
You could get used to: Reading a leather-bound copy of Agatha Christie's Murder on the Orient Express whilst sipping cocktails in the art noveau bar and wearing a monogramed silk smoking jacket you bought on the train. Yea, there's a boutique car.
Outside your window: Where to begin? The Paris Gare de l'Est station, the French countryside, the Austrian Alps, Innsbruck, Verona, the canals of Venice -- yep, you're gonna see it all.
A ticket will set you back: $3,140 for 2 days/ 1 night in a Double cabin. Want to retrace the original Paris to Istanbul route? That'll run a cool $9,000 for the six-day trek.
Africa: The Blue Train
Travel between: Pretoria and Cape Town
Launched in the early 20s, this luxe line (recognizable by its elegant blue-gold carriages) runs the North-South journey from Pretoria to Cape Town eight times monthly, with two historic off-train excursions intended to take passengers back in time to the Colonial diamond rush.
You could get used to: Marble bathrooms, writing desks, a smoking-permitted club car, and a string quartet playing while you sip local reds out of crystal glasses. Also, butlers.
Outside your window: The gorgeous South African countryside, culminating in stunning views of Table Mountain.
A ticket will set you back: $1,670 for 2 days/ 1 night in a Luxury Double cabin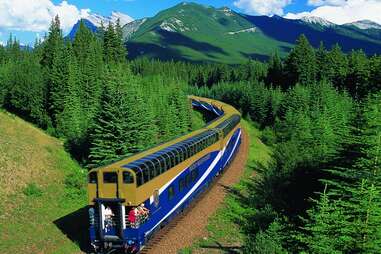 North America: Rocky Mountaineer
Travel between: Vancouver and Calgary
With the Royal Canadian Pacific (and its opulent historic carriages) running only private trips in 2014, The Rocky Mountaineer provides a more modern-than-vintage luxe opportunity to retrace the journey of early maple leaf country explorers. The trip's broken into two days of daylight-only travel through the Canadian Rockies and the country's first national park, Banff, with passengers overnighting in Vancouver, Calgary, and Kamloops.
You could get used to: GoldLeaf Service. You'll spend part of your days soaking in the majestic mountains from the upstairs of your panoramic-windowed domed observation car, before adjourning downstairs for an elegant meal of slow-cooked Alberta beef short ribs and tiger prawns simmered in a West Coast bouillabaisse.
Outside your window: The Canadian Rockies, Lake Louise, Banff, and spiral tunnels!
A ticket will set you back: $1,325 for 4 days/ 3 nights
Asia: Maharajas' Express
Travel between: Mumbai and Delhi
Not to be confused with The Darjeeling Limited (unless you're trying to start a convo about how much you enjoy Wes Anderson films), this 88-passenger bastion of five-star opulence first rolled out of the station in 2010. It takes passengers on an Indian adventure complete with amazing daily whistle-stop excursions like an elephant polo match, wild game drive through Ranthambore National Park, and a visit to the Taj Mahal.
You could get used to: The 24hr butler service, Rajah Club with leather chaises, backgammon, private bar, peacock feather-themed Mayur Mahal restaurant, Dish TV (hello, ESPN!), and cabins adorned with "with rich tapestry, semi-precious stones, and antiques".
Outside your window: In addition to the aforementioned Taj Mahal, plan on taking in the amazing Indian countryside and all its caves, forts, and palaces, as well as Jaipur (the "Pink City") and Udaipur (the "City of Lakes").
A ticket will set you back: $6,840 for 8 days/ 7 nights in a Deluxe cabin, the train's least expensive accommodation. The Presidential Suite'll run you a tight $23,700.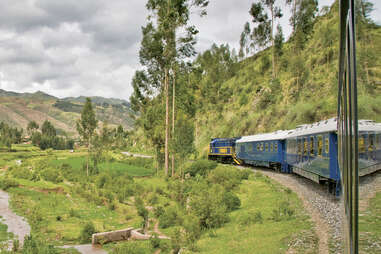 South America: Hiram Bingham
Travel between: Cuzco and Machu Picchu
Named for the explorer who purportedly discovered the lost city in 1911, this posh service boasts cars decorated like 20s Pullmans and runs a scenic seven-hour day trip (up the mountain in the morning, home early evening) that includes welcome drinks, afternoon tea, and dedicated tour guides. Break it up with an overnight at the Machu Picchu Sanctuary Lodge, moneybags -- we know you wanna.
You could get used to: Being serenaded by a live Peruvian band whilst sipping Pisco Sours and enjoying a gourmet repast in one of two dining cars.
Outside your window: Ummm, Machu Picchu. Only the most famous, once-hidden Incan citadel, ever. Also, steep mountain cliffs and stunning views of Urubamba River.
A ticket will set you back: $743 round-trip