The Most Beautiful Historic Neighborhoods in America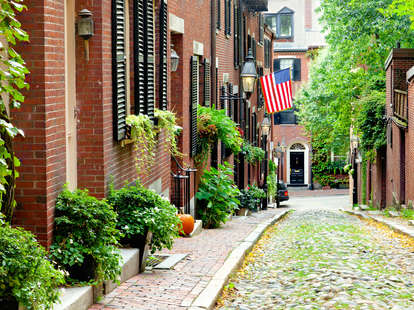 cdrin/Shutterstock
cdrin/Shutterstock
Despite what the History Channel tells you, there's more to the past than Nazi gold and watching Chumlee sell ice cream outside the Gold & Silver Pawn Shop. There's history everywhere you look... maybe even in the city you are in right now. But just as not all neighborhoods can be as sexy as South Beach, not all can be as historic as, say, Old City in Philly. Which is why we consulted our history books -- and a whole lot of pictures of city streets over the years -- and power ranked America's most beautiful historic 'hoods.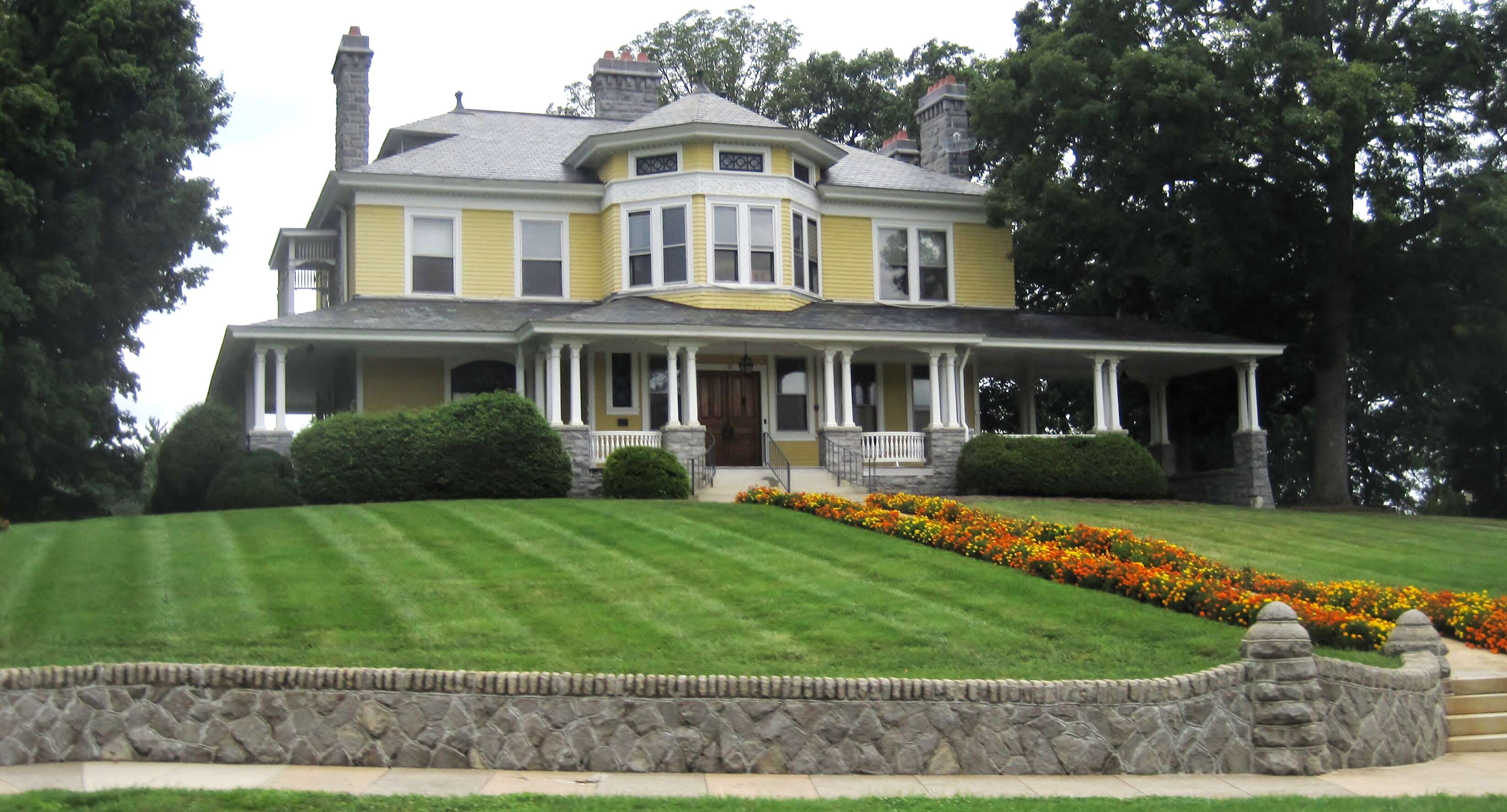 12. Montford Historic District
Asheville, North Carolina
This primarily residential neighborhood listed on the National Register of Historic Places is a living history lesson in architecture, with 600+ buildings spread out over 300 acres. It features a power tour of 1890s-1920s homes ranging from colonial and neoclassical to Victorian (and weird castle-like structures), plus a cemetery where famous writers like Thomas Wolfe and O. Henry are buried. With some of the homes formerly used as boarding houses and a tuberculosis sanitarium/mental hospital (where F. Scott Fitzgerald's wife Zelda died in a fire), today the area is best explored by walking/driving/trolley tour or by joining the insane crew of LaZoom Comedy Bus Tour. While you're here, be sure to check out the Montford Park Players as they perform free Shakespeare at the Montford Community Center's outdoor amphitheatre all summer long. Ask if you can crash at their place.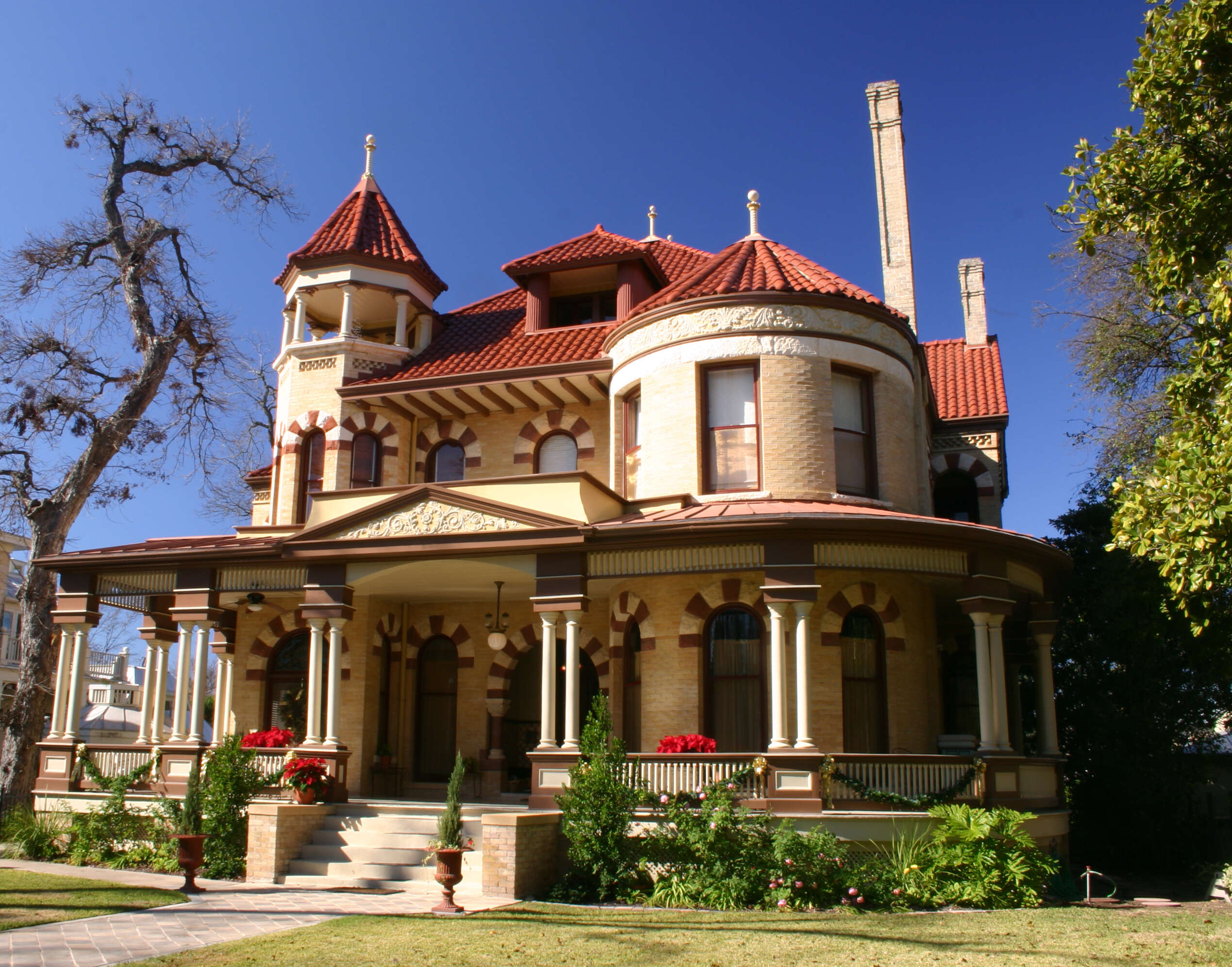 11. King William District
San Antonio, Texas
While the area was originally farmland owned by the Mission San Antonio de Valero (aka the Alamo) in the 1700s, this primarily residential neighborhood didn't really take shape until the 1860s when German immigrants began to settle and build homes in the area. By the late 1800s, it had evolved into the city's most elegant district. These days, you can stroll the banks of the San Antonio River and check out historic mansions like Villa Finale and the Steves Homestead Museum while admiring the neighborhood's beautiful Greek revival, Victorian, and Italianate homes, many of which feature plaques out front offering historical info. Afterwards, grab a beer at nearby watering holes like The Friendly Spot or Blue Star Brewing. You've earned it.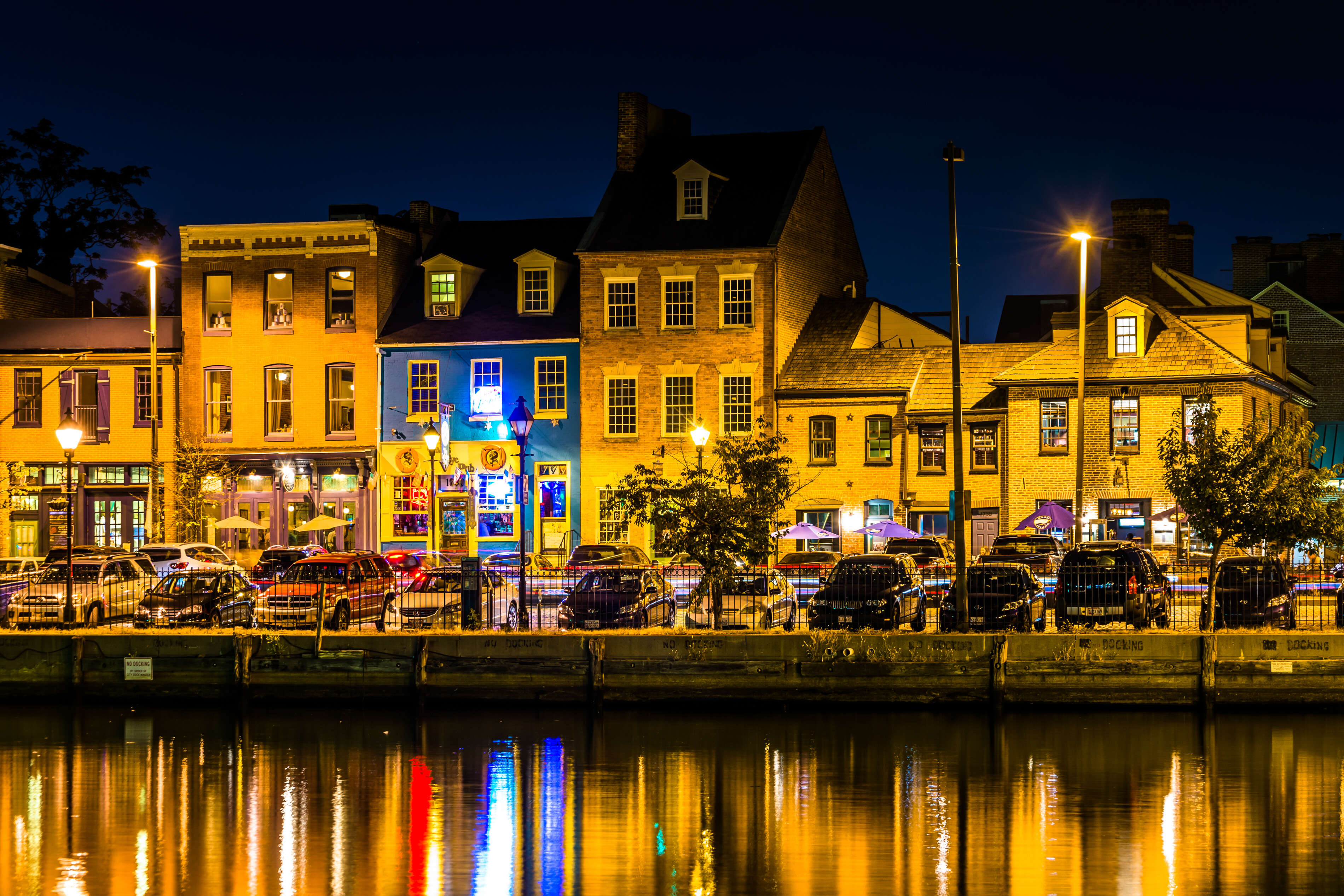 10. Fell's Point
Baltimore, Maryland
This historic waterfront district, established around 1763 along the banks of the Baltimore Harbor and Patapsco River, is more than just the former location of historic shipyards responsible for building some of the first US Navy vessels. With the greatest concentration of bars and restaurants in the city, it's also pub-crawl central on Halloween, Christmas, or during the Fell's Point Privateer Festival -- where you can dress up like a pirate and down pints in a National Register of Historic Places-designated district. Be sure to hit up the Robert Long House (1765) and The Horse You Came In On Saloon (1775), a former Edgar Allan Poe haunt reputed to be one of America's oldest bars. Talk about our kind of history lesson.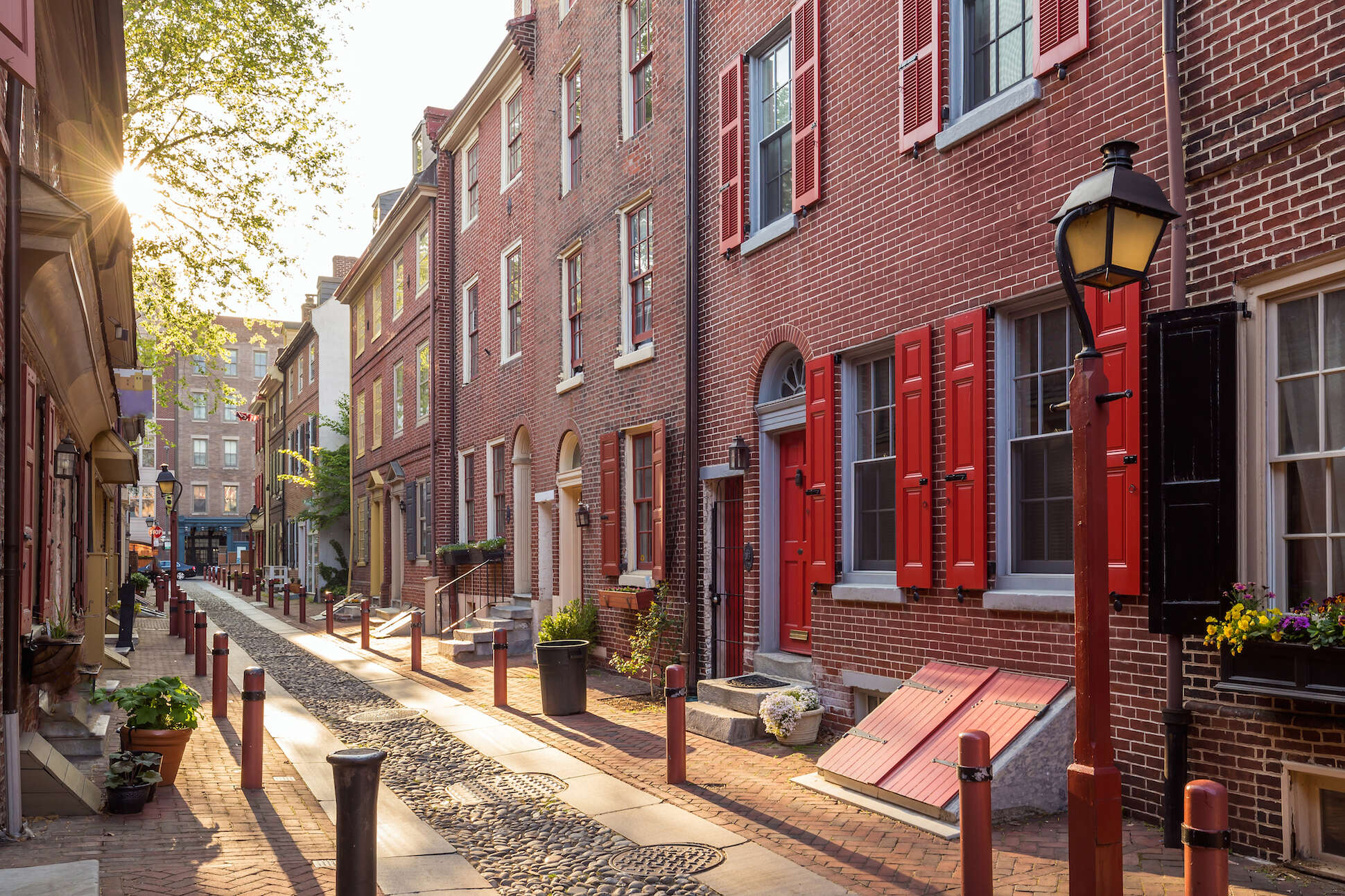 9. Old City
Philadelphia, Pennsylvania
The nation's most historic square mile has everything you think of when you think of Philly (outside of Frank Reynolds and the manic Always Sunny crew). It's got the Liberty Bell, Independence Hall, the National Constitution Center, and, like Baltimore's Fell's Point, an active party scene stocked with bars and restaurants. Check out Elfreth's Alley (1702), the nation's oldest residential street, and stroll the cool indie shops of 3rd St/famous bars of Market St before plunking down in the Great Plaza for the fireworks show every New Year's and Fourth of July. And while there are plenty of places to get boozy in the area (including Mac's Tavern, co-owned by Always Sunny actors), you won't find the McPoyles or Paddy's Pub. Which is definitely a good thing.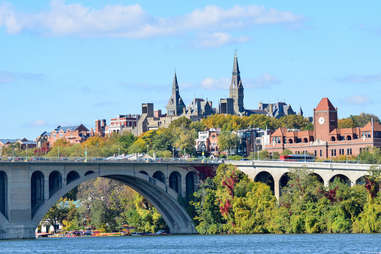 8. Georgetown
Washington, DC
If Georgetown's tree-lined cobblestone streets and quaint 18th-/19th-century row houses make it feel like its own city, that's because -- from its founding in 1751 until 1871 -- it was. These days it's not just home to pretty much any character portrayed in any political show you've ever seen (and plenty of real-life pols too), but it's also a commercial and nightlife center dotted with historical structures like the Old Stone House (1765) and Tudor Place (1815). But instead of looking at buildings, you're more likely here to argue politics over high-end eats while overlooking the Potomac at Fiola Mare, or tipping back drinks around M St with Georgetown undergrads at Blues Alley, a local jazz institution.
7. Garden District
New Orleans, Louisiana
The rolling green gardens that sit in between this Big Easy neighborhood's former plantations make up one of the best-preserved and most beautiful collections of historic mansions in the South, best viewed from a window seat in the equally historic St. Charles Ave streetcar (in operation since 1835 as the world's oldest continuously operating streetcar). Known for early-19th-century Victorian mansions like Buckner Mansion and the Anne Rice House, the neighborhood also houses freaky historic aboveground tombs at Lafayette Cemetery, as well as the home where famous sons Peyton and Eli Manning grew up. Hit up the friendly Balcony Bar along Magazine St or local landmark Commander's Palace, which has been serving up world-beating Creole-inspired eats in a cool historic space since 1880.
6. Santa Fe Historic District
Santa Fe, New Mexico
Founded in 1607, Santa Fe is America's oldest capital city and also houses the oldest public building in the country, the circa-1610 Palace of the Governors (which was originally the seat of government for the Spanish colony of Neuvo Mexico). To stroll the Downtown Santa Fe Plaza is to immerse yourself in traditional adobe structures in what is easily one of the country's most uniquely picturesque urban experiences. There's time-warping old buildings and churches wherever you look (including the stunning Loretto Chapel and San Miguel Mission, reported to be America's oldest church built between 1610 and 1626). But thankfully, history's not the only thing going down in Santa Fe's happening central gathering place. The neighborhood's wonderful collection of bars and restaurants, from The Palace to Secreto Lounge to Tia Sophia's, is as integral to the area's charm as anything from a dusty old history book.
5. Beacon Hill
Boston, Massachusetts
From Robert Frost and Sylvia Plath to Oliver Wendell Holmes and Daniel Webster, Boston's Beacon Hill neighborhood has been home to some serious heavy hitters over the years. The mostly residential 'hood of red brick townhouses, narrow gas-lit streets, and brick sidewalks is where Boston's first European settler, William Blaxton, chose to build his own house in 1625. Beacon St was established in 1708 from a cowpath leading to Boston Common and the narrow, cobblestone Acorn St is one of the most Instagrammed streets in America. Overflowing with history, Beacon Hill is also the location of the Cheers bar (originally named the Bull & Finch) as well as the Black Heritage Trail, which winds through the 'hood and is dotted with important sites in African-American history.
4. French Quarter
New Orleans, Louisiana
When it's not being overrun by frat bros in YOLO trucker hats pissing in the streets and "ladies" engaging in questionable behavior for the exchange of beads, the French Quarter is actually a terribly beautiful place. Jackson Square houses America's oldest Roman Catholic church, St. Louis Cathedral (founded in 1720), and the historic Preservation Hall is a must for any self-respecting music fan or tourist interested in what's happening outside the Quarter's typical Pat O'Brien's shit show. Take a stroll down Royal St or Chartres St (Chart Room is an essential dive) and, on the chill end of Bourbon St, discover what is reputed to be America's oldest bar: Lafitte's Blacksmith Shop Bar, built between 1722 and 1732. See, Bourbon St isn't all bad.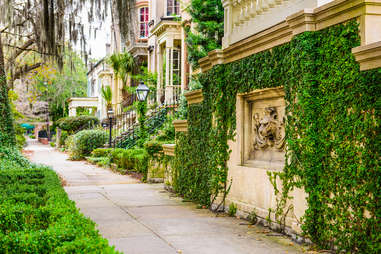 3. Historic Downtown District
Savannah, Georgia
If you're an architecture nerd who enjoys a stiff cocktail and a streetcar ride, Savannah's Historic Downtown District has got you covered on all fronts. From Victorian and Queen Anne to Gothic and Italianate, just about every style of architecture peacefully coexists in a beautifully historic neighborhood that features dozens of charming public squares (including one, Chippewa Square, where Forrest Gump famously waited for the bus). One of the largest historic districts in the country is also known for its friendly party vibe, so fill up a "to-go" cup and stroll the cobblestone streets along River St or embark on one of the many ghost tours that hit up haunted sections of the city daily. We haven't met any, but we presume the ghosts are friendly.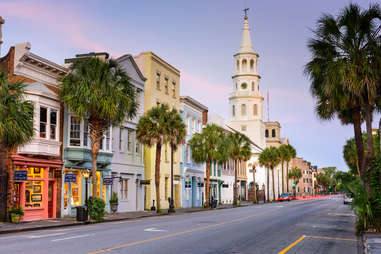 2. Charleston Historic District
Charleston, South Carolina
With a whopping 97 properties listed on the National Register for Historic Places, history is ingrained in every aspect of Downtown Charleston -- right down to the horse-drawn carriages. Stroll Broad St's federal period homes or King St's bar/restaurant scene while snapping pics of St. Michael's Episcopal Church (1752) and Charleston County Courthouse (1792) along the way. From the historic mansions that line the Battery promenade near the waterside, Fort Sumter-facing White Point Garden to the cobblestone streets and gas-lit alleys of the French Quarter (yes, Charleston has its own French Quarter), you can't escape all the history that's packed into the heart of this city. And when history is this beautiful, why the hell would you want to?
1. Old San Juan
San Juan, Puerto Rico
Though Puerto Rico is technically a territory of the United States, there's no debating the fact that Old San Juan is nothing short of a jaw-dropping stunner. With Old World charm, winding streets, colorful Spanish colonial row houses, and a 42ft wall surrounding the waterfront island where Old San Juan is perched, the neighborhood's breathtaking views assault the eyes with history porn like the 16th-century citadel Morro Castle and the massive La Fortaleza -- built in 1540 on a perch overlooking the sea and today serving as the longest-occupied governor's mansion in the Western Hemisphere. One visit to this 'hood, and you'll forget they also have some of the nicest beaches in the Caribbean.
Sign up here for our daily Thrillist email, and get your fix of the best in food/drink/fun.
Jay Gentile is a Thrillist contributor and he always prefers his history lessons with a to-go cup. Follow him: @innerviewmag.