The Most Beautiful Mountains in the World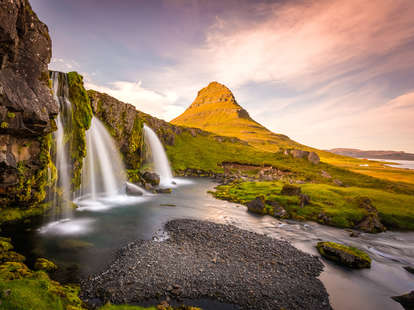 Because the odds are slim we'll ever strap on a pair of crampons and/or buy a "Teamwork" Successories poster, we thought it would be fun to at least marvel at stunning pictures of the world's 11 most awe-inspiring mountains.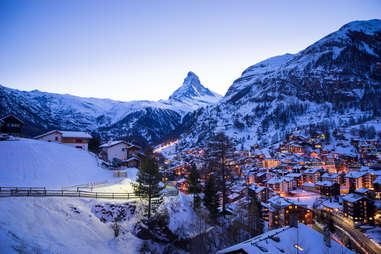 Matterhorn
Switzerland
More than just a ride at Disneyland, the Matterhorn in the Swiss Alps is quite possibly the most recognizable -- and most photographed -- mountain in the world. For your #nofilter Instagram pic, you're gonna want to take the cable car from Zermatt up to the neighboring peak, Klein-Matterhorn.
Tre Cime di Lavaredo
Italy
This three-peaked beauty in the Italian Alps looks like it just sprouted out of the ground, and there are no other peaks in the immediate vicinity. The tallest of the three dolomites climbs 9,836 feet and was first ascended in 1869, but today you can can get close via a number of routes. That said, be careful if you rent a car and drive up -- the winding roads are narrow and exposed with few guard rails.
Kirkjufell
Iceland
Kirkjufell is located on the north coast of the Snæfellsnes peninsula in a fishing village named Grundarfjörður. Despite an elevation of only 1,500 feet, it's one of the country's most iconic and photographed mountains (places, really) and can be viewed on a pretty epic 11-hour tour that also includes a visit to a lava tube cave, a black-pebbled beach, and the Snæfellsjökull volcano. That said, you'd be doing a huge disservice to not see this peak under the Northern Lights. Seriously, look at that picture.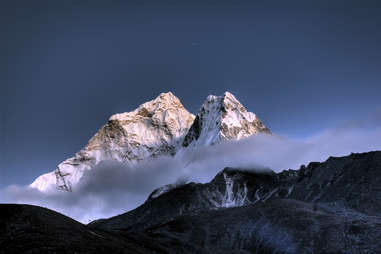 Ama Dablam
Nepal
While the name means "Mother's Necklace," this 22,467ft peak in eastern Nepal is often referred to as the "Matterhorn of the Himalayas" and remains -- at least based on permit requests -- the third most popular peak to climb in the region (we'll let you guess the other two). First summited in 1961, survivalist and TV adventurer Bear Grylls became the youngest Brit to conquer it in 1997.
Table Mountain
South Africa
Another one of the world's most recognizable peaks, the flat-topped Table Mountain overlooks Cape Town and can be reached via cable car or a good old-fashioned hike. Those who do reach the top are rewarded with a view that, according to the dude who visited every country in the world, are "priceless." Also, if you're in the Boulders section, you may very well see penguins.
Cerro Torre
Argentina/Chile
In Southern Patagonia on the border between Argentina and Chile lies a jagged mountain with a crazy steep sheer granite peak that rises up over a mile. Once considered the most difficult mountain on Earth to scale (the wind is ridiculous), the first successful (undisputed) ascent didn't take place until 1974.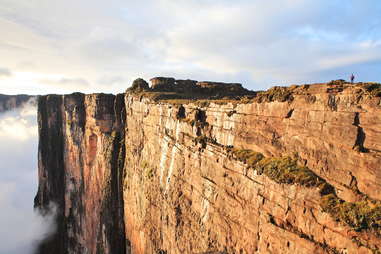 Mount Roraima
Venezuela
Soaring more than 9,200 feet into the clouds, Mount Roraima is one of the planet's oldest rock formations and -- thoroughly unrelated -- also served as inspiration for the Disney/Pixar film Up. Naturally. While it is mainly located in Venezuela, a small part of the mountain also lies in Guyana and Brazil.
Huayna Picchu
Peru
You know every picture you've ever seen of Machu Picchu? Well, this is the mountain RIGHT behind it. And climbing to the top of Huayna Picchu (at 8,920 feet) is one of the best ways to experience the Incan ruins. While the lush mountain looks impossible to scale from a distance, it's definitely doable (although it can be steep and slippery at points) and is done daily by up to 400 people -- that's the government imposed limit on hikers. Along the trail, you can also visit the Temple of the Moon ceremonial shrine that was built into a cave lined with exquisite stonework and niches.
Mauna Loa
Hawaii, HI
Beyond the palm trees and tropical flowers of Hawaii's Big Island lies the largest volcano ON THE PLANET. Only 700,000-to-a-million years old (like, young in volcano years), Mauna Loa is an active shield volcano with an elevation that tops out around 13,679 feet. It last erupted in 1984 and produced huge rivers of lava that threatened the nearby town of Hilo.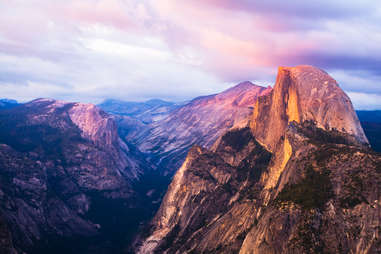 Half Dome
California
Known for its distinct shape, this monolith of granite overlooking Yosemite Valley rises nearly 8,800 feet above sea level and is accessed via a manicured 14-16mi walkway that delivers folks right to the base of the dome. Although from Memorial Day to Columbus Day, two metal cables allow hikers to trek the last 400 feet to the summit without climbing equipment.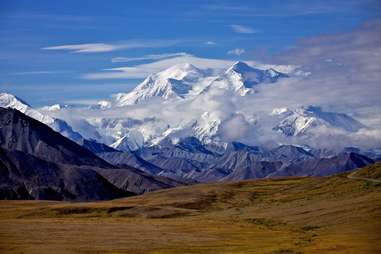 Denali
Alaska
The highest mountain peak in North America at 20,310-feet, Denali (formerly Mount McKinley) dominates the Alaskan skyline. Surrounded by six million acres of wilderness and national park, it's dramatic base-to-peak rise adds to the majestic beauty.
Sign up here for our daily Thrillist email, and get your fix of the best in food/drink/fun.
Andrew Villagomez is a freelance writer and blogger who covers travel, men's fashion, and other lifestyle topics. Along with Thrillist, he has also contributed to Travel + Leisure, Details, Passport, and Essential Homme. Check out his blog, and follow him on Twitter and Instagram at @VeeTravels.