The Most Beautiful Places in Puerto Rico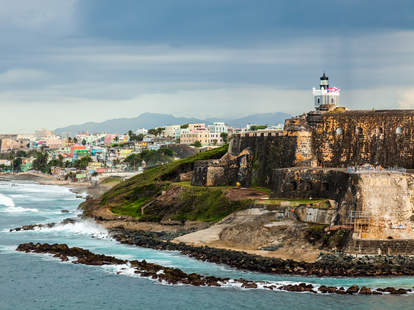 ArtTomCat/Shutterstock
Puerto Mosquito Bioluminescent Bay
Vieques Island
If you only take one thing away from this article, make it this: go to the Bioluminescent Bay. In rare bays around the world, the right set of factors -- low circulation, shallow depth, high temperatures, and nutrient-saturated waters -- combine to create the perfect conditions for the proliferation of amazing little creatures called dinoflagellates. Those are the strange little guys you see above (it's notoriously difficult to capture the bioluminescence with a camera). When agitated, they release a spark of blue light, creating constellations of stars in the lagoon's dark waters. Puerto Rico goes to great lengths to protect these unique ecosystems, but the fragile bays likely won't be around forever. This is an absolute must-see.
What to do there: The best way to visit the Bioluminescent Bay is on a kayaking tour, which run nightly except when there's a full or almost-full moon. Book in advance.
<a href="http://www.shutterstock.com/gallery-572056p1.html?cr=00&amp;pl=edit-00">Songquan Deng</a> / <a href="http://www.shutterstock.com/editorial?cr=00&amp;pl=edit-00">Shutterstock.com</a>
Old San Juan
It should come as no surprise that almost 400 years of Spanish history left their mark on Puerto Rico, and nowhere is that more apparent than Old San Juan. The city's characteristic blue cobblestone streets are flanked by Spanish-style apartments, combining to create a resemblance that is so striking, you might think you somehow ended up on the other side of the Atlantic.
What to do there: Drink! It is the birthplace of the piña colada, after all. Go to La Factoria or El Farolito and see what they can do for you.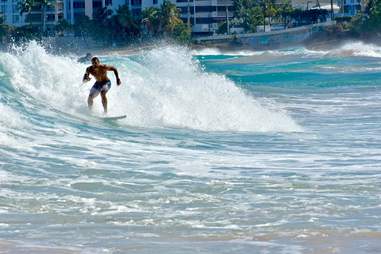 <a href="http://www.shutterstock.com/gallery-3264584p1.html?cr=00&amp;pl=edit-00">Jeramey Lende</a> / <a href="http://www.shutterstock.com/editorial?cr=00&amp;pl=edit-00">Shutterstock.com</a>
Rincón
What's a list of beautiful places in the Caribbean without a beach town? And what a beach town! Tucked away on Puerto Rico's western coast, Rincón is the island's (and perhaps the whole Caribbean's) surf capital and go-to spot for great waves, even better piña coladas, and one of the best sunsets in the world.
What to do there: Obviously, most visitors come for the surf, so do that. But strolling down Rincón's ramshackle waterfront, fruity cocktail in hand, is a pleasure in and of itself.
Colin D. Young/Shutterstock
El Yunque National Forest
No visit to Puerto Rico is complete without at least a stop at El Yunque, the island's vaunted slice of rainforest. Hiking through its misty, forested hills, you'll find sparkling-clean waterfalls, overgrown gulches and canyons, and more exotic plant and animal life than you've ever seen in one place.
What to do there: Visit the Arecibo radio telescope, where Pierce Brosnan takes on Sean Bean (playing Agent 006) in GoldenEye's final scene
ARENA Creative/Shutterstock
Flamenco Beach
Culebra Island
Regularly shortlisted in collections of the world's best beaches (including ours!), Culebra Island's Flamenco Beach boasts powdery white sand and picturesque palm trees matched by luminously blue seas, creating a scene right out of a Corona commercial. Decades of use by the US military kept the developers at bay and left the beach with its signature abandoned tanks -- now artfully decorated with colorful Caribbean patterns.
What to do there: It's time to relax. Spread out your towel, catch some rays, and go swimming. If you're really bursting with energy, the nearby lagoon often hosts a flock of flamingos.
Joseph/Shutterstock
La Perla
San Juan
Not all of San Juan's inhabitants were lucky enough to enjoy the protection of the city's mighty walls (flanked by three imposing strongholds, the city's colonial-age fortifications are the most extensive in the Caribbean). Jammed between the city's northern walls and the crashing surf of the Atlantic, the neighborhood of La Perla is San Juan's answer to São Paulo's favelas -- with a reputation to match. Can't beat the views, though.
What to do there: It's safe enough to explore the colorful streets, but be considerate and respectful when taking photos -- this is a real neighborhood where people live, not a tourist attraction.
The Cabo Rojo Lighthouse
The Faro Los Morrillos de Cabo Rojo is one the many lighthouses constructed by the Spanish at the end of the 19th century, and by far the most spectacular. Splendidly perched atop 200ft limestone cliffs, the recently restored tower shines out over the Caribbean and affords grand views of the surrounding coastline.
What to do there: Take pictures! Walk the grounds around the lighthouse and soak in the views.
Simon Dannhauer/Shutterstock
Playa Mar Chiquita
This beach on the north coast of Puerto Rico offers some of the most spectacular seaside scenery on the island. The shallow, secluded cove is almost completely blocked off from the sea by two huge coral formations. The Atlantic surf crashes against them, spraying water over the coral that cascades in a thousand tiny waterfalls down into the brilliant blue tide pools below.
What to do there: Snorkeling and swimming in the cove's mostly placid waters is seriously nice, but strong currents are created near the tiny sea's frothing mouth. Be careful.
La Parguera Nature Reserve
Just about as far away from San Juan as you can get is the resplendent La Parguera Nature Reserve, a collection of mangroves, salt marshes, coral reefs, and tiny islands scattered across an expanse of brilliant turquoise water.
What to do there: Snorkel! The calm waters of the reserve are perfect for lazily paddling your way through spectacular reefs. Stick around a couple hours, and you're likely to spot sea turtles, manatees, and dolphins.
Sorin Colac/Shutterstock
El Morro
El Morro citadel dates back to the foundation of San Juan and is the oldest part of the city's fortifications. Underneath, a warren of dank and battle-scarred tunnels provide respite from the tropical sun. The fort's sun-baked upper levels, on the other hand, are a great spot for scenic views of San Juan, its palm-lined bay, and the Atlantic.
What to do there: Climb up the crumbling stairs to the top and peer out over 500 years of Puerto Rican history
Sign up here for our daily Thrillist email, and get your fix of the best in food/drink/fun.
Conor O'Rourke is a freelance writer and translator living in Berlin. He likes traveling, bikes, rap music, and tacos. His work has been published on Matador Network, Serious Eats, Sprudge, and others. Find more of his work at ConorORourke.com.