There are plenty of cities, towns, and rural escapes around the world that are so stunning and so widely photographed, it's hard to appreciate the beauty when there are swarms of tourists clogging up the views. And we're not knocking those places—they really are worth the trek. But how about spots just as gorgeous, but with a fraction (or maybe even none) of the crowds? Sure, some require multiple forms of transport and maybe even a local expert to point you in the right direction (or take you there), but once you've arrived, you'll want to repeat the entire journey just to get a second look.
We scoured the globe and narrowed down 20 of the most spectacular places everywhere from Africa to Antarctica. Bet your friends can't claim to have already seen any of these amazing travel destinations.
Abraham Lake
Alberta, Canada
Ever wonder what happens when freezing water traps methane bubbles created by bacteria feeding off dead matter on the sea bottom? Welcome to Abraham Lake. Here, those bubbles of methane (undetectable in your standard, non-frozen lake) create pockets that resemble millions of orbs trapped in the ice. Just don't light up while you're snowmobiling; if the ice cracks and those bubbles burst, methane is highly flammable.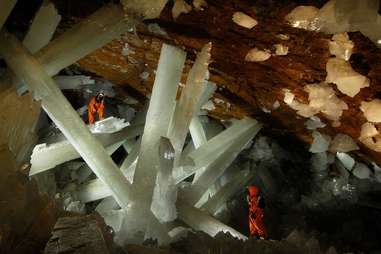 Cueva de los Cristales
Chihuahua, Mexico
Don't feel bad for not knowing about this "Cave of Crystals"—up until 2000, nobody had even heard of it. That year, two brothers mining for silver drilled here and accidentally uncovered an epic cavern filled with translucent, 30-foot crystals, some of which are nearly half a million years old. If you can stomach a 20-minute van ride through a mine shaft, you'll be greeted by triple-digit temperatures and 90% humidity thanks to the magma field that flows a mile under your feet.
Dean's Blue Hole
Long Island, Bahamas
There are some spectacular beaches in the Caribbean and other-world crazy cenotes in Mexico. Dean's Blue Hole combines the two—albeit underwater—and is the largest blue hole in the world. Although honestly, the white-sand beach and limestone walls that surround the hole could make this list as well, they're equally as stunning. That said, descend past the initial 60-foot bottleneck and Dean's Blue Hole opens into one of the largest underwater cenotes on the globe, complete with turquoise water, seahorses, and tropical fish (it's a hotspot for tarpon and snapper). Clear visibility and no current make it a place as scenic below the surface as above.
Crystal Mill
Marble, Colorado
We couldn't resist throwing at least one US spot on the list, and this one was the perfect pick. About an hour outside of Aspen—and an eight-hour hike from the nearest road—there's a ghost town at the base of the Rocky Mountains. And the lone remnant of that ghost town is this old mill. If you visit in the fall, the combination of golden leaves, blue sky, and white, snow-capped peaks make it the most unexpectedly beautiful vista in the American West.
Iguazu Falls
Misiones Province, Argentina
Iguazu Falls aren't that obscure, but they're probably just another one on your list of big waterfalls to visit someday, up there with Niagara and Victoria—which sells them way too short. This isn't so much a waterfall but a venerable city of waterfalls—250 of them stretching nearly two miles—that dumps 53,000 cubic feet of water per second. Throw in the fact that they're located in a gorgeous South American rainforest, and you've pretty much got one of the most impressive feats of nature on the planet.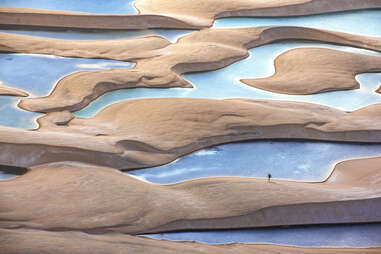 Lençóis Maranhenses
Maranhao, Brazil
The name literally means "bedsheets of Maranhao," the state in Northeastern Brazil where these coastal dunes sway over 600 square miles of shoreline. The dunes are formed when the Parnaíba and Preguiças Rivers bring sand from the country's interior to the ocean, and then the ocean currents—aided by northeasterly winds that blow inland—send that sand back to the shore. Though the area might look like a desert, temporary lagoons spring up in between the dunes during rainy season and often double as exceptional fishing holes.
Cavernas de Marmol (Marble Cathedral)
Lake General Carrera, Chile
These only-accessible-by-boat caves near the Chile-Argentina border reflect the color of the water that flows through them, shining turquoise in the spring and deep blue in the summer. The reflections also change the appearance of the patterns in the marble; meaning, if you visit the caves at different times of year you'll have a completely different experience. Then again, after the 1,000-mile drive from Santiago and lengthy boat ride, once might be enough.
Forest of Knives (Tsingy Forest)
Madagascar
The name might sound like the setting for a horror movie, but the surreal beauty of this limestone forest is anything but. Quite the opposite, in fact. Here, slabs of rock stab 200 feet high and mix between trees to create a forest made of leaves and jagged peaks. Climbing here is the main attraction but be warned, it can be dangerous: Slip and you could find yourself with a Ginsu-like gash.
Seven-Coloured Earth of Chamarel
Chamarel, Mauritius
One of the problems with rainbows, other than the fact that there's never a pot of gold at the end of them, is that as soon as you try to Instagram one, it's gone. But not this rainbow made out of sand that could withstand thousands of years of rain and erosion. Dubbed the Seven-Coloured Earth of Chamarel, these rainbow dunes in Mauritius are formed by sand in seven distinct colors: red, brown, violet, green, blue, purple, and yellow. What's even cooler is that if you pick the sand up, put it in a bottle, and mix it up, eventually it'll resettle into the same seven distinct layers. Every time.
Deadvlei
Hardap, Namibia
It's hard to believe when standing under an oppressive sun in the middle of 1,300-foot-tall sand dunes that this valley was once a lush forest fed by the Tsauchab River. That, of course, was 900 years ago. Since then, the area has become so parched that the remaining trees didn't even have enough water to decompose, so they now sit as charred relics. Add rusted sand and a deep-blue sky, and this is one of the most colorfully desolate places on the planet.
Deception Island
Antarctica
Hiking to the top of an active volcano is cool, but you know what's even cooler? Sailing into one. Tough to do in most places, but not Antarctica. This active volcano (don't worry, it hasn't erupted since 1992) in the South Shetland Islands has a horseshoe-shaped caldera, and ships can cruise right up to its smoldering beaches. As you sail around the volcanic bay, you'll see both snow and ash covering the lava formations amidst the steam.
Lemaire Channel
Antarctica
This seven-mile-long, mile-wide channel between the mountains on Booth Island and the Antarctic peninsula was originally nicknamed the "Kodak Channel" because it was so photogenic (cheesy, but kinda cute).The trick: You want to catch it when the entrance isn't blocked by ice, so your boat can actually make the trip inside.
Red Seabeach
Pinjin, China
Even if you don't hit this wetland in September, when the seepweeds mature from green to bright red (thus the name), the 16-mile marsh is still one of the most beautiful spots in China to glimpse birds and wildlife. But, if you are there in September, you're in for a treat. The red fields attract flocks of more than 200 species of birds as they migrate from Asia to Australia, and you can watch the impressive show from wooden bridges built over the water.
Sea of Stars
Vaadhoo Island, Maldives
There are more than a few bioluminescent bays in the world (La Parguera in Puerto Rico being one of the more infamous), where a species of phytoplankton known as dinoflagellates gives the water an otherworldly glow. This one on Vaadhoo Island in the Maldives stands out, however, because the bright blue light seems like it's reflecting the stars over the island.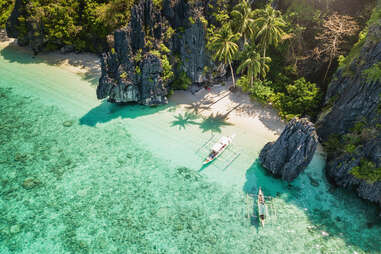 El Nido
Philippines
El Nido is classically known as the gateway to the Philippines' Bacuit Archipelago and is said to have been Alex Garland's inspiration when he wrote The Beach. The movie may have been set in Thailand, but the limestone cliffs, bright-green foliage, and turquoise waters here make it hard to distinguish between the two. It's also a trek to get to, since a trip to El Nido requires a seven-hour bus ride.
Lord Howe Island
Australia
There's a reason you haven't heard of this island 375 miles off New South Wales—there's no cellphone coverage. Which means it's a forced (or maybe welcome?) digital detox where the main attraction is wildlife. Wildlife that, because of the island's perpetual isolation, includes birds, insects, and plant species that don't exist anywhere else in the world. The island also sits near the world's most southerly coral reef, making for world-class diving and snorkeling. Which is even better considering you don't have to share, since only 400 visitors are allowed on the island at any given time.
Homebush Bay
Sydney, Australia
An otherwise unremarkable residential bay in Sydney makes this list not for its water, but for the ship that sits near the coastline. Built during World War I, the SS Ayrfield ran supplies to American troops in the Pacific during World War II before an oil company bought it in the 1950s and stationed it in the middle of this bay. Then nature took over. Now, it's a man-made island filled with trees and wildlife—and one of the most decrepitly beautiful sights in the world.
Chapel of Saint-Michel d'Aiguilhe
Le Puy-en-Velay, France
Talk about wonders of the world. Even with today's technology, imagine how hard it would be to build ANYTHING on top of a small, pointy rock? Now, imagine building a stone cathedral in 962 without cranes, hydraulics, or anything other than actual people hauling stones up 268 stairs. The result is this beauty, built atop a basalt needle with a sweeping view of the village below.
Crystal Cave at Skaftafell
Vatnajokull National Park, Iceland
Don't let the 22-foot shoreline entryway fool you; the cave at Vatnajokull National Park tapers down as little as 4 feet and will crack and pop when you walk inside. That doesn't mean it's about to collapse, though; it's just the sound of glacial movement against the volcanic island. The blue-crystal cave is centuries in the making and looks so unreal, it's been used as a backdrop for everything from Game of Thrones to Interstellar.
Picos de Europa
Spain
While the Alps and the Pyrenees get all the attention, this tiny range near the northern coast of Spain, which runs through the regions of Asturias, Cantabria and León, is equally as beautiful. Picos de Europa only stretches about 26 miles (and its highest peak, Macizo Central or Macizo de los Urrieles, is barely 8,000 feet tall), but when it comes to skiing and snowshoeing away from the masses, it's a tough location to beat. And thanks in part to an abundance of wildflowers and Spanish brown bears, it's one of the prettiest places in Europe to spot wildlife in the summer.