The Most Breathtaking Irish Movie And TV Backdrops
The right backdrop for a scene transcends being just scenery; it becomes a character all its own and, sometimes... even steals the spotlight. A great backdrop captures not only your eye, but the entire spirit of a film. And that's why Ireland -- in all of its atmospheric glory -- has captured the imagination of countless cinematographers. From the historic architecture of Northern Ireland to the islands off the southwest coast of County Kerry, we've rounded up gorgeous locations that you'll recognize from screens big and small.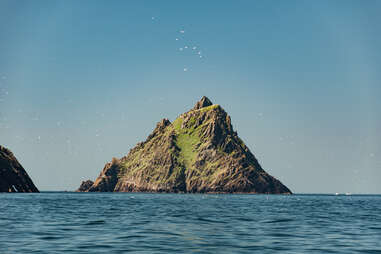 The Wild Atlantic Way, western Ireland
Star Wars: The Last Jedi (2017)
According to supervising location manager Martin Joy, Luke Skywalker's hideout had to be "completely from a different time and place." Skellig Michael Island, the top of a 350-million-year-old sandstone mountain, was the perfect spot. Located 7.5 miles from the mainland of County Kerry, Skellig Michael has always been mostly secluded and uninhabited, except when a Christian monastery settled there around the 700s.
You may recognize Skellig Michael from the final scene of Star Wars: The Force Awakens and 2017's The Last Jedi, but those aren't the only cameos Ireland makes. Thanks to the film scouts' love of Ireland's west coast, The Last Jedi included shots from Malin Head in Donegal, Ireland's most northerly point, and the cliffs of Loop Head in County Clare. What's great here is how accessible everything is. You can visit Loop Head's lighthouse, see the Northern Lights over Malin Head, and tour Skellig Michael's sixth-century digs -- all without needing your own Millennium Falcon.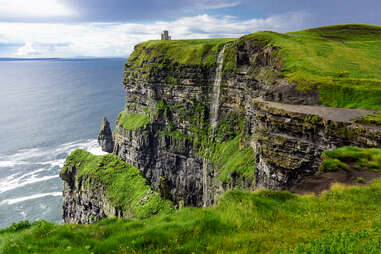 Cliffs of Moher, County Clare
The Princess Bride (1987) / Harry Potter and the Half-Blood Prince (2009)
When Buttercup is kidnapped by the criminal troupe of Vizzini, Fezzik, and Inigo, they decide to scale the Cliffs of Insanity, AKA the 702-foot-tall magnificent Cliffs of Moher. Not only does the Man in Black follow them, but he also manages to scale the cliffs by hand even after his rope is cut. Don't try that: The cliffs have a paved walkway, from which you can feast your eyes on the Maumturks and Twelve Pins mountain ranges, as well as the Aran Islands, perched in the middle of the North Atlantic Ocean.
It's these same waters Dumbledore and Harry soar over in Harry Potter and the Half-Blood Prince, the franchise's sixth installment. When the two head to the cave to destroy the first of Voldemort's seven Horcruxes, it's the Cliffs of Moher that serve as the foreboding backdrop. But in real life, there are no evil Horcruxes, Voldemort is purely fiction, and the cliffs are a lot brighter and happier than they appear in the film. In fact, more than 1.4 million people visited here in 2016, making it one of Ireland's biggest -- and tallest -- attractions
Multiple Locations
Leap Year (2010)
In addition to a very romantic proposal set at the aforementioned Cliffs of Moher (at sunset, no less), this Amy Adams-starring romantic comedy was shot all over Ireland. The film is based on the Irish tradition that St. Bridget finagled a deal where a woman can propose to a man on Leap Day. You won't want to wait four years to visit these scenic locales, though.
Let's start with The Rock of Dunamese. Located in County Laois, these ruins are made up of two parts: a 9th century fort that was destroyed by the Vikings, and a 12th century Norman castle that was decimated by Oliver Cromwell in the mid-1600s. When they go sightseeing, Adams' character is pretty astonished by the setting -- which is probably as breathtaking now as it was 1,200 years ago.
And of course a film as charming as Leap Year called for a wedding scene to match. Enter the verdant landscape of Glendalough in County Wicklow. Meaning "valley of two lakes," the popular tourist destination of Glendalough is known for the 6th century monastic settlement founded by St. Kevin. Though not pictured in the movie (the wedding reception takes place in front of one of the lakes), several monuments from the old city can be accessed year-round. This includes the 98-foot-tall Round Tower, a place used for refuge during times of attack.
Now, whether you get down on one knee in these places is up to you, but you could find far worse settings than the remains of a castle.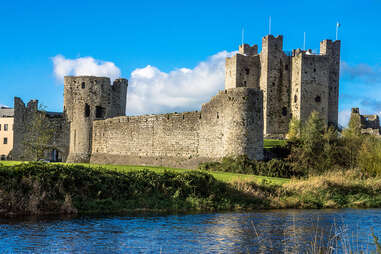 Trim Castle, Trim, County Meath
Braveheart (1995)
You'd think a film about a Scottish revolutionary hero would be filmed in Scotland, but sometimes Ireland just wins. Trim Castle estate is so epic (over 300,000 square feet), it was used to portray the entire English town of York. Production designers also depicted parts of London on the other side of the castle wall. Talk about versatility. The medieval structure has 20 sides, making it the largest Anglo-Norman (a Romanesque architecture style) castle in all of Ireland. Visitors are welcome here year-round -- the caretakers even screen Braveheart on the castle walls in the summer.
Luggala Estate, County Wicklow
King Arthur (2004)
The Gothic Revival-style Luggala Estate, 28 miles outside Dublin, stars in 2004's King Arthur, in which Clive Owen plays up the Roman elements of the legend, and Keira Knightley makes Guinevere a little less ladylike, and a little more archer-like. And... did we mention it's for sale? Luggala can be yours for a cool €28 million ($30 million). It was built in 1787 for the La Touche banking family, is surrounded by the Wicklow Mountains, and overlooks Lough Tay (a pretty darn breathtaking lake).
The Dufferin Arms, Killyleagh, County Down
Philomena (2013)
Philomena 's main character (played by Judi Dench) is followed by a journalist (Steve Coogan) as she searches all over Northern Ireland and North America for the son she was forced to give up as a young woman. Filmmakers paid homage to this true story by bringing authenticity to every single detail -- including the filming locations. For one pub scene, the backdrop could have easily been recreated on a studio lot, but for the sake of legitimacy, it's The Dufferin Arms in County Down. Owner Austin McCullough told The Down Recorder that he was charged with keeping a fire lit while the actors filmed an in-depth conversation.
Multiple Locations, Northern Ireland
Game of Thrones
From the very beginning, Game of Thrones has called Northern Ireland home. Of the show's dozens of filming locations up here, the biggest chip on the table would have to be Winterfell, the much-contended home of the Stark family. The farmyard of County Down's Castle Ward hosts the direwolves within its walls, and today, you can visit the castle and experience the world of Westeros for yourself with archery lessons where they filmed the show.
Of course, there's more to see in County Antrim, including where 200-year-old rows of beech trees form a cave-like canopy over Bregagh Road. The Dark Hedges, given their ominous nickname by locals, are recognizably The King's Road -- scene of Arya's escape from King's Landing in Season 2.
And who can forget the gory jousting tournament between Ser Loras Tyrell and Gregor Clegane from Season 1? It would be the first of many times Shane's Castle, a ruined 14th century estate near Lough Neagh, appears on the HBO series.
County Wicklow
Vikings
With much of the show shot outdoors, Vikings producers scouted County Wicklow for picturesque backdrops, including the you-have-to-see-it-to-believe-it Powerscourt Waterfall. At 398 feet, it's the highest in Ireland. It's surrounded by beech, oak, larch, and pine trees that are more than 200 years old, and deer and squirrels that are a bit friendlier than the characters on Vikings.
You could justify your entire trip with a look at this part of Ireland alone. The Wicklow Mountains as well as lakes Lough Dan and Lough Tay were also used. Reaching a peak of 3,035 feet, the mountains made sure no CGI or green screens would be needed after filming. And the lakes -- pure as they ever were -- transport you right back to the 8th century. For an amazing view and workout, hike the multiple trails between the lakes and/or up Luggala. You'll get a full tour from mountain to meadow to swamp. If this drone footage doesn't get you booking your flight immediately, perhaps a binge viewing of Vikings will.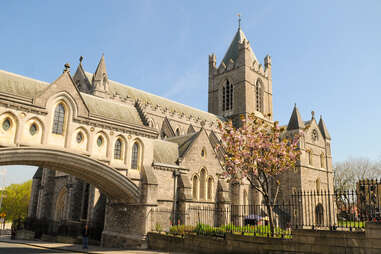 Christ Church Cathedral, Dublin City
The Tudors
This Showtime series about the reign and six marriages of King Henry VIII was filmed all over County Dublin and County Wicklow -- including lead actor Jonathan Rhys Meyers's neighborhood of Drimnagh. The stand-out location, however, is Dublin's Christ Church Cathedral. The real Henry VIII reformed this church during the 16th century, and his son/successor, Edward VI of England increased the church's staff and funding during his reign. As far as historians can guess, the church has been there since about 1030 -- so we're expecting a celestial-grade celebration for its 1,000th birthday. Who's in charge of invites?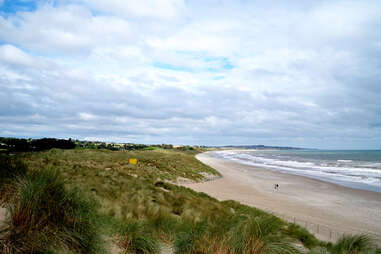 Ballinesker Beach, Curracloe, County Wexford
Saving Private Ryan (1998) / Brooklyn (2014)
The five-time Oscar-winning picture Saving Private Ryan begins with an eerily terrifying portrayal of World War II's D-Day, the deadly battle between the Allied forces and Nazi Germany on June 6, 1944. While it actually took place on Omaha Beach in Normandy, France, the massive 20-minute scene was filmed on County Wexford's Ballinesker Beach. What's most impressive though, is that the Irish Defense Forces provided 750 troops to serve as extras. "The work that's being done... It's very sort of precision and potentially hazardous work and we felt the only way to do it was with the participation of a trained army unit," producer Ian Bryce said. Fun fact: troops were also used as extras in Braveheart.
If you intend to visit but not invade it, the beach is a renowned bird-watching spot, and a rich lesson in how glacial geology shapes a coastline. If you're feeling warmer-blooded, the swimmable Ballinesker is a Blue Flag Beach, meaning it's exceptionally clean. Locals and visitors alike consider this sandy stretch (with public bathrooms) a real gem. It's part of the larger Curracloe Strand, the chosen background for the beach scenes in 2015's Brooklyn.