The 10 Most Essential Golf Courses in America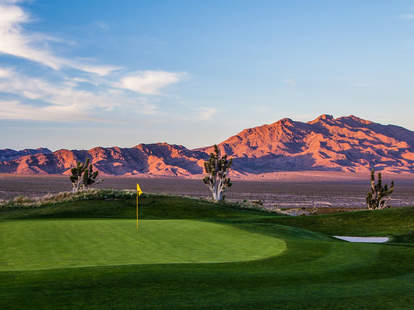 Brian Oar - Fairways Photography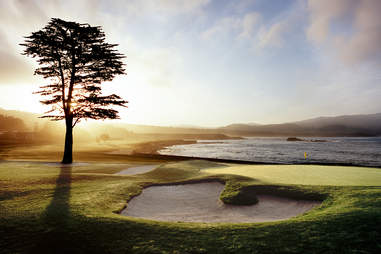 Joann Dost
1. Pebble Beach Golf Links
Monterey, CA
The Monterey Peninsula is hallowed ground for golfers, and this iconic coastal layout is its most sacred public site. Designed by Jack Neville and Douglas Grant in 1919, it has hosted the game's most prestigious tournaments, and wherever you stand, you can bet that a golf legend has too. The Tour pros play here every year, as do pilgrims from all around the planet, digging deep into their pockets for a round as spiritual as its cost ($495) is steep.
<a href="http://www.facebook.com/TPCSawgrass/photos/a.10150266885076738.346438.77757036737/10153437289186738" rel="nofollow" target="_blank">TPC Sawgrass/Facebook</a>
2. TPC Sawgrass
Ponte Vedra Beach, FL
The golf course architect Pete Dye has been called the Marquis de Sod, a reference to his famously punishing designs. Few are more penal than this water-laced layout, which terrifies even the world's best players with its island green par-three 17th. Not that that's a problem. We golfers are a masochistic lot. We can take a beating, so long as it comes with some outdoor beauty. And Sawgrass is a stunner that delivers immense pleasures with its pain.
<a href="http://www.flickr.com/photos/phliar/7634642824" rel="nofollow" target="_blank">Shamim Mohamed/Flickr</a>
3. Sharp Park Golf Course
Pacifica, CA
Regarded as the Michelangelo of golf design, Alister Mackenzie is best known for such masterpieces as Cypress Point Club and Augusta National, two of the most exclusive courses in the world. He didn't build a lot of places for Joe Public. Sharp Park is an exception -- a municipal course that hugs the coastline and bears Mackenzie's distinctive imprints in its deceptive bunkering and artful doglegs. The difference is that anyone can play it. Show up at first light, with a gentle breeze blowing off the Pacific, and join the waiting list of regulars, who are usually dressed in t-shirts and jeans.
Alamy
4. Chambers Bay
University Place, WA
Presto, change-o. Nearly ten years ago, a great gouge in the earth, once given over to a gravel mine, transformed into a rollicking links-style golf course, with huge, rumpled greens, heaving fairways and stunning views of Puget Sound. In 2015, it hosted the United States Open Championship, though the layout itself, with firm, fast turf and unruly native grasses, looks like the sort of place that could stage a British Open. It's like playing in the UK without crossing the pond.
Popperfoto/Getty Images
5. Bethpage State Park
Farmingdale, NY
An hour outside Manhattan, this sprawling state park features five killer 18-hole courses, all named after colors. It's a rainbow coalition that tests all range of players, starting with the Yellow, the easiest of the bunch, moving up in difficulty through the Blue, Red and Green, then on to the notorious Black, a track so tough that a sign near the first tee has a bold-lettered "WARNING" advising all but the "highly skilled" to stay away.
Brian Oar - Fairways Photography
6. Paiute Golf Resort,
Las Vegas, NV
In a city overrun with over-priced golf courses, this place gives great bang for the buck. Run by the Paiute tribe, 20 minutes from the madness and the neon, this unspoiled property has three 18-hole layouts, the best being the Wolf Course, an impeccably groomed track with endless desert vistas. Chase your ball here when you're done chasing your money on the Strip.
Courtesy of Forest Dunes Golf Club
7. Forest Dunes Golf Club
Roscommon, MI
Like an indie film discovered on the festival circuit, this Lower Peninsula course began life as a sleeper, beloved by a small collection of purists but pretty much ignored by everyone else. But gems are hard to hide, even in this out-of-the-way location. And today Forest Dunes is an establishment darling, noted on GOLF Magazine's prestigious list of Top 100 Courses You Can Play. As its name suggests, it's a varied layout of sandy wastes, grassy meadows, and towering pines.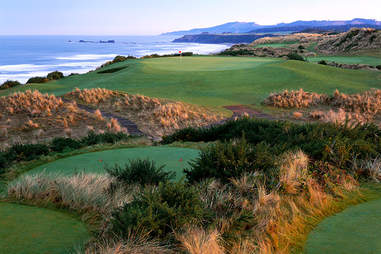 <a href="http://www.facebook.com/BandonDunesGolf/photos/a.161080950572809.32142.161078460573058/161087573905480" rel="nofollow" target="_blank">Bandon Dunes Golf Resort/Facebook</a>
8. Bandon Dunes Resort
Bandon, OR
"Golf as it was meant to be" is Bandon's slogan, and when you set foot on the property, you see why. Set on a lonely stretch of the southern Oregon coast, the resort is home to four 18-hole courses (there's also a 13-hole par-three course). But not just any courses; the throwback design of the links-style layouts bring Scotland to mind. It's an upscale resort, but the golf is pure and simple. No golf carts here. Everybody walks. There's not much else to do, so it's all about the golf. You get up at daybreak and play till sundown, maybe with a flask tucked in your bag. Ok, definitely.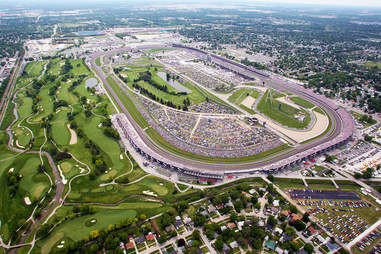 Courtesy of Indianapolis Motor Speedway
9. Brickyard Crossing
Indianapolis, IN
This ought to get you revved up for your round -- a golf course built around the Indianapolis Motor Speedway. Most of the layout sits just beyond the grandstands, but four holes spill into the stadium itself, splicing through the infield of the oval in what amounts to a seriously high-octane stretch. The course is appropriately loaded with sporty features, including water hazards lined with salvaged concrete from the speedway's old retaining wall. But since you're in a golf cart, go easy on the turns.
Dave Sansom
10. Plantation Course 
Kapalua, Maui
When you peg it in Hawaii, you expect it to be pretty. But nothing quite prepares you for the panorama that greets you at the first tee of this dramatic layout, which swoops up and down a mountain on the north end of the island. Humpbacks breach on the horizon, palm and pine trees do the hula in the trade winds…The starting hole before you is a broad-shouldered par-four, framed by the Pacific, a target so breathtaking you almost forget to swing. It's a surreal moment, and part of you wonders: are you playing golf, or wandering through a postcard in 3D?