Dive Into These Incredible Underground Swimming Holes in Mexico
Yet another reason to add the Yucatán to your bucket list.
Note: We know COVID-19 is impacting travel plans right now. For a little inspiration, we'll continue to share stories from our favorite places around the world so you can keep daydreaming about your next adventure.
And you thought your local swimming hole was cool. All across the Yucatán Peninsula, within easy reach from some of Mexico's most popular vacation spots, there are nearly 20,000 known cenotes. Pronounced cey-NO-tays, the word derives from the Mayan ts'onot and roughly translates to "hole with water."
That's a fairly literal description. These underground caverns form when limestone caves in, leaving a sinkhole in the earth that fills with clear turquoise water. Add a couple of dangling vines, some stairs, and a stalactite or two, and you've got an unforgettable setting for a dreamy afternoon swim.
Ancient Mayans believed that cenotes were entrances to the underworld and, well, occasionally used them for ritual sacrifices. But hey, don't let that deter you from visiting. Most cenotes are reachable by way of a 45-minute ferry from Cozumel, or a few hours' drive from Cancun, Playa del Carmen, or Tulum. And many are en route to the region's most impressive archeological ruins, so you can make a day of it.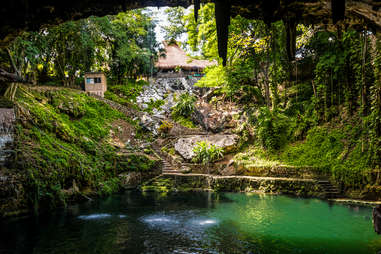 Zaci
Valladolid, Yucatán
Valladolid is a small Mexican city that boasts the country's only in-town cenote. A treasured part of Mexico's indigenous culture, many cenotes are regulated by INAH (Instituto Nacional de Antropología e Historia), which protects archaeological and historically significant sites across the country. Tour operators, guides, and parks have to meet strict guidelines in order to allow visitors in. Still, some cenotes are located on private land, so their use isn't regulated.
"Some see these systems as a sustainable source of income and have mechanisms to take care of them, but others do not," says Rodolfo Raigoza Figueras, the director of conservation for Grupo Xcaret, a group of ecological adventure theme parks near Playa del Carmen.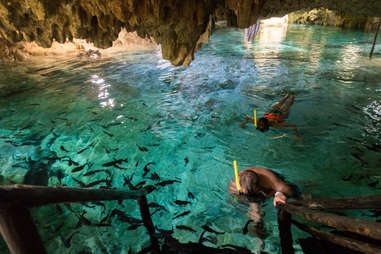 Aktun Chen
Akumal, Quintana Roo
There's actually a vast, interconnected network of these underground rivers and cenotes throughout the Yucatán -- many of which have yet to be discovered. Aktun Chen, located between Tulum and Playa del Carmen, is one of the most recent discoveries. A beautiful new eco-park allows visitors to swim in this underground river, and offers ziplining and some dry caves to explore, too.
Sac Actun
Tulum, Quintana Roo
Because cenotes are part of a larger interconnected network, conservation efforts don't begin and end at one specific site. "They are located within a basin that depends on the entire ecosystem to prevail, therefore their care depends on the conservation conditions of the entire Yucatán peninsula," says Raigoza.
Sac Actun is a prime example. This underground river and cave system is among the longest in Mexico, measuring nearly 260 miles long with a maximum depth of 300-feet. There are 111 cenote entrances along this route, but because of the fragility of the environment, there are only a few places where visitors can enter. The best way to explore Sac Atun is with a guide. Alltournative is one company in the region that helps preserve the delicacy of these pristine ecosystems.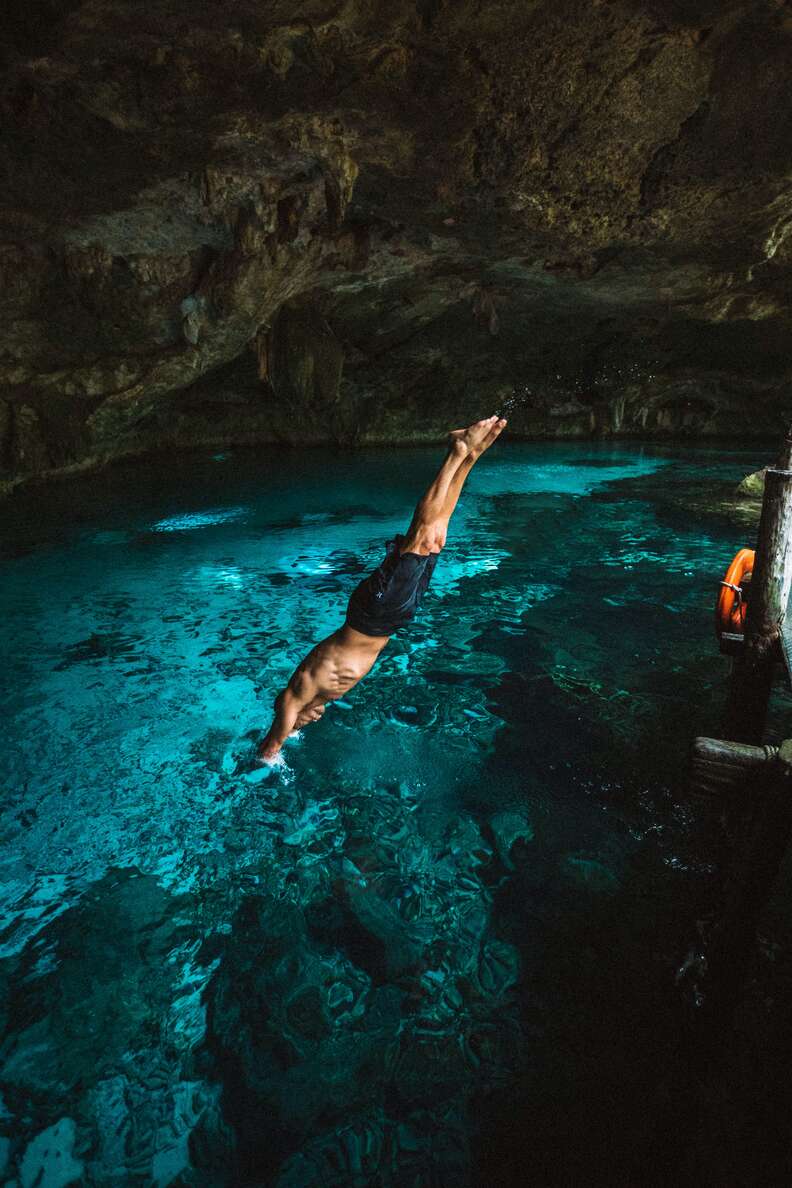 Dos Ojos
Tulum, Quintana Roo
Dos Ojos, meaning "two eyes," is far more than just two caves like the name implies. It's actually a system of caverns that extends at least 38 miles, at a depth of over 350-feet. Fun fact: a link between Sac Actun and Dos Ojos was recently discovered, making them one of the longest underground systems in the world.
There are two main attractions here: the Blue Eye, a world-renowned diving destination where you can swim into a bat cave; and the Black Eye, an eerie, sensory-deprivation dive that offers almost no visibility and requires portable lights.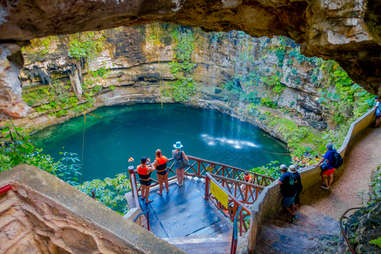 Ik Kil
Piste, Yucatán
Its proximity to a major tourist attraction (en route to the Mayan ruins at Chichén Itzá) makes Ik Kil one of the more crowded cenotes. This 60-foot pool also features a restaurant, gift shop, and a well-lit limestone staircase that leads swimmers to the hanging vines and blue waters below. If you're extra adventurous, there's also extreme diving; Red Bull actually held a dive competition here a few years back.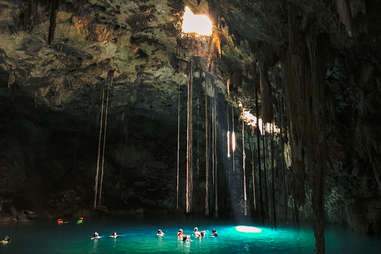 X'keken
Valladolid, Yucatán
The only source of light in this cenote comes from a small hole in the roof, so ideal visiting hours are in the middle of the day. Sunlight beams down in an almost-heavenly glow; unfortunately, there'll be a ton of other people to bask in that glow with you, since this cenote is super popular. Nourishing tree roots hang from the ground above and almost touch the water at the bottom. Swimming is allowed (they've got a lifeguard!) and there's a small island in the middle you can lounge on.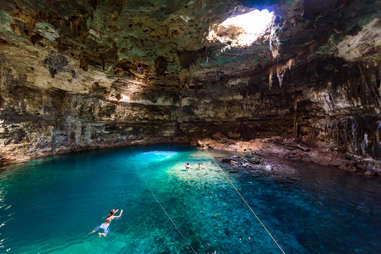 Samula
Valladolid, Yucatán
The area known at Dzitnup has two of the region's top cenotes: the aforementioned X'keken and this one, which opened much more recently and is typically less crowded. It's still got the natural skylight in the roof, but the cave is also illuminated at night with purple lights, giving it a distinctive "club in a cave" feel.
As with wildlife tours and, well, basically any form of nature tourism, it's important to do your research before signing on with a tour company. According to Roberto Rojo, the director of the SAYAB Planetarium of Playa del Carmen, responsible operators will limit tours to small groups, provide security for visitors, employ guides who will explain the significance and fragility of the cenotes, and use proper signage that encourages visitors to treat the environment with respect.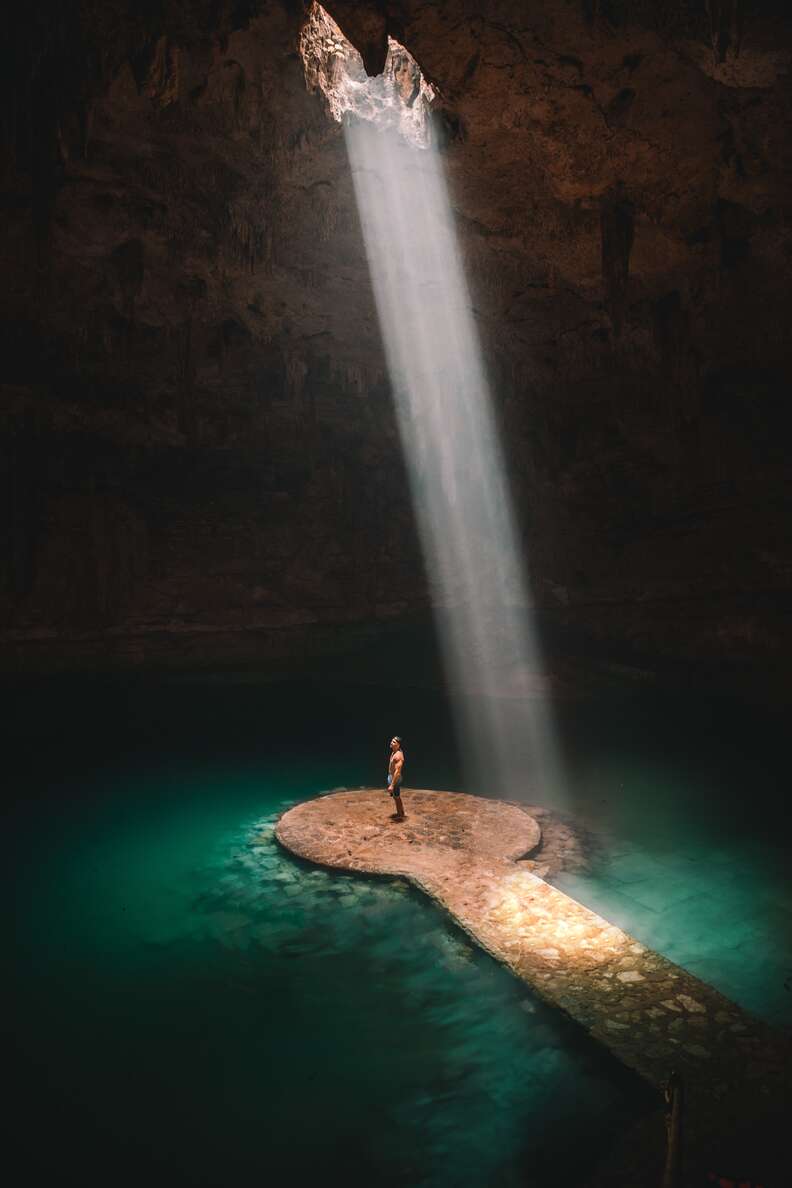 Suytun
Valladolid, Yucatán
This cenote sits on a private ranch outside Valladolid and boasts some of the clearest water of any watering hole in Mexico. Clear is kind of an understatement -- you can gaze straight to the bottom of it from various observation platforms -- but gaze is all you're gonna want to do here, since the water is ridiculously cold.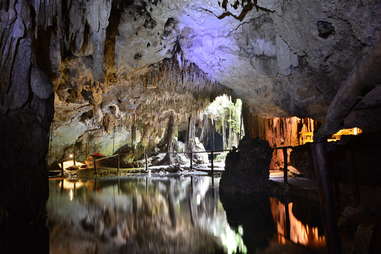 Chaak Tun
Playa del Carmen, Quintana Roo
Only a few miles from Playa del Carmen, Cenote Chaak Tun may as well be another world away. A fascinating display of stalactites and stalagmites hover above these crystalline pools of fresh water. The best part about Chaak Tun is that it's relatively unknown, so there's a good chance you'll have these dome-like caverns to yourself (and your guide, of course).
Gran Cenote
Tulum, Quintana Roo
Located right on the highway to Coba, this giant cenote is possibly the most-visited in the Yucatán. It's sort of like a remote beach, inside an underground cave, with a white sandy shoreline that descends through gardens of tropical foliage… which might have something to do with its popularity. Snorkeling is big here, and swimmers come face to face with a rare triad: fish, turtles, and stalagmites.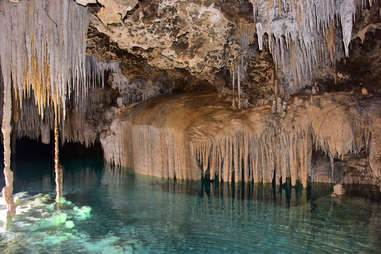 Rio Secreto
Playa del Carmen, Quintana Roo
This is the coolest thing to do around Playa del Carmen, and that's big talk for a place literally built for tourism. You'll swim through underground caverns and tunnels that are millions of years old, where every inch of limestone protrudes with trippy stalactites and stalagmites. The turquoise water sparkles under unobtrusive lighting, but guides will give you a temporary thrill by cutting the lights, allowing you to float in the inky black -- a surreal experience not to be missed.
Sacred Cenote
Chichén Itzá, Yucatán
This little spot is also known as the Well of Sacrifice, because you guessed it, people were sacrificed here. In the early 20th century, the cenote was excavated and, in addition to gold, jade, pottery, and weapons, archaeologists found human remains likely sacrificed in order to please the Mayan rain god Chaac. While it doesn't make the view into the deep green water any less spectacular, you'll probably think twice about going swimming.
Meagan Drillinger's writing has appeared in Lonely Planet, Travel + Leisure, InsideHook, Men's Health, and more. She is a long-time Thrillist contributor and the Mexico reporter for Travel Weekly magazine.