The Most Hippie Towns in America (That Aren't Berkeley or Boulder)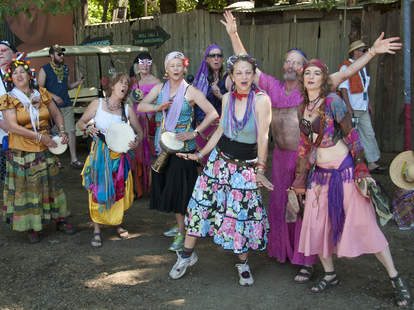 <a href="http://www.shutterstock.com/gallery-779257p1.html?cr=00&pl=edit-00">Jamie Hooper</a> / <a href="http://www.shutterstock.com/editorial?cr=00&pl=edit-00">Shutterstock.com</a>
When you think of hippie towns, you immediately think of well-established centers of counterculture like San Francisco, Woodstock, Berkeley, or Boulder. But high rents and changing demographics have forced many card-carrying members of the patchouli-and-Birkenstock tribe to seek greener pastures elsewhere. So, while it's great to gawk at aging beatniks in the Haight, here are some lesser-known enclaves where the spirit of peace and love is as dank as a bong water-soaked Phish bootleg.
Arcata, CA
When you think of California hippies you probably think of Berkeley, but these days progressive policy is migrating north to the pot-growing NorCal region of Humboldt County and easy-living towns like Arcata, the first city to elect a majority of its city council members from the Green Party. In addition to passing the Nuclear Weapons Free Zone Act in 1989 and becoming the first municipality to ban GMOs, Arcata is known for hippie-tastic festivals like the Mushroom Fair, Hempfest, and All Species Parade. Chat up some bearded long-hairs at People's Records or Hacky Sack around Arcata Plaza, it's all good brother.
<a href="http://www.shutterstock.com/gallery-1390108p1.html?cr=00&amp;pl=edit-00">ShutterDivision</a> / <a href="http://www.shutterstock.com/editorial?cr=00&amp;pl=edit-00">Shutterstock.com</a>
Bisbee, AZ
From naked people in the streets to nonconformists living in caves, anything goes at this decidedly offbeat artists enclave located 10 miles north of the Mexico border. The creatives moved in after a mining company which owned the town bugged out in the '70s, and today they are joined by all style of outlaw and weirdo drawn to the area's colorful cliff dwellings and free-spirit mentality. A stroll through the delightful acid trip of a Downtown reveals a fatty nugget of psychedelic art, trippy "art cars," and lawn junk collections known as "lawn art." Is it possible that drugs are being smuggled in from across the border? We'll let you decide.
Ithaca, NY
While the more touristy Woodstock hits you over the head with tie-dye, head shops, and old bearded dudes in dresses who never left the '60s, it's a little harder at first glance to see that Ithaca houses one of New York's crunchiest populations. And that's because it permeates all aspects of local civilization! Holding the record for the largest human peace sign, the ridiculously community-conscious town even created its own local currency called Ithaca Hours, which can be traded among residents as a form of labor barter. Outside the town's head shops and drum circles, you can find many people still living in communes (although these days they're called "ecovillages").
Eugene, OR
As the town of Ken Kesey, tie-dye underwear, and free tofu at local bike shops, it doesn't get much more out there than Eugene. If you still don't believe us, do a Google Image search for the Oregon Country Fair -- it's held annually on 280 wooded acres west of Eugene and features onsite breast painting and a full kaleidoscope of Burning Man-style psychedelic weirdness. The town itself is a hotbed of organic farms and eco-activism, with a "Free Speech Plaza" outside the county courthouse and a statue of the fabled Merry Prankster Downtown. While these days Eugene has become more well known for the emerging athletic prowess of the mighty Oregon Ducks, tossing the disc around the lawn remains the most popular sport.
Mount Shasta, CA
San Francisco may have started the hippie revolution, but Mount Shasta is where today's free spirits flock thanks to its namesake mountain's widespread reputation in New Age circles as the "root chakra of the world." Claiming an energy vortex that serves as a portal to a higher level of consciousness, the town is a central gathering place for everyone from mystics and gurus to environmentalists and Buddhist monks. Gather your crystals and meditate in the surrounding nature or, if that's not enough for you, head nine miles up the road to the neighboring town of Weed, California. Real name. Look it up, people.
Burlington, VT
It's the home of Phish, Ben & Jerry's, and America's only Democratic socialist senator/presidential candidate. Need we say more? We don't, but we will. Burlington has a crunchy, granola-flavored, year-round farmers market. The only McDonald's in town closed. And it has a thing called the "Burlington Earth Clock" which is "based on the philosophy that inner peace and inner strength can be restored by witnessing the rhythms and cycles of nature." If that doesn't do it for you, take a stroll down Church St and ask this dude (pictured above) for directions. Or if he's holding.
Nederland, CO
While the "People's Republic of Boulder" is no doubt founded on a tradition of counterculture and free-spirit idealism, these days the increasingly pricey city has transitioned into more of a trustafarian paradise. The real Bohemians have migrated to the surrounding mountains and places like Nederland, 17 miles west of Boulder. Grab a bumper sticker for your VW bus at the Mountain People's Co-op, check out a jam band (Leftover Salmon and Yonder Mountain String Band are from here) at the Pioneer Inn, or smoke some legal weed by the river while talking about how you were totally at the last Dead show, and you should fit right in.
Missoula, MT
Whether or not "citizenship requires you to own a Subaru Outback and at least one Labrador retriever" as a popular joke about Missoula claims, there's no denying this Big Sky town's earthy bona fides -- there's a lot of street yoga and a rugged outdoorsy spirit that attracts the peace-and-love set. In 2011, the town passed a resolution declaring that -- despite what Mitt Romney would later claim -- corporations are NOT people, my friend. Missoula is also the town where veteran '60s warriors like Rainbow Family peace society co-founder Plunker put down roots. Organic, locally sourced roots, of course.
Yellow Springs, OH
Yellow Springs was founded upon utopian ideals in 1825 and, by the 1850s, was already practicing radical counterculture ideas like enrolling African-American students in the ultra-liberal Antioch College (one of the few colleges in the US where cooperative education is mandatory). Chain outlets and fracking are prohibited in this colorful town 20 miles east of Dayton, where storefronts are brightly painted and incense-scented businesses dominate. The Yellow Springs Street Fair is a sea of barefoot-dancing flower children and the town is so welcoming of all ways of life and eccentricities that even Dave Chappelle feels comfortable enough to call it home.
Topanga, CA
Attracting everyone from Humphrey Bogart and Shirley Temple in the '40s to Jim Morrison and Neil Young in the '60s, this Bohemian enclave in the mountains above Malibu has long served as a spiritual nature retreat for those looking to escape the glitz and glamour of nearby Los Angeles. While the famous clothing-optional swingers resort Sandstone Retreat is long gone, these days you can take a deep toke of the THC-infused air while perusing Buddhist prayer flags at the Bhutan Shop or joining in the drum circle at the annual Reggae on the Mountain fest. There are no hotels, gas stations, or chain stores, but there's also no shortage of good vibes.
Sign up here for our daily Thrillist email, and get your fix of the best in food/drink/fun.
Jay Gentile is a Thrillist contributor whose VW bus broke down on the way to Bisbee. Offer him a ride: @innerviewmag.