The Most Overplayed European Souvenirs (Plus Better Alternatives)
<a href="http://www.shutterstock.com/gallery-697543p1.html?cr=00&amp;pl=edit-00">kavalenkava volha</a> / <a href="http://www.shutterstock.com/editorial?cr=00&amp;pl=edit-00">Shutterstock.com</a>
<a href="http://www.shutterstock.com/gallery-697543p1.html?cr=00&amp;pl=edit-00">kavalenkava volha</a> / <a href="http://www.shutterstock.com/editorial?cr=00&amp;pl=edit-00">Shutterstock.com</a>
Overseas travel means collecting plenty of trinkets to bring home with you. Most European countries have a stereotypical souvenir that millions of tourists shell out euros for each year. And most of them kinda suck. Here's a list of clichéd gifts to avoid, as well as some great alternatives.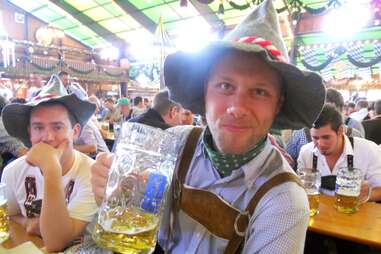 Austria
Overplayed souvenir: Lederhosen
Yep, they wear this traditional garb in Austria, too. And yep, it still looks ridiculous. Plus, you can't be that guy from the Alps every Halloween.
Get this instead: Mozart's balls (Mozartkugel)
The famous chocolate, marzipan, and nougat ones, of course.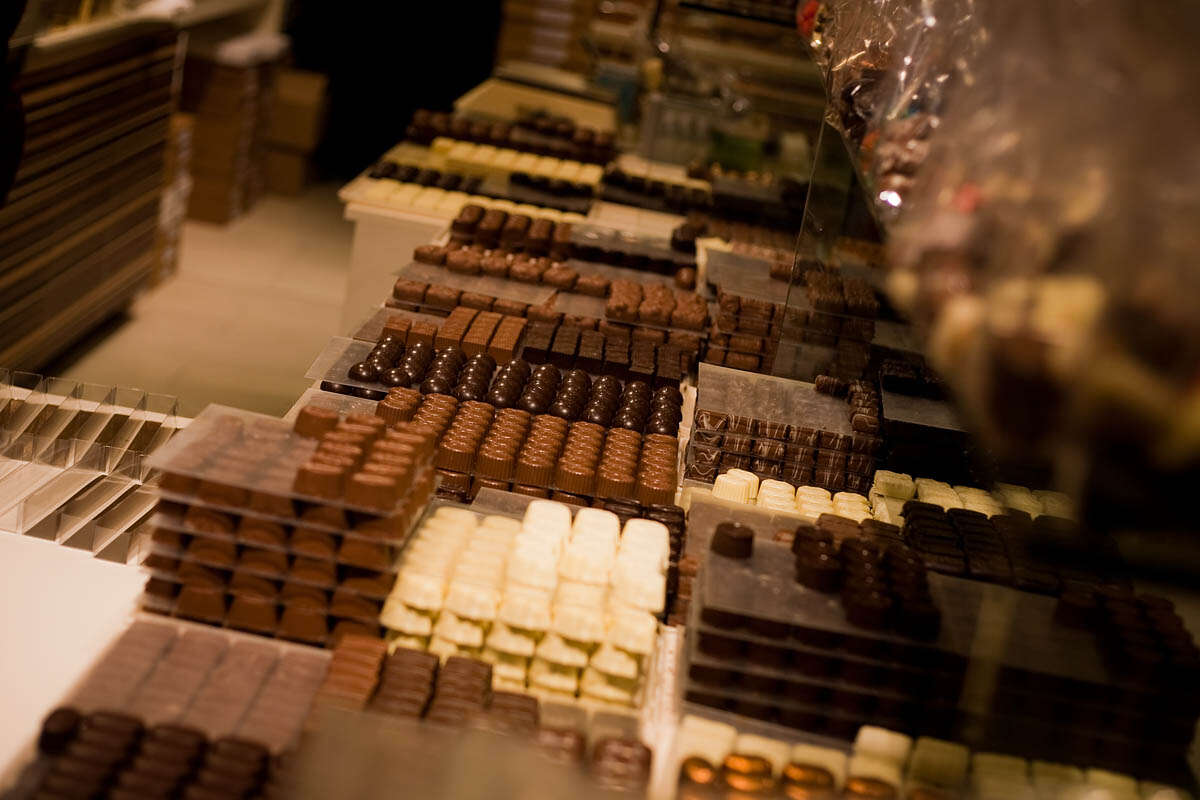 Belgium
Overplayed souvenir: Chocolate
When it comes to word association, unlike Austria, say "Belgian" and somebody WILL yell out "chocolate." So, isn't this one a little obvious?
Get this instead: Delirium Red
But right after chocolate comes... you guessed it, beer! This sour cherry-flavored ale from the famed Belgian brewery rarely makes it stateside, so grab a bottle or twelve.
Denmark
Overplayed souvenir: Little Mermaid
Because once a fairytale character gets Disneyfied, there's no way to bring it back.
Get this instead: LEGO Billund Airport set
This limited-edition set is available exclusively at the Billund Airport, the town where LEGOs were invented and where the company is still based.
Finland
Overplayed souvenir: Canned reindeer meat
That's just gross.
Get this instead: Reindeer jerky
That's just delicious. Also, a reindeer antler bottle opener would be a nice addition to your home bar.
France
Overplayed souvenir: Beret
No one can pull this look off, not even an Olympic bobsledder holding an Eiffel Tower keychain
Get this instead: A jar of foie gras and a bottle of wine
Or, if you want to be a tad quirky, a used French book from one of the stands along the Seine.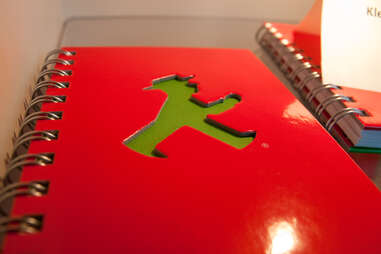 Germany
Overplayed souvenir: Ampelmännchen
This character taken from traffic lights in the former East Germany was once an iconic reminder of quirky DDR design. Now he's as oversaturated as the buzz about Berlin startups.
Get this instead: A beer maß (mass)/stein
Might be a little heavier in the luggage on the flight home, but certain to impress your friends when they come over to watch MNF.
Greece
Overplayed souvenir: Ouzo
This syrupy anise-flavored liquor is Greece's favorite drink, which means it's too popular to be your go-to souvenir. Since everybody's gonna bring home a bottle.
Get this instead: Mastika
A little more insidery, several different versions exist throughout Southeastern Europe -- you want the stuff made from the Mediterranean Mastik tree.
Hungary
Overplayed souvenir: Rubik's Cube
Remember what people did to kill time before the invention of the smartphone? No? Us neither. But, at one point, somebody in Hungary invented the famed Rubiks Cube to keep us all occupied/frustrated, and you can still find them all over the place.
Get this instead: Folqa figures
Halfway between Weebles and Bearbrick, these local toy figures say it all with their stylish staches.
Ireland
Overplayed souvenir: Kiss Me I'm Irish, anything
These words should not appear on a shirt, a mug, a tattoo, anything really
Get this instead: Clarkes of Dublin shaving soap
Hipster beards are on their way out, right? Lose yours with this natural blend of cedarwood, Donegal seaweed, Meath beeswax, horsetail, and Irish Spring water.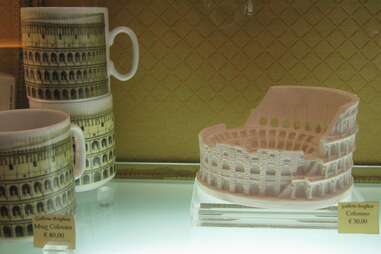 Italy
Overplayed souvenir: Miniature Colosseum
The mini-trinket was probably invented in Rome, right around the time the Empire collapsed.
Get this instead: A Vespa. JK! An olive wood spaghetti spoon or gnocchi paddle
Obviously, food -- olive oil, wine, pasta, Biscotti -- is a natural move here, but why not go with the utensils instead. Or, you know, one of those Eyes-Wide-Shut masks. Again, kidding. Maybe?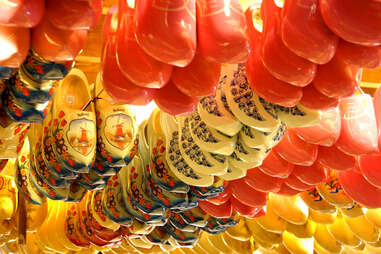 Netherlands
Overplayed souvenir: Wooden shoes
You're obviously not going to wear them since you already have soooo many pairs of wooden Rockports in the closet.
Get this instead: Bicycle beer/wine rack
No European nation loves their two-wheelers more than the Dutch, and this brass bell from one of Amsterdam's favorite indie bike shops is sure to clear whoever blocks your path.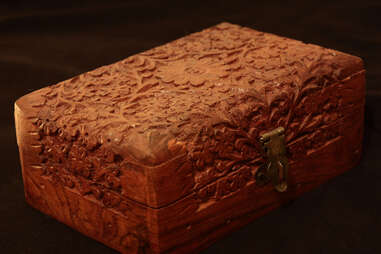 Poland
Overplayed souvenir: Carved wooden boxes
Unfortunately, these become more and more ubiquitous as you travel east into Europe.
Get this instead: Carved wooden chess set
If you're still determined to give your significant other the gift of wood (5th anniversary?), why not go a little intellectual? (Just remember... it's always Pawn to Rook 4.) Or, for something not wood, might we suggest a bottle of mead, or as the Polish call it, drinkable honey (miód pitny).
Spain
Overplayed souvenir: Castañuelas
All the annoyance of a djembe, but pocket-sized.
Get this instead: Saffron, bottle of sherry
Ideally, while wearing a cape from seseña and a light pair of espadrilles, you'd load up your carry-on with jamón ibérico and jamón serrano; unfortunately, however, it's illegal to bring ham back to the States, even if it's vacuum packed. So instead, roll with a bottle of local Sherry and some saffron; not only does Spain produces a ton of both, but that spice commands a whopping $90/oz on Amazon.
Sweden
Overplayed souvenir: Viking helmets (see lederhosen)
Unless you live in Minneapolis and are a Vikings fan, there's simply no need to wear one. Ever.
Get this instead: Sandqvist bum bag
We call them fanny packs, and they're cool again. No idea how to pronounce the "qv" in the name.
Switzerland
Overplayed souvenir: Cuckoo clock
Unless you live in a cabin in the mountains, there is no interior style that goes with a cuckoo clock in 2015.
Get this instead: A cowbell (because you're gonna need more of it). Or, a secret bank account. Or, a Swiss amy knife.
Sure, the knives are probably as popular/ubiquitous as the clocks, but who doesn't need a knife with a built-in toothpick.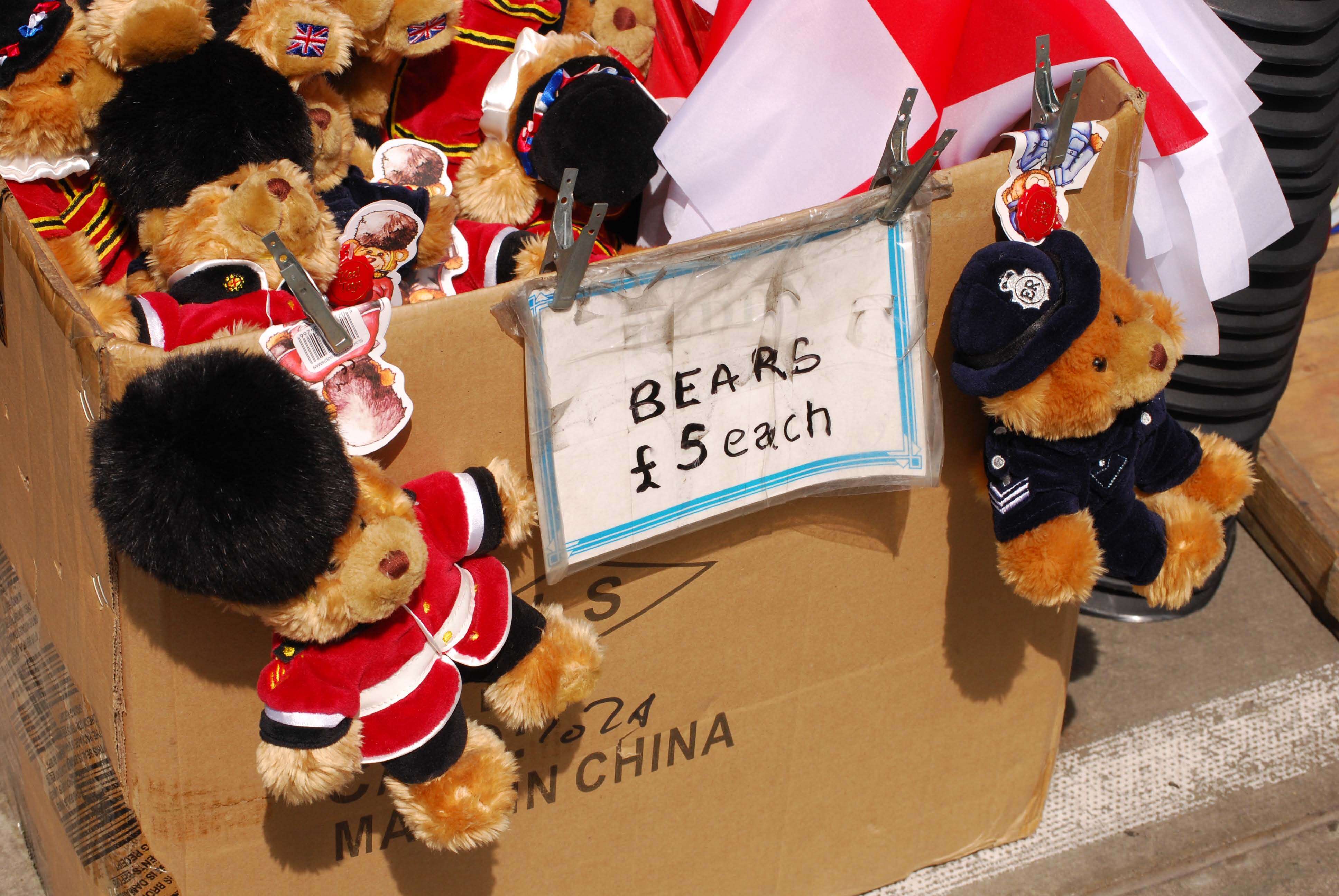 United Kingdom
Overplayed souvenir: Royal Guard teddy bear
It will safely defend against being any kind of worthwhile gift.
Get this instead: A teapot, perhaps from Barber and Osgerby
Because you'll no doubt return from your trip saying "cheers" and "pitch" and talking about your favorite EPL team, there's a good chance you're gonna be drinking tea too… at least for a month.
Sign up here for our daily Thrillist email, and get your fix of the best in food/drink/fun.
Joshua Glazer is an LA-based writer recently returned a four-year exile in Berlin. Welcome him back @joshuaglazer