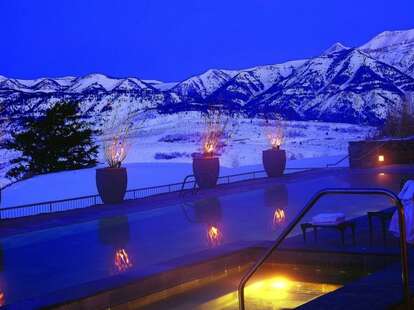 Proving that creating a killer hotel booking engine doesn't require an understanding of the absolute nature of superlative adjectives, The Most Perfect View guarantees you a room looking out upon nothing less than an extraordinary vista at any one of their nearly 100 global luxury partner destinations. Browse by continent, country, city, or even "surroundings" -- Urban, By The Water, Iconic Landmarks -- and you'll find a ream of super-sexy photos (plus some totally do-able written descriptions of the views and amenities) at joints like:
Grand Hotel Tremezzo, Lake Como, Italy: This art nouveau former palace abutting the legendary glacial lake now co-owned by Italy and George Clooney has a swimming pool...in the glacial lake.
Txai Resort, Itacare, Brazil: A 40-suite resort set in a beachside coconut grove, the Txai rests next to one of the Atlantic Rainforest's most "biologically diverse pockets", which will also describe yours after pilfering mad endangered dart frogs.
Wildflower Hall, Shimla, Himalayas, India: This newly renovated former residence of a famed British Lord is nestled on 22 acres of "virgin woods" at more than 8000ft above sea level, and overlooks mountains that have "inspired awe and awakened spirituality in the souls of all mortals who have encountered them", but not those of all gods, which is why Clooney is sticking at Lake Como.
Photos courtesy of Amangani Jackson Hole, Grand Hotel Tremezzo, Txai Resort, Wildflower Hall, and The Most Perfect View