The ​14 most ridiculous things that happened on planes in 2014
There's a great chance 2014 will go down as the year of the legroom wars. Passengers throwing punches and getting kicked off planes became as routine as turbulence and barf bags. But doofuses brawling over reclined seatbacks weren't the only absurdities in the air this year.
From pilots ogling porn and passengers joining the Mile High Club only to end up in cuffs, to gassy cows and pooping pigs, these are the most ridiculous things that happened in the sky this year.
A 16-year-old boy hopped a fence at the San Jose airport in April to stowaway on a plane, where he spent five hours en route to Maui, enduring negative 75-80 degree Fahrenheit temperatures! For what it's worth, only 24% of stowaways like this survive.
Back in October, Air Canada asked its pilots to stop stashing -- and even displaying -- porn in the cockpit. This memo was actually the second time the pilots were asked, as the first time, they were probably too busy watching porn to read the memo.
Not one, not two, but THREE flights were diverted within a week in August because of legroom wars. There was a whole lot of kicking and screaming on United, American Airlines, and Delta flights that week.
This April, a herd of 400 overheating cattle set off a fire alarm on a Boeing 747, forcing an emergency landing at London's Heathrow Airport. For a brief period, a jet was the world's largest slow cooker.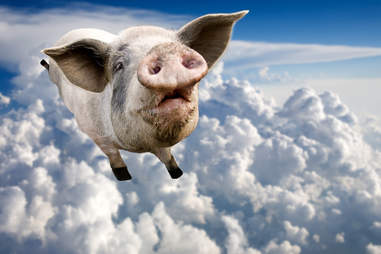 Shutterstock
The notion that pigs can't fly is a load of crap. They can, when they're registered as "emotional support animals". But once they poop all over the aisle, their airline bacon is cooked.
A woman traveling with her parents on a flight from London to Las Vegas this May was caught canoodling in the bathroom with her seatmate. It didn't take cabin crew long to break up the (very loud) Mile High Club altercation. Angry that she was interrupted, the passenger became abusive, and was restrained for the rest of the flight. Thanksgiving was probably weird this year.
In October, a guy followed up a sneeze with what he thought was a funny joke when he announced, "I have Ebola. You are all screwed." Authorities in Punta Cana took the wisecrack seriously, as a hazmat squad escorted the wise guy off a US Airways flight. 
Talk about a Chinese finger trap. A passenger on a Hong Kong-bound Cathay Pacific flight spent over an hour trying to get his middle finger out of the bathroom's trash receptacle in June. Eventually, the dude freed his finger before firefighters arrived.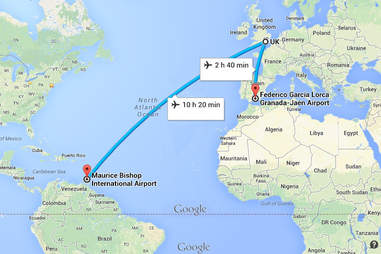 Google Maps
One British Airways customer and his partner were in for a big surprise, when they discovered -- on the plane -- that they were headed to Grenada (the Caribbean island) and not Granada in Spain. Turns out a spelling error can make a huge difference -- in this case, 4,000mi!
An inebriated woman on a flight from Tunisia to Edinburgh attacked flight attendants with her fake leg after her requests for cigarettes and a parachute(!!) were rejected. Her actions forced an emergency landing, and she subsequently got the boot.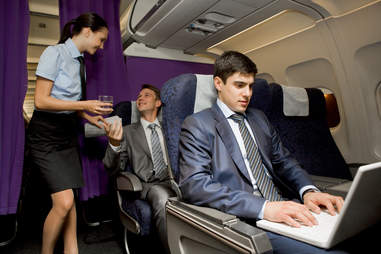 Shutterstock
On landing in Singapore, passenger Jeremy Gutsche checked his phone to discover he'd have to pay $1,171.46 for the handful of emails he sent during his flight from London in November. The money Gutsche spent on Wi-Fi could've paid for a second ticket.
On a Philly-bound US Airways flight, a full-sized dog dropped a huge turd in the aisle just an hour after the plane departed from LA. The smell was so potent that some passengers puked, making for the worst in-flight smell ever and a diversion to Kansas City, Missouri.
All hell broke loose -- or at least the mid-air version of hell -- on an AA flight in October, when passengers heard a "ripping sound" and soon discovered the plane walls had cracked and begun to split apart on rows 14 and 15. The plane promptly made an emergency U-turn to San Francisco, where engineers found a faulty air duct responsible for the breakage.
A passenger caused a stink on a Dallas-bound flight from Paris in August when fellow flyers complained of serious B.O. Before the plane departed from Charles de Gaulle airport, the man was asked to leave the aircraft and to "take a shower". He blamed it on a cologne he'd sprayed on at Duty Free (probably to mask his smell), though he also had "visa issues". Always go MasterCard, bro.

Chloe Pantazi is an editorial assistant on Thrillist's travel team. Yes, that's a British accent. No, she doesn't watch Doctor Who. Follow her on Twitter at @ChloePantazi.