The 10 Most Terrifying Rope Bridges Around the World
Let's be honest, unless they're one of the coolest 19 in the world, bridges aren't that exciting to talk about. Their architectural significance is often overshadowed by our complaints when stuck trying to cross one on the way to a glorious beach vacation. But there are some bridges that command our immediate attention, not only because of how cool they look, seemingly MacGyvered together with old twine, but also because the thought of having to tiptoe across them is downright terror-inducing. These are those bridges.
Carrick-a-Rede Rope Bridge
Northern Ireland
This bridge brings new meaning to term "island hopping." Perched almost 100ft above the water, it links mainland Ireland to the tiny island of Carrick-a-Rede. You have to pay a fee (about $9) to walk the 66ft, but that money buys you incredible views of the rocks, water, and Scottish coast in the distance.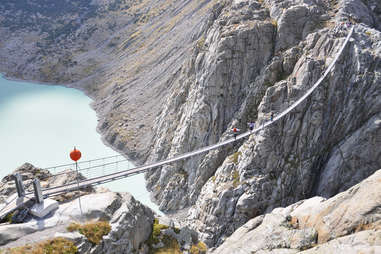 Trift Bridge
Switzerland
The longest pedestrian suspension bridge in the Swiss Alps, Trift stretches 560ft across (and 330ft above!) Lake Triftsee. To even get there, you need to take a cable car in Meiringen and then hike for one-two hours.
Kakum National Park Canopy Walkway
Ghana
What's better than one bridge suspended in the rainforest? Seven bridges, of course. But you knew that. The total length of the Canopy Walkway at Kakum National Park is 1,080ft and features rope passageways that span as high as 160ft in the air. With room for only one person to walk at a time, you're encouraged to get up close and personal with the plant and animal life surrounding you.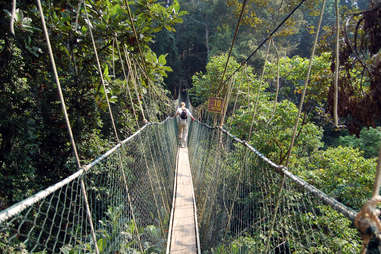 Taman Negara National Park Bridge
Malaysia
Often considered the longest canopy walkway in the world, this 1,673ft rope bridge is perched 147ft in the air and allows you to ostensibly float through the rainforest while enjoying a spectacular bird's-eye view. Bonus: they even offer night walks so you can catch all of the nocturnal animals in Taman Negara. Just wear lots of insect repellent.
Arenal Hanging Bridges
Costa Rica
These 15 rope bridges (some of which extend to 330ft) hang 147ft above a rainforest, and well, next to a volcano. And crossing them isn't for the faint of heart, as the constant swaying could make you feel a little woozy.
Tigbao Hanging Bridge
Philippines
Made out of mostly bamboo, this sturdy, but swaying bridge is suspended about 82ft over the Loboc River and was built to facilitate travel between two villages. Apparently, when you get across, you're rewarded with the pleasure of meeting a dude who husks coconuts with his teeth.
Hanging Bridge of Ghasa
Nepal
What's most frightening about this bridge is that it's not only situated between two mountains, over a river and really high up, but also that you have to share it with herds of animals. This very practical walkway was created to alleviate congestion in the town where flocks would slowly walk along the roads. The good news is that at least it can hold a lot of weight, right? Maybe? Hopefully.
Qeswachaka Bridge
Peru
One of the oldest maintained rope walkways in the world, the Qeswachaka Bridge has been rebuilt each year for the last 600 (!!) years by the residents of Canas. For three days, 1,000 people use local plants to make the ropes in a ritual considered so special that it's been included on UNESCO's World Heritage list.
Hussaini Hanging Bridge
Pakistan
Made from barely existent rope and a few planks, the walk across this bridge -- and the Hunza River rushing below it -- is nothing short of death-defying. Even scarier, there's a similar bridge hanging next to it that's in complete tatters and in no way inspires confidence as you begin your crossing.
Monkey bridges
Vietnam
The name for these bridges is derived not from the animals that cross them, but the position humans must take to make it over. These bridges are made from bamboo and rope, and locals use them on a daily basis to traverse the river. While they make it look easy, you may want to watch your step -- they're narrow and shaky.