Everyone knows Austin, NYC, and Nashville are among America's best live-music cities (or, at least you do now). But you don't have to live in one of those towns -- or Athens, Chicago, or LA for that matter -- to see a killer live show every night. Nope. Emerging music scenes with deep pools of homegrown talent are popping up under the radar in smaller cities all over the nation, including in some pretty unexpected places. Here are nine worth checking out.

Richmond, VA
Known as "the punk rock capital of the East Coast," Richmond is a fertile breeding ground for one of the most active punk scenes in the nation and is famous as the birthplace of heavy acts like GWAR and Lamb of God. But it's also a hotbed of emerging talent in the jazz and R&B space as well, with non-heavy acts like Aimee Mann, Jason Mraz, and D'Angelo hailing from the area.
Check out hardcore and metal shows at venues like The Camel, The National, and Hippodrome Theater, and, while you're in the area, take a side trip to Norfolk to visit NorVA, named the No. 1 concert venue in the country by a Rolling Stone readers' poll.
Palm Desert, CA
Long a refuge for artists and oddballs who didn't fit in with the airbrushed LA lifestyle, the desert valley experienced a marked turning point in 1999 with the arrival of a little-known festival called Coachella. But even before that, sandwiched between Palm Springs and Coachella's Indio location was the far-flung outpost of Palm Desert, a hotbed of sludgy stoner rock put on the map in the early '90s by bands like Kyuss and their whacked-out, drug-fueled "generator parties."
The Palm Desert scene didn't officially evolve into the "Palm Desert sound," however, until the more recent arrival of bands like Josh Homme's Queens of the Stone Age and Eagles of Death Metal, with legendary recordings like the famed Desert Sessions going down at Joshua Tree's iconic studio Rancho de la Luna. Even Anthony Bourdain couldn't resist its dusty outlaw, edge-of-the-Earth charms.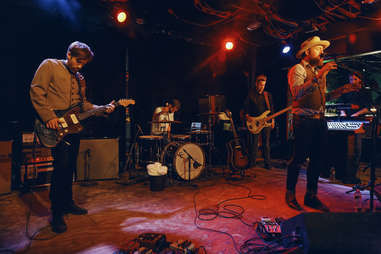 Denton, TX
You can't swing a drumstick without hitting a musician in this underrated party town of 110,000 located about an hour north of Dallas; it's home to over 100 active bands and boasts 25 venues within walking distance of the town square. Once named the best music scene in the nation by Paste magazine, the music community here was built from the ground up with support from local stations like DentonRadio.com and one of the best music schools in the nation at University of North Texas.
You can catch bands at venues like Dan's Silver Leaf or Abbey Underground, as well as at random places all over town, from fast-food chains to donut shops. Further solidifying Denton's burgeoning reputation as the next Austin, the town hosts the annual SXSW-style 35 Denton walkable music festival every March at bars, studios, and pizza parlors all over town.

Provo, UT
Made famous in recent years by hometown acts like Imagine Dragons and Neon Trees, Provo's booming music scene was nurtured by the city in 2009 when a series of development projects helped revitalize a Downtown district now overflowing with music options. With 15-plus venues in town, you can get dinner with your live tunes at Guru's, check out open mic nights at Muse Music Cafe, or catch DJs and local acts at places like The Madison.
While Provo's most famous rock venue is the Velour Live Music Gallery, the finest show in town is no doubt the annual Provo Rooftop Concert Series, where Utah acts play free sets under the stars atop buildings across town. Provo venues are typically packed year-round and the city's close proximity to the also-underrated Salt Lake City scene helps give the metro area a strong one-two punch.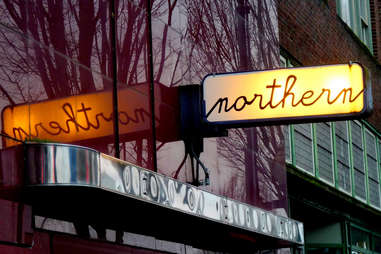 Olympia, WA
According to a study from Saint Martin's University, the historically avant-garde scene of Washington's capital city generates a stunning $88.3 million a year. This town of around 50,000 is known as the birthplace of the "riot grrrl" underground feminist punk movement of the '90s and home base of legendary indie labels like K Records, Bikini Kill, and Kill Rock Stars (which is based in both Olympia and Portland). Not a ton of touring acts come this way despite its history as a famous Kurt Cobain hangout, and thus the majority of its 15-or-so shows a week are powered by the strong local scene.
From the fringe weirdness of the Olympia Experimental Music Fest to the fiddle jams of the Olympia Old-Time Music Fest, there's always some band playing somewhere in this city (including venues like the all-ages Northern and Rhythm & Rye). But the coolest by far is Music on the Mounds, which raises funds for local musicians by hosting shows and campouts on 10 acres of land with the address kept secret until tickets are purchased.
Madison, WI
Second only to Austin in "rock shows-to-residents ratio," Madison's Midwestern nice aesthetic cultivates a welcoming vibe where it's not uncommon for fans to buy a round of beers for the band or invite them home to play shows in their living rooms. And according to a study by Martin Prosperity Institute, Wisconsin's capital city has the fifth-highest concentration of record labels, recording studios, distributors, and music publishers in the nation. It's also the fourth-least-expensive city in the country for average ticket prices.
While most famous for producing '90s alt-rock band Garbage and legendary Nirvana/Smashing Pumpkins/Green Day producer Butch Vig, the town is also a hotbed of indie talent, from former University of Wisconsin student Zola Jesus to solidly under-the-radar labels Crustacean Records and Kind Turkey Records. Catch rock acts at places like the Majestic Theatre, High Noon Saloon, and Orpheum Theater, or head into town for more highbrow offerings during the annual Isthmus Jazz Festival.
Portland, OR
Long eclipsed by Seattle's perennially lengthy shadow, it should come as no surprise to anyone familiar with Portlandia that Oregon's largest city is home to a thriving music scene tailor-made for skinny jeans and waxed mustaches. Most well known for bands like The Decemberists, The Shins (who, yes, we know, started in Albuquerque), The Dandy Warhols, Blitzen Trapper, and many more too numerous to list, the city's deep contribution to the indie-rock scene is so prevalent it was nicknamed "Indie City" by Slate.
Yet despite all the bands we obviously aren't cool enough to know about, the Portland scene remains welcoming and laid-back, regardless of it ranking sixth highest in something called the Metro Music Index, a stat measuring the number of concerts and music businesses in a city. Check out acts at one of 100-plus venues like Doug Fir Lounge and Dante's (which also hosts typically Portland-weird showcases like the long-running Sinferno Cabaret) or at festivals including the SXSW-style MusicfestNW and Portland Lights.
Research Triangle, NC
The towns of Chapel Hill, Raleigh, and Durham that make up North Carolina's university-centric Research Triangle share more than just a love of college basketball. The area overflows with a booming music scene as bands perform at over 100 venues like Cat's Cradle, Pour House, and Local 506, in addition to under-the-radar festivals like Hopscotch Music Festival.
The area is home to acts such as Ryan Adams and Ben Folds Five, but its real power center is Merge Records, one of indie rock's defining music labels, and its standout roster of iconic local acts like Superchunk, Squirrel Nut Zippers, and Archers of Loaf. If that's not enough, the more blues/country-oriented Yep Roc Records is based in nearby Hillsborough with worldwide distributor Redeye Distribution also close by in Haw River.
Omaha, NE
With historical roots as a hub for African-American jazz and blues in the 1920s and '30s at places like the legendary Dreamland Ballroom, these days Omaha's strong presence on the indie-rock scene can be traced directly to 1993 when famed indie label Saddle Creek Records was founded by Conor Oberst's brother and local producer Mike Mogis. More than just a label, the imprint named after a local street is home to a stacked lineup of Omaha greats including Bright Eyes, The Faint, and Cursive (singer/songwriter Elliott Smith was also born in Omaha).
Saddle Creek's emergence and the evolution of the "Omaha sound" have helped encourage more young professionals and creative types to move to the city and take in shows at places like Slowdown, founded by Saddle Creek co-owner Robb Nansel in 2007. You can also check out acts at venues like Barley Street Tavern and The Waiting Room, dig through records at Homer's, or head into town for festivals such as Riverfront, Hullabaloo, and Maha Music Festival.
Sign up here for our daily Thrillist email, and get your fix of the best in food/drink/fun.
Jay Gentile is a Thrillist contributor and publisher of local music magazine Chicago INNERVIEW. Follow him: @innerviewmag.