The Most Underrated Tourist Attraction in Every South American Country
La Boca's Caminito? Christ the Redeemer? Machu Picchu? South America has no shortage of marquee tourist attractions. So many so, it's easy to forget that hidden behind all those picture-perfect postcards (and long lines of iPad-wielding visitors) are a ton of lesser known -- but equally spectacular -- spots flying (mostly) under the tourist radar.
From beautiful beaches and "bottomless" volcanos to salt flats and artist villas, here is the one most underrated attraction in each South American country.
Argentina
Mount Fitz Roy
El Chaltén
Before you read another word, take a careful look at the picture above. Recognize the silhouette of those perfect peaks? No? Perhaps you're wearing them right now, you know, maybe on your stylish black fleece. Hint, hint. Okay, fine, you win -- it's Patagonia, as in the clothing brand. Yes, the mountains are the inspiration behind the logo.
And even though Mount Fitz Roy is apparently one of the toughest mountains in the world to climb, there are a bunch of easy-to-moderate treks in the area so you can still earn/enjoy the spectacular views.
Brazil
Baia do Sancho
Fernando de Noronha
The principal beach on the 21-island Brazilian archipelago of Fernando de Noronha consistently ranks as the best beach in the world. How is it underrated then, you ask? Simple -- no rating does this place justice. It's UNESCO-protected and the Brazilian government restricts the number of tourists allowed on. So if you're reading this while relaxing on this Brazilian beauty, consider yourself privileged.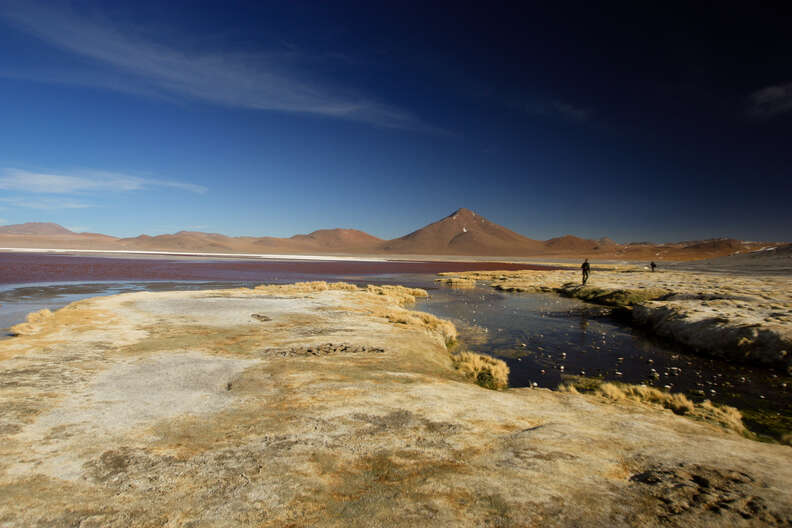 Bolivia
Laguna Colorada
Potosí
In your quest to get to the world's largest salt flat (and this eerie railroad graveyard) and snap that one perfect perspective-bending photo of you jumping or "holding" your friends or whatever, don't overlook this blood red lake on the Bolivian altiplano. Also: flamingos call the plateau home. So, you you should also take a picture of them too.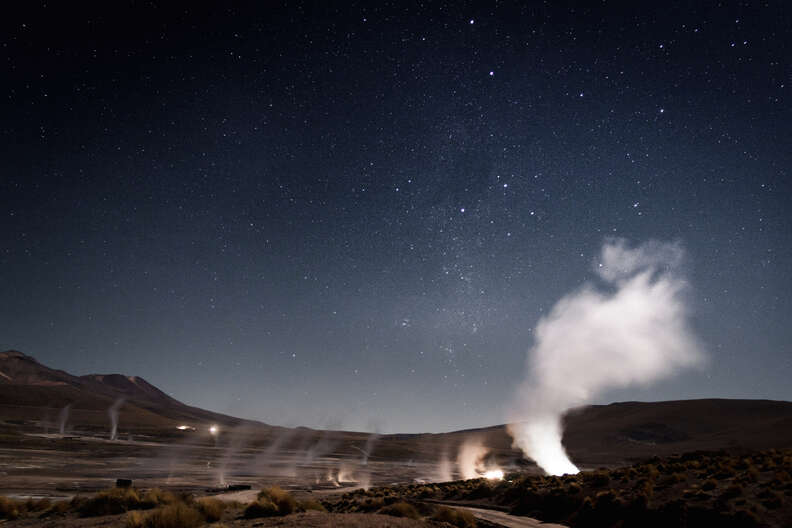 Chile
Atacama Desert stargazing
San Pedro de Atacama
You can do it on your own or take a tour, but this is the place for some serious, next-level stargazing. Don't want to take us at our word? How about the fact that the world's largest telescope (officially and creatively named the Very Large Telescope, or VLT) is located on this same stunning arid desert plateau land?
Colombia
Las Lajas Sanctuary
Nariño
No, Europe doesn't get to lay claim to all of the world's most impressive churches. This Gothic revival-style basilica was built inside a verdant canyon and is so far down there it almost looks like it's underground. Naturally, it was built in honor of a miraculous event involving a deaf-mute girl who called out to her mother that the Virgin Mary had appeared on a nearby rock (as the story goes), an image that's reportedly still visible today.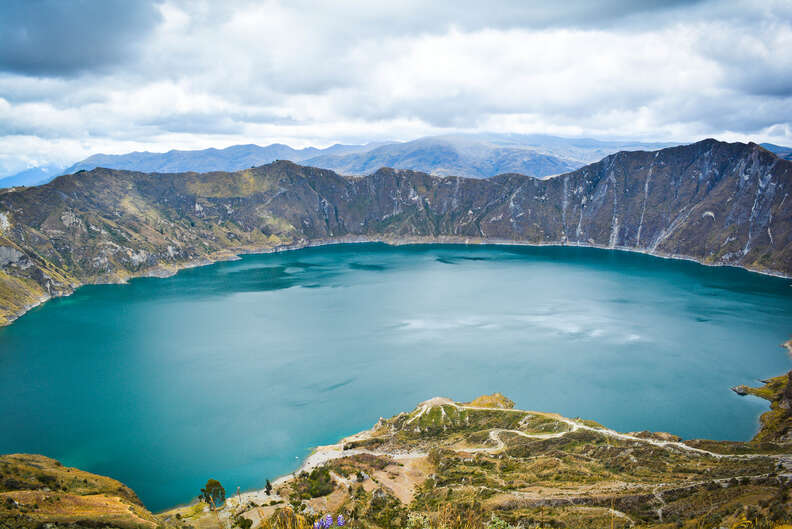 Ecuador
Quilotoa
Pujilí Canton, Cotopaxi Province
Local legend has it that this volcanic cauldron in the Andes is bottomless. And one gaze into the crystalline, gemstone blue perfection will have you believing too (common sense be damned). While you're there, take a road trip around the the body of water -- it offers a revealing peek at a number of indigenous communities that call the area home.
Guyana
Iwokrama Forest Reserve
If you're into bird watching (no judgment), this is your spot. If you're not into bird watching, but have at least a modicum of appreciation for nature, this is your spot. The 1,430-square miles comprise one of the few swaths of pure, untouched rainforest in the world today. And not to be downer, but you'll want to get to it while it's still that way.
Paraguay
Aregua
As is pretty obvious by the style of architecture, this lakeside town less than 20 miles outside Asunción was built with Spanish colonial money. It was once where the oldest, noblest Paraguayan families would summer, but today has a decidedly hippie, artistic bend, which makes for a fun, endearing identity crisis.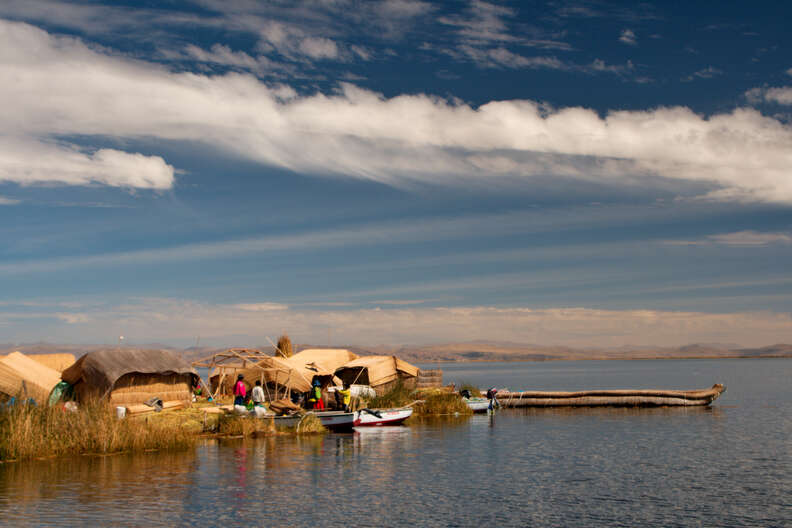 Peru
Lake Titicaca
Yeah, we realize that everyone knows about Lake Titicaca, but hear us out. There's the uber-touristy way to see the world's highest navigable lake, where locals (literally) perform for visitors. And then you can go local, book a homestay, and a get a whole other story.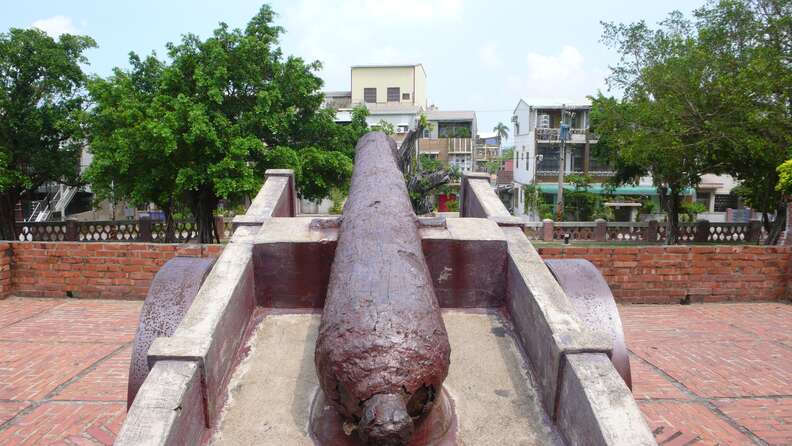 Suriname
Fort Zeelandia
Paramaribo
We won't hold it against you if you've never heard of this country (though foreigners might roll their eyes at another example of Americans' notoriously sub-par geographic knowledge), but the Dutch discovered it, the English settled it, and the French built the wooden fortress that is now Fort Zeelandia in 1644. The British captured the fort six years later and changed the name to Fort Willoughby, but then lost it to the Dutch in 1667. All of this to say, you should visit.
Uruguay
Casapueblo
Punta del Este
Slightly removed from the most crowded beaches of jet-set Punta del Este, this epic villa was constructed by Uruguayan artist Carlos Páez Vilaró over the course of 36 years and without a straight edge in the entire place. It was originally his summer home and workshop, but today serves as a hotel, museum, café, and gallery.
Venezuela
Archipelago Los Roques National Park
Sure, the Caribbean islands are beautiful, no one is going to argue that. But it's actually this national park in Venezuela that's home to the largest marine park in the Caribbean Sea. Think untouched coral reefs and picture-perfect, white-sand beaches. Government and economic crisis aside, this place is paradise.
Sign up here for our daily Thrillist email, and get your fix of the best in food/drink/fun.
Martinez-Carter is a freelance journalist now based in New York City after five years in Buenos Aires, Argentina. Follow her on Twitter and Instagram: @KMartinezCarter.