In the TV show An Idiot Abroad, Ricky Gervais sends a buddy to the Great Wall of China and after a day of touring, he sums it up pretty nicely: "It's not the 'great' wall, it's an 'all right' wall. It's the All Right Wall of China." Indeed, fighting through crowds of selfie sticks and fanny packs all day can make even one of the new Wonders of the World seem lackluster. Fortunately, there are still a lot of attractions in Asia that are significantly better than all right -- and totally undiscovered. Here are a few of them:
Recommended Video
Nashville Absinthe Cocktails & the Hottest Chicken (Literally)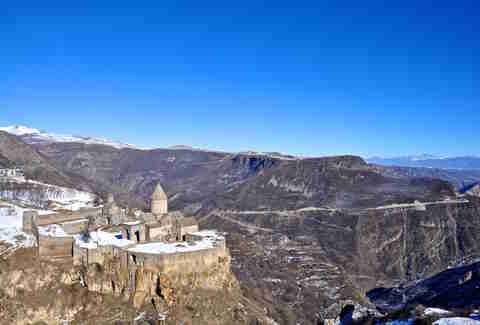 Armenia
Tatev Monastery
Tatev
Across one of the world's longest cable car rides, the Wings of Tatev, you'll find this colossal medieval treasure that probably shouldn't even be standing. Since the 9th century, Tatev Monastery's endured multiple invasions, lootings, and even a few earthquakes. Today it's one of Armenia's most important attractions, yet still off the global radar.
Bhutan
Taktsang Palphug (Tiger's Nest) Monastery
Taktsang Trail
The Tiger's Nest is one of the most isolated places known to man, hanging on a steep cliff almost 10,000 feet above blue pine Himalayan jungle. Taktsang Palphug is only accessible by three mountain paths, covered in prayer flags and tiny kiosks where locals peddle temple bells and skulls. At the top are the caves or "tiger lairs" where the Guru Rinpoche, who introduced Buddhism to Bhutan, is said to have meditated for three years, three weeks, three days, and three hours.
Brunei
Sultan Omar Ali Saifuddien Mosque
Bandar Seri Begawan
This majestic mosque in Brunei, a tiny nation on the edge of Borneo, is undoubtedly the capital's prized possession. Its dainty pure gold dome can be seen from anywhere in the city, with turrets that glow in the dark by night. Brunei's 28th Sultan spared no expenses in building the mosque, importing Italian marble and a 3.5 million-piece Venetian mosaic for inside the dome. Tourists can only enter certain areas, the rest is reserved for prayer.
Burma
Irrawaddy River
Ancient cities like Mandalay, Bagan, and Bhamo are piping hot destinations right now, but it's Burma's Irrawaddy that connects them all. A journey along these riverbanks reveals rambling rice paddies, jungle groves, and the most remote temples and rural life. You can catch the best lift on a traditional Pandaw ship, colonial river steamers often made of teak.
Cambodia
Killing Caves of Phnom Sampeau
Battambang
Phnom Sampeau is much less visited than the Killing Fields, but an equally important memorial site of the Cambodian Genocide. Buddhist carvings and a glass-covered cabin of human bones watch over it now. Go at sundown to catch the spectacular yet eerie spectacle of thousands of bats flooding out of the cave's mouth.
China
Rock Column Forest
 Zhangjiajie National Forest Park
China's skyscrapers have got nothing on the Rock Column Forest, a collection of thousands of sandstone pillars that pierce the clouds. One of the tallest, the Southern Sky Column, has been renamed Avatar Hallelujah Mountain because it inspired the movie (because why not, right?). A ride up the nearby Bailong Elevator, the world's tallest outdoor lift, reveals a full, enthralling view of the scenery.
 
India
Kasar Devi/Crank's Ridge
Uttarakhand
Pop culture buffs, here's the newest destination on your bucket list. Throughout the 20th century, Crank's Ridge, a sleepy northern Indian town, was a pilgrimage site for musicians, psychedelic psychiatrists, and Tibetan monks alike. During the '60s and '70s, Bob Dylan, Cat Stevens, Ravi Shankar, and Allen Ginsberg all spent time here (so did baby Uma Thurman!). Call it a more laid-back alternative to Goa -- hippie backpackers, with the peaceful energy of the Himalayas.
Indonesia
Komodo National Park
East Nusa Tenggara
This wildlife habitat in the Lower Sunda Islands is filled with lumbering ancient reptiles just doing their thing. Besides beady-eyed fellows, the National Park is also filled with a wealth of flora, fauna, and other animals like wild horses, water buffalo, and wild boar (full disclosure: there are vipers and cobras too).
Japan
Yoro Park/Site of Reversible Destiny
Japan's known for its bizarre attractions, and Yoro Park is definitely right up there. Designed by a collective of artists and architects, the "Site of Reversible Destiny" is basically a gigantic art installation/existential crisis wrapped into one -- we're talking labyrinths, upside-down buildings, and epic heights. Yes, you can even borrow a helmet at the door.
 
Laos
Viengxay Caves
Viengxay
Laos is best-known known for its ancient Buddhist temples and stupas, but its modern history is worth experiencing as well, especially with a visit  to the Viengxay Caves. This cavernous network reveals a "hidden city" of old bomb shelters, offices, and barracks from when the Laotian guerrilla army was headquartered here during the Vietnam War.
Maldives
Mulee Aage Palace
Malé
Mulee Aage Palace is pretty much the cutest government building ever, with a Barbie pink roof and light blue-and-white walls. Today it's the "Official Residence of the President of Maldives" and an important tourist attraction thanks to its shrine to the Moroccan scholar who is credited with introducing Islam to the country.
Malaysia
Putra Mosque
Putrajaya
This beautiful mosque is known for its rose-tinted granite dome and intricate woodwork on doors and around windows. Unlike many mosques, appropriately dressed tourists are allowed to come in, look around, and even take pictures outside of prayer times.
Mongolia
The Flaming Cliffs
Gobi Desert
Not only does this craggy red sandstone look cool, it's also packed with fossils and dinosaur eggs. Dinosaur eggs! The Flaming Cliffs make for a challenging hike with all the bumps and slopes, but it's definitely worth it to see some real fossils (not so fast, removing them is illegal) and to stand on the same fantastic landscape where Genghis Khan once trekked.
Nepal
Annapurna Circuit
Nepal's famous trekking trail re-opened in July after the earthquake, and thankfully there wasn't much damage to repair. Which means there's rarely been a better time to travel across this beautiful 150-mile circuit and visit its charming teahouses and holy sites.
Philippines
Banaue Rice Terraces
Ifugao
It's hard to believe these rice terraces were carved/built entirely by hand over 2,000 years ago. That's why the Philippines' indigenous Ifugao people take such pride in showing the work of their ancestors to the world -- and good thing too, because it's easy to get lost in Banaue without a proper tour guide. Today these mud-walled ledges are farmed organically and even featured on the country's twenty peso note.
Singapore
Old Airport Road Food Centre
This historic hawker centre is a little off the beaten track from downtown, and that's how it's managed to stay a reasonably priced, local secret. The massive two-story building has over 100 stalls serving classic Singaporean fare, from chili crab to prawn noodles. Do yourself a favor, and go absolutely starving.
South Korea
Taepyeong Salt Farm
Jeungdo Island
Life doesn't get much more slow and tranquil than this sun-dried salt farm on Jeuongdo. The island's known for its clear seawater (where the salt comes from, of course), remote beaches ,and a whole lot of quiet. Touring the farm -- and learning about how much work goes into a harvest -- will give you a whole new appreciation every time you reach for the salt shaker.
 
Sri Lanka
Jathika Namal Uyana
Galkiriyagama
These seven pink quartz mountains are said to be more than 500 million years old; pieces of them were even used to adorn the Taj Mahal. Some of the outer layers have been bleached over time, but a range of hues from deep violet to rose still meet the eye. It makes for a beautiful climb, albeit scorching hot from the sun's reflection on the rock.
 
Thailand
Salawin National Park
Mae Sariang
For a good trek, look no further than Salawin National Park in northern Thailand. This forest covered in teak, Asian redwood, and cherrywood is serene and (unlike most of Thailand) delightfully untouristy. Situated near the Burmese border, it's precisely the place to get a taste of remote rural, riverside life.
Vietnam
Vinh Moc tunnels
Quảng Trị
During the Vietnam War, villagers dug these tunnels by hand, desperate to hide from heavy bombing. There are kitchens, wells, and rooms here where families lived underground for years. Today, along with the former Demilitarized Zone, the tunnels can be explored on guided tours.
Sign up here for our daily Thrillist email, and get your fix of the best in food/drink/fun.
Barbara Woolsey is a journalist and TV host formerly based in Bangkok, now roaming around Europe out of Berlin. Learn more about her adventures on Facebook, Twitter, and Instagram.