Paid Content For
Tourism Ireland
The 11 Most Unique Pubs of Ireland
Paid Content For
Tourism Ireland
Johnnie Fox's Pub

| Rob Durston
Johnnie Fox's Pub

| Rob Durston
Irish pubs are a welcome sight all across America, from New York to Dublin… Ohio, but the best way to experience their legendary hospitality is to visit Ireland itself, where the conviviality and hospitality match the culture and history. You might think you know Irish pubs, but many preserve what's classically charming while adding their own unique spin. Here are 11 bars so in touch with Ireland's rich past, you'll have no choice but to make them part of your future.
Gravity Bar
Dublin City
Visit the Guinness Brewery, and you'll soon find yourself atop the city at Gravity Bar, the 7th-story bar serving up a rare aerial view of Dublin. Since it's located on the top floor of Guinness Storehouse, you can sip your complimentary pint while marveling at a 360-degree vision of the city's historic rooftops and skyline. Just don't look down -- gravity's not just the name of a bar in Ireland, you know.
Grace Neill's
Donaghadee, County Down
If you fear neither pirates nor ghosts, Grace Neill's is for you. In its 400-year history, the pub welcomed smugglers, pirates, sailors, and soldiers -- and it's said some of them have never left. The pub's been visited by paranormal TV crews and spirit hunters, and when you're not feeling a mysterious breeze (hailing from this world or the next, who's to say?) the vibe is cozy and traditional. Settle in with a cold pint -- but never let your guard down.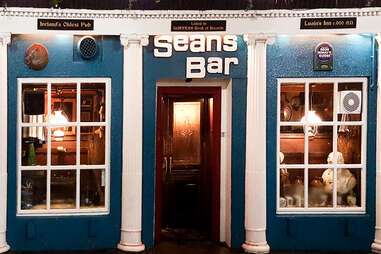 Sean's Bar
Athlone, County Westmeath
The Guinness Book of World Records lists this Athlone pub, established in 900, as the oldest bar in Ireland, if not the world. How do they know? During renovations in 1970, construction workers tore open the walls and found they were made with "wattle and wicker," a 9th century process wherein woven wooden strips are covered with a sticky substance made by mixing soil, clay, sand, animal dung, straw, or some combination of the five. Now, a small section of that wall is on display. Drop in to indulge in a piece of history, live music, and of course food and drink, both of which have only improved for the past 1,100 years.
Harbour Bar
Portrush, County Antrim
It doesn't get more northern than the coastal town of Portrush, and Harbour Bar is a must-stop. The no-frills, three-room pub is a favorite to locals, visitors, and select famous folk (we hear that golfer Darren Clark and actor James Nesbitt are both regulars). Between the live music and the views of Portrush Harbor from sunrise to sunset to closing, you'll probably never want to leave. (But you'll have to. There are laws.)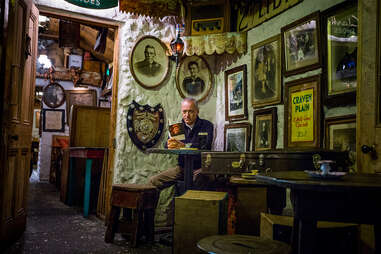 Johnnie Fox's
Glencullen, County Dublin
If it's a traditional pub experience you're looking for, it's a traditional pub experience you'll get at Johnnie Fox's. Located in the Dublin-mountain village of Glencullen -- which reaches a peak of 980 feet -- this bar is the highest in all of Ireland. Enjoy the renowned seafood menu with items like Atlantic prawn salad and wild mussels while listening to classic Irish tunes. There's just one thing: We hear the doorway clearance is low, so make sure to duck.
The Old Thatch
Killeagh, County Cork
The appeal of The Old Thatch is the titular thatched roof. In fact, it's believed to be the oldest thatched pub in Ireland. It's been run by the same family since the 1600s, and even through a renovation in 1962, the authentic roof was kept intact. So even though things might seem modern -- the chatter and brews, for example -- just look up and you'll feel instantly transported a few centuries back.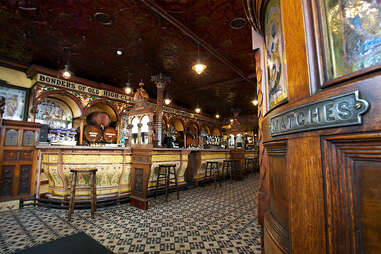 The Crown Liquor Saloon
Belfast City
More than just a pub, The Crown is a landmark. Since 1885, it has been one of the most recognizable and ornate Victorian bars in Northern Ireland -- and much of that elaborate tiling, stained glass, and fine woodwork remains today. In 1978, it was purchased by the National Trust, a UK conservation organization, to ensure its beauty never fades. So while many bars can boast food and drinks and fun, not every bar can declare itself a national landmark.
Brennan's Criterion Bar
Bundoran, County Donegal
Opened by their parents on St. Patrick's Day 1900, sisters Nan (80) and Patricia (78) Brennan run Criterion Bar now -- and are preserving the true notion of a public house with a few simple rules. There's no TV, no singing, and no swearing under their roof. The Brennans are preserving the art of conversation, they told The Irish Times. "They can go and see the matches [elsewhere] and come back and talk about it," Patricia said.
The Church
Dublin City
What's more Irish than a bar set in a magnificent old church? We can't think of a single thing. Honestly. The Church juxtaposes that old-timey feel (you know, since its shell was built in the 17th century) with modern revelry. St. Mary's Church served Dublin's parishioners until it closed in 1986, but that's okay, because a good bar serves in its own way.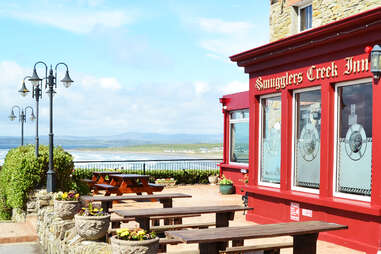 Smugglers Creek Inn
Rossnowlagh, County Donegal
With views of Rossnowlagh Beach and Donegal Bay that go on for miles and miles, Smugglers Creek is hugely popular in the warmer months, when you can feel that bay breeze on your face. Pop by for a pint at sundown, so you can enjoy the outdoors before heading inside to admire art from local painters and photographers. It's so idyllic you'll think you're dreaming, but no, the Smuggle is real.
Matties Meeting House
Cairncastle, County Antrim
Matties Meeting House, located in the small village of Cairncastle, embodies everything a countryside pub should be: charm, home-cooked fare, and a great selection of refreshments. Small wonder that it's won awards for its hospitality. Order "Boxer Jims Guinness Pie" (steak pieces marinated with Guinness and topped with puff pastry) and kick back by the fire -- like a lack of apostrophes, it's the Matties way.